Info
Ford Boss 302 engine
1969 to 1970
Overview
Manufacturer
Ford Motor Company
Combustion chamber
Displacement
302 cu in (4.9 L)
Cylinder bore
4 in (102 mm)
Piston stroke
3 in (76 mm)
Valvetrain
OHV
Combustion
Fuel system
Normally aspirated
Output
Power output
290 hp (216 kW) @ 5200 rpm
Torque output
290 lb·ft (393 N·m) @ 4300 rpm
Chronology
Successor
Ford Boss 351 V8
The Ford Boss 302 is a high-performance "small-sized" V8 engine manufactured by Ford Motor Company. The original version of this engine was used in the 1969 and 1970 Boss 302 Mustangs and was constructed by attaching heads designed for the planned 351 Cleveland (which debuted the following year) to a Windsor engine block The construction was aided by the two engines sharing a cylinder head bolt pattern, though the Boss heads had to have their coolant passages slightly modified.
Design
The 1969-70 Boss 302 engine is a unique Ford small-block featuring a thin-wall high nickel content casting. It differed substantially from regular 302s; the block had 4-bolt mains, screw in freeze plugs, higher nickel content, and the heads used a canted valve design that was being developed for the 351C (the Boss302 was developed in 1968 for 1969 production; the 351C first came to production in late 1969 in Mustangs). It was created for the SCCA's Trans-Am road racing series, and was fitted to the factory-made Boss 302 Mustangs of 1969-70.
The high nickel content block had a thicker deck, and a taller intake manifold due to the heads. It also had a distinct harmonic balancer, crankcase windage tray, bigger diameter alternator pulley (from the 289HIPO), and bigger diameter power steering pulley all to accommodate the higher RPM capabilities of the engine vs a standard 302. The engine also came with an engine RPM limiter (to protect the owner's warranty options but was often one of the first things removed). The Boss 302 has eight valve cover bolts; in '69 they were chrome and in '70 cast aluminum, while the standard 302 has six. The connecting rods are the same as used in the 289 HIPO, and have an engineering number of C3AE-D on them. They are capable of higher RPMs than standard 302 rods, up to ~8k RPM, aided by a spot face for 3/8 inch bolts with a unique football-shaped head vs 5/16 for standard small blocks and beefier cap. The crankshaft is cross drilled (this was changed in 1970 for better reliability) high strength steel forging. The cam and lifters are high lift solid mechanical units. The cam featured 290 degrees duration and .477 inches of lift.
The wide and large port heads with staggered valve placement give the Boss 302 high power capabilities. Because of the pent roof design of the heads, the Boss also had forged pop-up pistons to get the desired 10.5:1 compression ratio. Early units were typically characterized by very large intake (2.23 inches) and exhaust (1.70 inches) valves sitting in a small quench style combustion chamber. Exhaust valves were sodium-filled to aid cooling. Valve springs were dual units with an inner and outer spring to minimize harmonic resonance at high RPM. The heads feature steel spring seats, screw-in rocker studs, pushrod guide plates to aid in pushrod stability at high RPMs, and adjustable rocker arms. Fuel was provided by a Holly 780cfm manual choke carburetor. The taller intake required a thinner spacer. Ford used a phenolic spacer that incorporated an aluminum tube for the PCV hose, and also helped isolate the carburetor from the heat of the intake. Ignition was handled by a dual point distributor firing then unique 14mm AF 32 Autolite sparkplugs specified for their smaller size (5/8 inch wrench vs. 13/16 inch wrench) so as to fit within the tight confines of the combustion chamber alongside the very large valves.
The motor produces a unique sound as a result of its solid lifter configuration. At idle, properly tuned, the engine has a great deal of 'chatter.'
The power output on this engine was a conservative 290 hp at 5,200 RPM with matching torque of 290 foot pounds at 4300 RPM the Boss 302 engine competes well with other high performance smallblocks, such as the Chevy 302, the Chrysler 340, and AMC 360. Although the factory specified maximum power at 5,200 RPM, the engine was allowed to rev well beyond that to a 6,250 RPM rev limited maximum.
The original designer, Larry Shinoda, came up with the Boss moniker as a way to pay homage to Bunkie Knudsen, the CEO at Ford and an outspoken proponent of the car's development. He just called him "Boss," instead of "Mr. Knudsen." He told his designers, "I want to design a car that's the coolest Mustang out there. I don't want somebody else's name on it, like a Shelby, " so they call it the Boss Mustang, because they designed it for the new boss.
This engine was also optional in the Mercury Cougar Eliminator, with 169 produced in 1969 and 469 produced in 1970.
Sharing the same 302 cu in (4.9 L) displacement, an entirely new Boss 302 engine was introduced for the 2012 Ford Mustang using a variant of Ford's Modular engine.
Ford Racing Performance Parts BOSS 302 (2007-)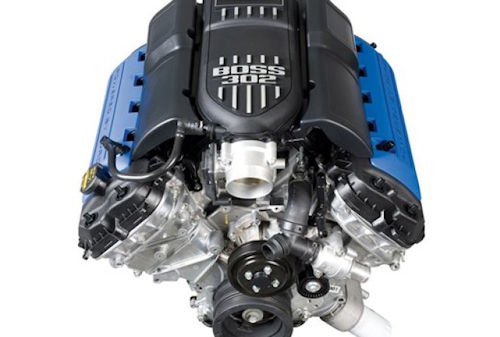 In 2007, Ford Racing began marketing new crate engines using the "Boss 302" moniker with displacements between 4951 cc to 5.9 L (363 cu in). Entry level engines feature Ford Racing GT-40X Xtra Performance Turbo Swirl aluminum heads to retain stock exhaust locations and are rated at 340 and 345 hp (257 kW). Higher performance versions include Ford Racing's Z-head equipped 302 and 5.7 L (347 cu in) engines rated between 360 and 450 hp (336 kW), depending on configuration. The highest power version is a 5.4 L (331 cu in) rated 500 hp (373 kW).
The Ford Modular "Coyote-Boss" engine with double overhead cam and variable valve timing is also available as a crate engine from Ford Racing. It is rated at 444 hp (331 kW) in 2012-13 Boss 302 street tune, and is more expensive than the pushrod valvetrain crate engines.
Maintenance
Maintenance Advanced Data
Members Only !  >>  Register here. <<
Models and years covered 1920 to 2020 all make and years. Car and Commercial vehicles Worldwide including basic to advanced.
Including Full Rebuilds, Service and trouble shooting, Technical diagrams and Wiring diagrams on request..
ENGINES
COOLING SYSTEM
TRANSMISSION
BRAKES
STEERING
SUSPENSION
WHEEL ALIGNMENT
DIMENSIONS AND SIZES
TORQUE WRENCH SETTINGS
CAPACITIES
CARBURETTORS
INJECTION SYSTEMS
SERIAL NUMBER LOCATIONS