Info
Volkswagen Golf Mk2
1983-1992
Manufacturer
Volkswagen
Production
6.3 million units 1983-1992
Assembly
Wolfsburg, Germany, Brussels, Belgium, TAS, Sarajevo, Bosnia and Herzegovina, New Stanton, Pennsylvania, United States Puebla, Puebla, Mexico Uitenhage, South Africa
Predecessor
Volkswagen Golf Mk1
Successor
Volkswagen Golf Mk3
Body style
3-door hatchback, 5-door hatchback
Layout
Front engine, front-wheel drive / four-wheel drive
Platform
Volkswagen Group A2 platform
Engine

All markets except North America/Japan: 1.3L 55 PS (40 kW; 54 hp) I4 1.6L 75 PS (55 kW; 74 hp) I4 1.8L 90 PS (66 kW; 89 hp) I4 1.8L 98 PS (72 kW; 97 hp) I4 Syncro only 1.8L 112 PS (82 kW; 110 hp) I4 1.8L 129 PS (95 kW; 127 hp) I4 16V (Motorcode: PL) 1.8L 139 PS (102 kW; 137 hp) I4 16V (Motorcode: KR) 1.8L 160 PS (120 kW; 160 hp) G60 I4 1.8L 210 PS (150 kW; 210 hp) 16V-G60 (limited edition) 1.6L 54 PS (40 kW; 53 hp) I4 diesel 1.6L 60 PS (44 kW; 59 hp) I4 turbo diesel (eco diesel) 1.6L 70 PS (51 kW; 69 hp) I4 turbo diesel 1.6L 80 PS (59 kW; 79 hp) I4 turbo-intercooler diesel North America/Japan: 1.8L 85 hp (63 kW) I4 (MY 1985-1987) 1.8L 100 hp (75 kW) I4 (MY 1988-1990) 1.8L 94 hp (70 kW) I4 (MY 1991-1993) 1.8L 102 hp (76 kW) I4 GTI (MY 1987) 1.8L 105 hp (78 kW) I4 GTI (MY 1988-1992) 2.0L 115 hp (86 kW) I4 GTI (MY 1993) 1.8L 123 hp (92 kW) I4 16V (MY 1987-1989) 2.0L 134 hp (100 kW) I4 16V GTI (MY 1990-1992) 1.6L 52 hp (39 kW) I4 diesel (MY 1985-1990?) 1.6L 68 hp (51 kW) I4 turbo diesel (MY 1985-1988?)

Electric motor ABB 200# CityStromer produced ( 1991 MY?)
Transmission
4-speed/5-speed manual, 3-speed automatic
Wheelbase
2,470 mm (97.2 in)
Length
3,985 mm (156.9 in)−4,035 mm (158.9 in), North America: 158.0 in (4,013.2 mm) (MY 85-88) 159.6 in (4,053.8 mm) (MY 89-93)
Width
1,665 mm (65.6 in)−1,700 mm (66.9 in)
Height
1,415 mm (55.7 in)
Curb weight
910 kg (2,006 lb)−1,245 kg (2,745 lb) North America: 2,137 lb (969 kg)−2,445 lb (1,109 kg)
Related
Volkswagen Jetta, Volkswagen Corrado, SEAT Toledo Mk1
The Volkswagen Golf Mk2 succeeded the Mk1 as Volkswagen's volume seller from 1983 and remained in (German) production until late 1992. The Mk2 was larger than the Mk1; its wheelbase grew slightly (+ 75 mm (3.0 in)), as did exterior dimensions (length + 180 mm (7.1 in), width + 55 mm (2.2 in), height + 5 mm (0.2 in)). Weight was up accordingly by about 120 kg (264.6 lb). Exterior design, developed in-house by VW design director Schäfer, kept the general lines of its Giugiaro-designed predecessor, but was slightly more rounded. All told, about 6.3 million second-generation Golfs were built.
Model history
The second-generation Volkswagen Golf (also known as the Typ 19E until the 1991 model year, and Typ 1G thereafter) was launched in Europe at the Frankfurt Motor Show in September 1983. It debuted in 1984 in the UK, and it was introduced as a 1985 model in the US. It featured a larger bodyshell, and a wider range of engine options, including a GTD turbodiesel (in Euro markets, later using the 1.6 "umwelt" (ECO) diesel engine), a DOHC 1781 cc (1.8) 16-valve version of the straight-four GTI (as well as the tried and tested 1781cc (1.8) 8v GTI), the supercharged 8v "G60" with front- and four-wheel drive options, and a racing homologated variant of this, the "Rallye Golf". This model was meant to come to the US as well (badged as "Rallye GTI"), and prototypes were made, but it did not come to be.
During the life of the Golf 2, there were a number of external style revisions. Notable changes to the looks of the Golf 2 included the removal of quarterlight windows in the front doors, and the introduction of larger grill slats with the August 1987 facelift. The most notable was the introduction of so-called "Big Bumpers", which were introduced in the European market with an August 1989 facelift. They were available in the US from August 1989 as well, as part of the "Wolfsburg Edition" package. They were not standardized until January, 1990.
Optional Accessories 3+E 4-speed fully synchronized mechanical gearbox (I 3.450, II 1.950, III 1.250, IV 0.890, rev 3.380),
3.880 axle ratio, light alloy wheels; 175/70 SR or HR x 13 tyres; halogen headlamps; sunroof; power steering; tinted glass; metallic paint.
185/60 SR x 13 tyres air-conditioning,emission control by catalytic converter. rear window wiper-washer
automatic transmission, hydraulic torque converter and planetary gears with 3 ratios (l 2.710, Il 1.500, Ill 1, rev 2.430), 3.410 axle ratio
This Golf was marketed for the first time with that name in the United States and Canada. The Rabbit name used on the Mk1 was meant to give a car a cuddly image, but with the eighties redesign of the car, Carl Hahn, the former Volkswagen of America president who was now chairman of the whole company, dictated that Volkswagen model names be standardised globally. James Fuller, head of the Volkswagen brand in North America, concurred in using the Golf name to stress the car's Teutonic character. The GTI body kit became available on a non-injection Golf and was sold as the "Driver" trim level in Europe. While the GTI remained a trim level in the Golf lineup in Europe, in some markets, it was (and continues to be) marketed as a separate model line.
Volkswagen also produced their model in Yugoslavia, in a factory at Vogosca near Sarajevo, called Tvornica Automobila Sarajevo - TAS. The MK2 was produced from 1985 with a yearly production of 25,000 units until the war in 1990. This model was produced only for the six Yugoslav republics, with a rear badge Jx (which stands for less equipment than C and Cl), C and CL and TAS badge on the front grill. Engines were 1.3 (carburetor), 1.6 petrol and 1.6 diesel.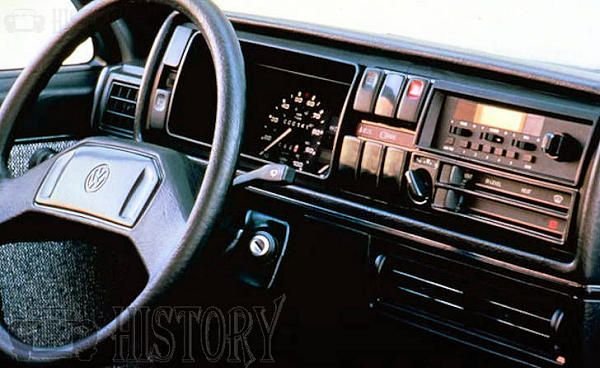 The Golf Mk2 was available as a 3- and 5-door hatchback. Its sedan sister car (available as a 4- and a 2-door model) was again called Jetta. No cabriolet version was developed from the Mk2; instead, the Mk1-based convertible continued to be produced, with minor changes.
Trim levels included base, C, CL and GL and initially a range-topping Carat model (until 1986), later a GT (in 1987) version was also on offer. In North America, there was only a base model until 1986, in 1987 a GL and GT model, in 1988-1989, there was all three, and in 1990 until the end of its run there was again only a GL. The GTI model existed from 1985–1987, and again from 1990–1992, and the GTI 16v existed from 1987–1992. In Japan the range consisted of catalysed Ci/CLi/GLi models all sharing the same 1.6 or later 1.8 liter fuel-injected I4 engines. In the course of the years, a host of "limited edition" models appeared on various markets, distinguished by cosmetic changes and/or an enriched features list. Generally, these were option packages on top of a base "model" (CL, GL, etc.).
New base engine was a 1.05 litre inline four; other engine offerings included 1.3, 1.6 and 1.8 litre petrol fours and 1.6 litre naturally aspirated or turbocharged diesel engines. In North America, all Golf Mk2s had 1.8 liter petrol or 1.6 diesel engines (the GTI, while not a Golf model in North America, also had a 2.0 liter model).
PERFORMANCE

1.3 L
max power (DIN): 55 hp (40 kW) at 5,400 rpm
max torque (DIN): 71 1b ft, 9.8 kg m (96 Nm) at 3,300 rpm
max engine rpm: 6,000; 43.2 hp
1.6L 75 hp
max power (DIN): 75 hp (55 kW) at 5,000 rpm
max torque (DIN): 92 ib ft, 12.7 kg m (125 Nm) at 2,500 rpm
max engine rpm: 6,000; 47 hp/l (35.4 kW/l)
acceleration: 0-50 mph (0-80 km/ h) 8.4 sec
fuel consumption: 36.2 m/imp gal, 30.2 m/US gal
1.6L 90 hp
max power (DIN): 90 hp (66 kW) at 5,200 rpm
max torque (DIN): 107 1b ft, 14.8 kg m (145 Nm) at 3,300 rpm
max engine rpm: 6,000; 50.5 hpl (37.1 kW/l)
acceleration: 0-50 mph (0-80 km/h) 7 sec
consumption: 38.7 miles imp gal, 32.2 m/US gal
1.8L injection 112 hp
max power (DIN): 112 hp (82 kW) at 5,500 rpm
max torque (DIN): 115 1b ft, 15.8 kg m (155 Nm) at 3,100 rpm
max engine rpm: 6,700; 62.9 hp/l (46 kW/l)
acceleration: 0-50 mph (0-80 km/h) 6.5 sec
speed in top at 1,000 rpm; 21.6 mph, 34.7 km/h
consumption: 37.7 m/imp gal, 314 m/US gal
Diesel 1.6L
acceleration: 0-50 mph (0-80 km/h) 11.7 sec
fuel consumption: 41.5 m/imp gal, 34.6 m/US gal
Diesel, turbocharged
max power (DIN): 70 hp (51 kW) at 4,500 rpm
max torque (DIN): 98 1b ft, 13.6 kg m (133 Nm) at 2,600 rpm 44.1 hp/l (32.1 kW/l)
max speed: 99 mph, 160 km/h
power- weight ratio: 2+1 -dr 29 lb/hp (39.8 lb/kW), 13.1 kg/hp (18 kg/kW)
acceleration: 0-50 mph (0-80 km/h) 9.4 sec
fuel consumption: 46.3 m/imp gal, 38.6 m/US gal
The successful Golf GTI (or, in the USA, simply "GTI") was continued with the Mk2 as a sporty 3- or 5-door hatchback. Like late Mk1 GTIs, it featured a fuel-injected 1.8 litre four developing 112 PS (82 kW; 110 hp). In 1986 (1987 for North America) a Golf GTI 16V was introduced; here the 1.8 litre engine put out 139 PS (102 kW; 137 hp) (or 129 PS (95 kW; 127 hp) for the catalyst version) and the model was marked by discreet red and black "16v" badges front and rear. US/Canadian GTIs were later equipped with 2.0 16 valve-engines, available in the Passat and Corrado outside North America. In 1990, like the Golf, the GTI was given a facelift, and the "Big Bumper" became standard on all GTIs. This was maintained through the rest of the Mk2 model era. In 1990 the GTi G60 was also introduced featuring the 8v 1.8 with a G60 supercharger this version is not to be confused with the very rare G60 Limited (see below).
Golf Syncro
In February 1986, Volkswagen presented the first Golf with four-wheel drive. This Golf Syncro was available with the 1.8 engine only (90 PS (66 kW; 89 hp), later 98 PS (72 kW; 97 hp)). Its 4WD system had been developed in collaboration with Steyr-Daimler-Puch of Austria, and featured a viscous coupling and flexible partition of torque between front and rear axle. Due to its high price (in 1986, a Syncro cost about 30% more than an equivalent front wheel drive mode) the model remained rare; from 1986 to 1989, for instance, just 26,000 Syncros were built.
Rallye Golf
In 1989, the Rallye Golf appeared as a rallye "homologation special". Distinguishable by its box-flared wheel arches (similar to the Audi quattro, BMW E30 M3 and Lancia Delta Integrale) and rectangular projector headlamps, this model featured Syncro four-wheel drive, a cable shifted transmission and a G-supercharger 1763 cc (less than the typical 1.8L 1781 cc to meet the engine displacement rules) version of the injected 8 valve G60 1.8 liter engine.
5,000 cars were built in Volkswagen's Brussels, Belgium, plant, priced at about DM 50,000 each (or roughly twice as much as a base Golf GTI). The Rallye Golf has 161Bhp (118 kW).
None were officially sold in the USA. Two were brought over officially for testing and when the Pan-Am Lockerbie Scotland bombing occurred the Volkswagen of America (VWOA) official that was in favor of selling them died, so did the hope of these being sold in the USA.
Based on the Rallye Golf, a very limited edition Golf Mk2 variant exists, combining all of the high-line options available at the time. Designed and hand-built by the Volkswagen Motorsport division; only 71 of these "Golf Limited" models were produced. The exclusive feature package included a G60 supercharged version of the 16-valve GTI engine, mated to a sports transmission and Syncro four-wheel drive mechanism. All of these special edition models came in gunmetal grey, with five doors (except two examples built with three doors), BBS RM wheels in 6.5Jx15", US bumpers, a plain two-headlight grille with a unique blue detail, black VW logo, Hella tinted taillights, motorsport badges and a special numbered plaque. It is rumored that two examples were built with air conditioning. In 1989, these cars cost in the region of DM 68,500 each and were primarily sold to VAG executives and management, although a few are known to exist in Britain as of 2005. These cars produced 210 PS (154 kW; 207 hp) 252 N·m (186 lb·ft) and 0–100 km/h (0-62 mph) in 7.2 seconds, making them the most powerful VW Golfs ever produced until VW released the Mk4 R32 with 241 PS (177 kW; 238 hp) in 2003
There was also a version called Golf Country (3,000 cars), designed for light off-road driving. It had more suspension travel, four-wheel drive, bullbars (generally over a single headlight grill), a skid plate for protecting the engine area, and a spare wheel mounted externally on the back.
In Europe, it was offered with the acclaimed 114 bhp (85 kW) 1.8 8v petrol engine. There were also: 160 "Country Allround"; 558 " Country - Chrompaket" with Chrome bullbars and beige leather interior; and 50 "Country GTI" for VW-staff. The Golf Country was particularly popular in Alpine regions in central Europe.
Golf Mk2 citySTROMer
In 1984 Volkswagen, in cooperation with RWE, released the second generation 'Gold citySTROMer, an electric version of the Mk2 Golf. It was the first electric Volkswagen to enter serial production as the Mk1 citySTROMER was only a prototype vehicle. The Mk2 citySTROMer had a range of approximately 31 mi (50 km) and used 16 gel-electrolyte batteries mounted under the cargo area and rear seats. Just 100 Mk2 citySTROMers were produced and sold for 45,000DM (~US$34,000) until production ceased in 1985. The citySTROMer name was continued in later models; the Jetta citySTROMer and the Mk3 Golf citySTROMer
North America
As with the North American Rabbit, the second-generation Golf was produced for North America in Pennsylvania. When sales in North America failed to live up to expectations and with increasing productions costs, the Westmoreland Assembly Plant was closed in July 1988. Subsequent Golfs sold in North America came from the Puebla assembly plant, in Mexico. The Mk2 Golf was discontinued in Europe in 1991, but Mexican-made Mk2 models remained available in North America for another year.
In its first year on sale in North America, 1985, the Golf 2 maintained sealed-beam square headlights, while the GTI bore flush headlights (from the Jetta). All Golfs gained the flush "aerolamps" in 1987 after a design freshening to move it more upscale in the wake of the introduction of the Brazilian-built Fox (Voyage in Brazil) in North America. This is also the reasoning for the model being called "Golf GL", while virtually no equipment changes occurred. The 1985 U.S. models are easy to distinguish from subsequent models due to the absence of a high-mounted brakelight; these became required of all cars sold in the U.S. for 1986.
The GTI was Motor Trend magazine's Car of the Year for 1985, as well as VWVortex's "Best Golf of all time". The Mk2 GTI failed to make the same waves as the Mk1, and failed to win back the Golf GTI's fanbase which had adopted the Peugeot 205 GTI. In North America, where Peugeot did not sell the 205 in any guise, Volkswagen faced tough competition from the Honda Civic S (later Si)
In its first year on sale in the U.S., Golf sales were eight percent below those of the 1984 Rabbit. Sales of the all-new 1985 Jetta, by contrast, skyrocketed compared with the 1984 model. In 1986, the Jetta became VW's bestseller in North America, a position it has held ever since.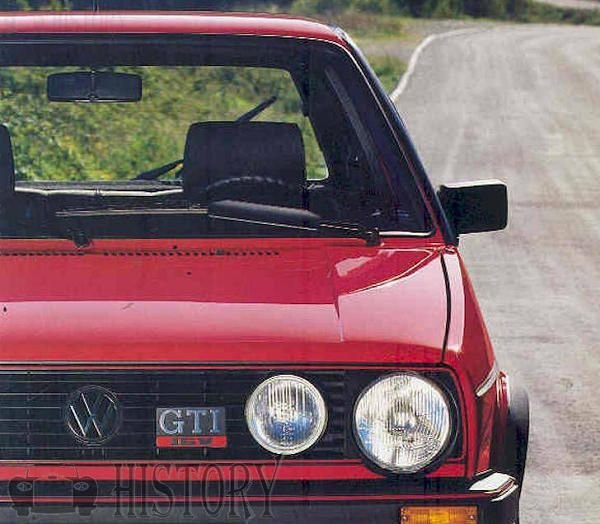 As with the Mk1, there was a "warm hatch" version known as the Golf GT. Introduced in 1987, it featured the GTI's exterior styling, namely the red stripe exterior trim, and wheelarch spoilers but with a standard 1.8 L engine, available in an automatic and with 4 doors (unlike the GTI). It only lasted for a few years, but with the reintroduction of the GTI in 1989 (the GTI 16v was produced continuously from 1987–1992), this model bore the concept. Year by year, the GTI with the 8 valve engine lost its GTI-like features, getting standard Golf brakes in 1990, suspension in 1991, losing the MFA computer, and finally being optional with an automatic, a first in GTI history. All GTI models got the European quad-headlight grille with the upgrade to big bumpers in 1990.
A 2.0 litre engine producing 134 hp (100 kW) replaced the 1.8 in 1990 - 1992 North American 16V models. This version included 15" 2pc BBS RM wheels. In the interior, the Recaro seats no longer had vinyl bolsters of earlier GTIs.
Mexico (1987-1992)
The Golf Mk2 was introduced in Mexico in March 1987 to replace the successful Caribe (Golf Mk1). It was available with two variants of the 1.8lt engine: A 72 hp (54 kW), and the 85 hp (previously used in the Caribe GT, the Atlantic GLS and the Corsar). It came in C, CL and GL trims, with a 4 speed manual gearbox for the "small" engine (C and CL), and 5 speed manual and optional 3 speed automatic for the 85 hp (63 kW) version (GL). Tires for the C and CL were 155 SR 13, and P 175/70 R 13 for the GL. In 1988 the Golf received the same modifications as in Europe, but the nameplates (which changed for 1989). In 1989 a GTI version was introduced with a 105 hp (78 kW) "Digifant" fuel injected variant of the 1.8 lt engine without catalytic.
Japan
In Japan, all models were available as CLI and GLI, with the GTI edition also available.
United Kingdom
Sales in the UK were strong; though it never quite made the top 10 for sales in any of the eight years in sale, it came close. In 1990, it was the UK's 12th most popular car with almost 50,000 sales. As of 2012, over 20 years after the Mk2 Golf's demise, it is still a very common sight on British roads and is being recognized by many as a growing classic, quite unlike many other similar-sized cars of its generation, such as the Austin Maestro.
Due to the small size of these cars, availability, and the current relatively low price, the Golf Mk2 is popular with enthusiasts and has its own dedicated UK club, the 'VW Golf MK2 Owners Club'. Modifications such as engine transplants are very common, the most popular being 2.8l or 2.9l VR6 from VW Golf Mk3's, 1.8T's from VW Golf Mk4's, the cheaper options being the 2.0l GTI (both 8v and 16v) from the Volkswagen Golf Mk3.
 
Technical
Technical
VW Golf Mk2 Technical details and specifications (1983-1992)

ENGINE:

1.3 L 55 hp
front, transverse, slanted 15° to front, 4 stroke
4 cylinders, vertical. in line
77.6 cu in, 1,272 cc (2.95 x 2.83 in, 75/ 72 mm)
compression ratio 9.5:1
cast iron block
light alloy head
5 crank bearings
valves: overhead, in line, rockers
cam-shafts: 1, overhead, cogged belt
lubrication: gear pump, filter
oil 6.2 imp pt, 7.4 US pt, 3.5 1
1 Solex 31 pc 7 downdraught single barrel carburettor
fuel feed: mechanical pump
liquid-cooled, expansion tank, 11.4 imp pt, 13.7 pints
electric thermostatic fan.
ENGINE 1.6L
97.3 cu in, 1,595 cc (3.19 x 3.05 in, 81 x 77.4 mm)
compression ratio: 9: 1
valves: overhead, thimble tappets
1 Solex 34 PC 5 down-draught twin barrel carburettor with fully automatic choke and fuel cut-off system.
ENGINE 1.6L 90 hp
108.7 cu in, 1,781 cc (3.19 x 3.40 in, 81 x86.4 mm)
compression ratio: 10: 1
valves: overhead, thimble tappets
1 Weber 2 BC downdraught twin barrel carburettor with fully automatic choke and fuel cut-off system.
1.8L injection 112 hp
ENGINE 108.7 cu in, 1,781 cc (3.19 x 3.40 in, 81 x 86.4 mm)
compression ratio: 10: 1
valves: overhead, thimble tappets
Bosch K- Jetronic injection
fuel feed: electric pump.
ENGINE Golf Diesel 1.6L
front, transverse, 4 stroke
4 cylinders, 96.9 cu in, 1,588 cc
full flow filter
Oil 6.2 imp pt, 7.4 US pt, 1
Bosch injection pump
liquid-cooled, expansion tank, 11.4 imp pt, 13.7 US pt, 6.5 1
electric thermostatic fan.
ENGINE Turbo-Diesel
diesel, turbocharged
Bosch injection pump
1 Garrett AiResearch turbocharger

TRANSMISSION
driving wheels
front; clutch: single dry plate, hidraulic controlled
gearbox: mechanical; gears: 4 ratios: 1 3.450, 1.950, lil 1.250, IV 0.800, rev 3.380
gears: 5, fully synchronized; ratios: I 3.450, 2.120, III 1.440, IV 1.130, V 0.890, rev 3.170
axle ratio: 3.670
final drive: spiral bevel

CHASSIS
Front suspension: independent, by McPherson, lower wishbones, coil springs/telescopic damper struts
Rear: semi-independent, torsion beam trailing arm, coil springs/telescopic damper struts.
GTI 1.8 front and rear suspension: anti-roll bar.

STEERING
rack-and-pinion.
turning circle: 34.4 ft, 10.5 m

BRAKES
front disc, rear drum
2 X circuits, servo.

ELECTRICAL EQUIPMENT
12 V; 36 Ah battery Diesel 63 Ah battery
45-65 Ah alternator
Bosch distributor
speed limiter at 6,500 rpm

DIMENSIONS AND WEIGHT
wheel base: 97.44 in, 247 cm
tracks: 55.63 in, 141 cm front, 55.43 in, 141 cm rear
length: 156.89 in, 398 cm
width: 65.55 in, 166 cm
height: 55.71 in, 141 cm
ground clearance: 4.92 in, 12.5 cm
weight: 2 Door 1,863 1b, 845 kg - 4 Door 1,907 1b, 865 kg

Mk2 limited edition models

Limited editions and outgoing years:

90S 1987
10 Million 1988
Atlanta 1989
Barcelona 1991
Berlin Golf
Bistro 1987
Black Line - Red Line 1990
Boston 1989
Carat 1984
Champion 1988
City
CityStromer 1984-1985
Country 1990
Country Allround 1990
Country - Chrompaket 1990
Country GTI 1990
Cup 1989
Eclipse (Mexico) 1991
Edition Blue 1991
Edition One 1989
Etienne Aigner 1990
Fashion
Fire and Ice 1990
Flair 1986
Fun 1986
Function 1991
Genesis 1990
Hit 1986
Jubileo (Mexico) 1990
Kassel 1989
Limited 1989
Madison 1990
Manhattan 1988
Match 1985
Memphis 1987
Moda 1990
NinjaTanuki 1990
Pasadena 1991
Pink Floyd
Plus Ultra 1990
Quadriga 1990
Rabbit 1991
Rallye 1989
Ryder 1991
Silverstone
Sky 1987
Special 1987
Syncro 1986
Tour 1988
Wolfsburg Edition (North America) 1986, 1987, 1989, 1990, 1991
Wick Blau

© Motor car History
Service
Service
VW Golf Mk2 maintenance and Service Guide (1983-1992)


oil petrol engine: 6.2 imp pt, 7.4 US pt, 3.5 1, SAE 1OW-50, change every 4,700 miles, 7,500 km
oil diesel engine: 5.3 imp pt, 6.3 US pt, 3 1
gearbox and final drive 3.2 imp pt, 3.8 US pt, 1.8 1, SAE 80 or 90, change every 18,600 miles 30,000 km
greasing: none
spark plug: Bosch WG 175 T 30
tyres basic: 155 SR 13
tyre pressure: front 26 psi, 1.8 atm, rear 26 psi, 1.8 atm.
1.8L injection width of rims: 5.5"; tyres: 175/70 HR x 13.
fuel tank: 12.1 imp gal, 14.5 US gal, 55 1.
carrying capacity: 2+1-dr 1,169 1b, 530 kg 4+1-dr 1,125 1b, 510 kg

© Motor car History
Video
Motor car History
Duration
04:28
Maintenance
Maintenance Advanced Data
Members Only !  >>  Register here. <<
Models and years covered 1910 to around 2020 all make and years. Car and Commercial vehicles Worldwide including basic to advanced.
Including Below on request for members..
Engine rebuilds
Manufacturer recall checks
Known problems
Trouble shooting
Wiring diagrams
Transmission rebuilds
Brakes
Steering
Suspension
Wheel alignment data
Dimensions and sizes
Torque wrench settings
Capacities
Carburettors
Injection systems
Cooling system
Serial number locations