History
Ferrari 365 GT 2 + 2
Make

Ferrari

Class

Sports Car

Body

2 door Coupe

Production

from 1967 to 1971

Produced

800 

Length

196.06 in, 4,980 mm 

Width

70.47 in, 1,790 mm

Height

70.47 in, 1,790 mm

Wheel base

104.33 in, 2,650 mm

Dry weight

3,420 1b, 1,550 kg

Max Speed

152.2 mph, 245 km/h 

Price New

£8,750 
The Ferrari 365 GT 2 + 2 is a sports coupe produced by the Italian car manufacturer Ferrari from 1967 to 1971.
History
The 330 GT 2 + 2 was first presented at the Paris Motor Show, the "365 GT 2 + 2" was marketed starting in 1968 and was built until 1970 in total around 800 units, of which 52 were right-hand drive were built.
In 1967 Ferrari decided to replace the previous " 330 GT 2 + 2 " grand touring series with a new model that kept the 2 + 2 setting consisting of 2 front seats with adjustable backrests and 2 small rear seats, again with an engine in the front with the bodywork was entrusted to Pininfarina, who obtained a coupé with slender and sleek lines, inspired by the " 500 Superfast " model. 
The grille is characterized by the elliptical-shaped radiator air intake, between two chromed bumpers, in which the position and direction lights are recessed. In the rear section there were two optical groups with three lights each arranged horizontally. The cockpit of the "365 GT 2 + 2" was designed in the name of comfort, to meet a new generation of owners who wanted a very high-performance vehicle, without however renouncing the convenience offered by a sedan. The front suspension system was of an independent type front and rear with, wishbones, coil springs, anti-roll bar, telescopic dampers also for the rear suspension was fitted with automatic levelling control.
Among the accessories offered on the "365 GT 2 + 2" model, there were power steering, electric windows and air conditioning and wire wheels.
The engine in the 330 GT 2 + 2 is the normal classic 12-cylinder V, with a displacement of 4,390 cm³, fitted with 3 Weber 40 DFI downdraught twin barrel carburettors producing 320 hp of power and a top speed of 152.2 mph (245 km/h).
PERFORMANCE
Engine Capacity 267.90 cu in, 4,390.358 cu cm
Fuel Consumption 14.5 m/imp gal, 12.1 m/US gal, 19.5 x 100 km
Max Speed 152.2 mph, 245 km/h
Max power (DIN): 320hp at 6,600 rpm
Max torque (DIN): 268 1b ft, 37 kg m at 5,OOO rpm
Max engine rpm: 6,600
Power-weight ratio: 10.6 lb/hp, 4.8 kg/hp
Speed in direct drive at 1,000 rpm: 18.8 mph, 30.3 km/h.
Specific power: 72.9 hp/l
Max speeds: 49.1 mph, 79 km/h in 1st gear; 73.3 mph, 118 km/h in 2nd gear; 98.8 mph, 159 km/h in 3rd gear; 124.3 mph, 200 km/h in 4th gear; 152.2mph, 245 km/h in 5th gear
Technical
Ferrari 365 GT 2+2 Technical details and specifications (1967-1971)


ENGINE
location front, 4 stroke
cylinders: 12, Vee-slanted at 60°
bore and stroke: 3.19 x 2.79 in, 81 x 71 mm
engine capacity: 267.90 cu in, 4,390.358 cu cm
compression ratio: 8.8
cylinder block: light alloy, wet liners
cylinder head: light alloy, hemispherical combustion chambers
crankshaft bearings: 7
valves: 2 per cylinder, overhead, Vee-slanted at 54°, roller rockers
camshafts: 1, overhead per cylinder block
lubrication: gear pump, filter on by-pass
lubricating system capacity: 17.60 imp pt, 21.14 US pt, 10 1
carburation: 3 Weber 40 DFI downdraught twin barrel carburettors
fuel feed: mechanical and electric pumps
cooling system: water, electric automatic fans

TRANSMISSION
driving wheels: rear
clutch: single dry plate
gearbox: mechanical; gears: 5 + reverse
synchromesh gears: I, II, III, IV, V (Porsche system)
gearbox ratios: I 2.536, II 1.700, III 1.256, IV I, V 0.797, rev 3.218
gear lever location: central
final drive: spiral bevel, limited slip
axle ratio: 4.250.

CHASSIS
Type tubular
front suspension: independent, wishbones, coil springs, anti-roll bar, telescopic dampers
rear suspension: independent, wishbones, automatic levelling control, anti-roll bar, telescopic dampers.

STEERING
recirculating ball, ZF servo
turns of steering wheel lock to lock: 3.20.
turning circle (between walls): 43.9 ft, 13.4 m

BRAKES
disc (front diameter 12.36 in, 314 mm, rear 11.73 in, 298 mm)
dual circuit, each with vacuum servo
lining area: front 37.21 sq in, 240 sq cm
lining area: rear 21.09 sq in, 136 sq cm
lining area: total 58.30 sq in, 376 sq cm

ELECTRICAL EQUIPMENT
voltage: 12 V
battery: 74 Ah
generator type: alternator, 660 W
ignition distributor: Marelli

DIMENSIONS AND WEIGHT
wheel base: 104.33 in, 2,650 mm
front track: 56.61 in, 1,438 mm
rear track: 57.79 in, 1,468 mm
overall length: 196.06 in, 4,980 mm
overall width: 70.47 in, 1,790 mm
overall height: 52.95 in, 1 ,345 mm
ground clearance : 5.12 in, 130 mm
dry weight: 3,420 1b, 1,550 kg

© Motor car History
Registered: Advanced information, Maintenance and Service Guides to download and save.
Members Only !  >>  Register here. <<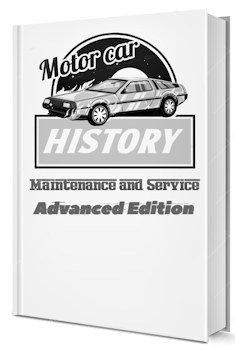 Service
Ferrari 365 GT 2+2 maintenance and Service Guide (1967-1971)

Fuel type: 98-100 oct petrol
Engine oil change: 17.60 imp pt, 21.14 US pt, 10 1, SAE 30W-40 (original spec), change every 6,200 miles, 10,000 km
Gearbox oil: 8.80 imp pt, 10.57 US pt, 5 1, SAE 90 EP, change every 6,200 miles, 10,000 km
Final drive oil: 4.40 imp pt, 5.28 VS pt, 2.5 1, SAE 250, change every 6,200 miles, 10,000 km
Cooling system capacity: 24.64 imp pt, 29.60 US pt, 14 1.
Tappet clearances: inlet 0.006 in, 0.15 mm, exhaust 0.008 in, 0.20 mm
Normal tyre pressure: front 34 psi, 2.4 atm, rear 37 psi, 2.6 atm.
Width of rims: 7.5"
Tyres: 215/70 x 15
carrying capacity: 706 1b, 320 kg

© Motor car History