Info
Aston Martin DB6 MK II
Manufacturer

Aston Martin

Production

1969 to 1971 

Class

Sport Car

Body style

Grand tourer 2-door coupé 2+2 and Volante four-seat convertible

Layout

FR layout

Engine

3995 cc L Tadek Marek I6 dohc engine

Wheelbase

101.5 in (2,578 mm)

Length

182 in (4,623 mm)

Width

66 in (1,676 mm)

Height

53.5 in (1,359 mm)

Dry weight

3,300 1b, 1,496 kg 
The Aston Martin DB6 Mark II is a grand tourer made by British car manufacturer Aston Martin from 1969 to 1971.
History
The car was first presented at the 1965 London Motor Show as a natural evolution of the DB5 from which the front part of the bodywork was entirely recovered, up to the door. The rear part of the cockpit with a new tail, was completely new. During the years of production, it underwent only one update in 1969; on this occasion various details were shared with the DBS which in the meantime had entered production and which since 1971 replaced it in the Aston Martin range. The new MkII had rear seats rearranged, larger wheels and tires with flared wheel arches to accommodate them better and, on request, AE Brico fuel injection system combined with the Vantage high compression cylinder head and power steering.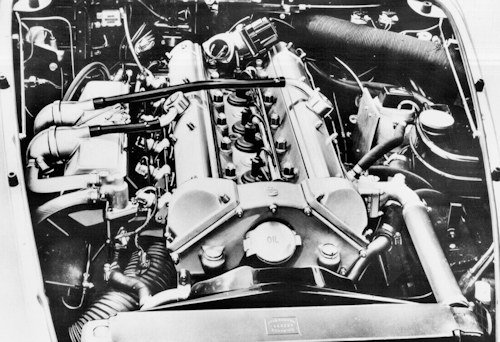 PERFORMANCE (standard specification)
Speed in top at 1 ,OOO rpm: 26.1 mph, 34.8 km/h
Max engine rpm: 6.000
282 b.h.p. at 5,500 r.p.m.
Fuel consumption: 15 m/ imp gal, 12.5 m/ US gal
Max speeds: 44 mph, 71 km/h in 1st gear: 74 mph, 119 km/h in 2nd gear; 106 mph. 170 km/h in 3rd 157 mph, 252 km/h 131 mph, 211 km/h in 4th gear; gear; in 5th gear
The "Vantage" engine with flow-tuned manifolds develops 325,b.h.p. at 5,750 
The DB6 Mark II was announced on 21 August 1969 produced at the end of the construction period, this can be identified by distinct flares on front and rear wheel arches and sitting on wider 8.15 x 15 tyres with 1/2" deeper 6" wheels.
The DB6 Mark II shared many parts with the then-new DBS parts with the DBS presented in 1967, which was powered by a V8 engine. As a successor, the Aston Martin Vantage based on the DBS came onto the market in 1972 with the well-known six-cylinder engine, which was only built until 1973.Available as an optional extra for the Mark II was AE Brico electronic fuel-injection combined with the higher compression ratio cylinder head. The Mark II edition shared many parts with the then-new DBS. The front suspension is independent, equipped with double wishbones, coil springs, telescopic hydraulic shock absorbers and stabilizer bar. The Salisbury rigid -axle rear suspension with transverse Watt linkage, longitudinal connecting rods and stabilizer bar finally adopted Armstrong Selectaride 2-calibration adjustable lever shock absorbers. The braking system remained a 4-disc Girling dual-circuit servo -assisted.
Prince Charles, Prince of Wales (now King), owns a DB6 Volante MkII that has been converted to run on bioethanol. The car was given to him by his mother on his 21st birthday. There was also available the DB6 Volante version . It went out of production together with the DB6 after 140 examples, including 19 Vantage Volante and 38 of the MkII.
From a technical point of view almost nothing changed from the previous DB5 apart from the longer wheelbase; The 4.0-liter in-line 6-cylinder engine with three SU carburettors designed by Tadek Marek remained the same. In the basic version it produced 282 HP at 5,500 rpm; this power increased to about 325 hp (at 5750 rpm) in the sportier Vantage variant with higher compression ratio.
Technical
Aston Martin DB6 MK II Technical details and specifications (1969-1971)


ENGINE
Location front, 4 stroke
cylindors: 6, vertical. in line
bore and stroke: 3.78 x 3.62 in, 96 x 92 mm
engine capacity: 243.8 cu in, 3,995 cu cm
compression ratio: 8.9 (injection) 9.4
cylinder block: light alloy. wet liners
cylinder head: light alloy, hemispherical combustion chambers
crank- shaft bearings: 7
valves: 2 per cylinder, overhead, slanted at 80°, thimble tappets
camshafts: 2, overhead
lubrication: front-mounted chain-driven oil pump and full-flow cartridge filter. Oil cooler
lubricating system capacity: 28 imp pt. 33.6 US pt
carburation: 3 SU type HD 8 horizontal carburettors (Vantage) 3 Weber 45 DCOE 9 horizontal twin barrel carburettors.
fuel feed: 2 electric pumps 
cooling system: water, electric thermostatic fan

TRANSMISSION
driving wheels: rear
clutch: single dry plate (diaphragm), hydraulically controlled
gearbox: mechanical; gears: 5 + reverse
synchromesh gears: 1st, 2nd, 3rd, 4th ,5th
gearbox ratios: I 2.970, II 1.760, III 1.230, IV 1, V 0.834, rev 3.310
final drive: hypoid bevel; axle ratio: 3.730  (option) limited slip final drive , 3.540 axle ratio.

Borg-Warner No.8 Three-speed epicyclic automatic transmissinn incorporating a dual—drive and manual
overriding control of 1st and 2nd gears. Centre, floor mounted Ratios: Top (3.73 - 7.42), Internediate (5.47 - 10.38). Low (8.95 - 17.91)

CHASSIS
box-type platform
front suspension: independent, wishbones, coil springs, anti-roll bar, telescopic dampers
rear suspension: rigid axle, parallel trailing links, transverse Watt linkage, coil springs, lever dampers adjustable while running.

STEERING
rack-and-pinion
adjustable height and tilt of steering wheel servo
turns of steering wheel lock to lock: 3.12.
turning circle (between walls): 34 ft, 10.4 m

BRAKES
disc (front diameter 11.50 in, 292 mm, rear 10.80 in, 274 mm)
dual circuit, each with vacuum servo
area rubbed by linings front: 241 sq in, 1,554 sq cm,
area rubbed by linings rear : 197 sq in, 1,270 sq cm,
area rubbed by linings total: 438 sq in, 2,824 sq cm.

ELECTRICAL EQUIPMENT
voltage: 12 V
battery: 60 Ah
generator type: alternator, 45 A
ignition distributor: Lucas

DIMENSIONS AND WEIGHT
wheel base: 101.75 in, 2,584 mm
front track: 54 in, 1 ,371 mm
rear track: 54 in, 1 ,371 mm
overall length: 182 in, 4,623 mm
overall width: 66 in, 1,676 mm
overall height: 53.50 in, 1,359 mm
ground clearance: 6.25 in, 159 mm
dry weight: 3,300 1b, 1,496 kg

© Motor car History
Service
Aston Martin DB6 MK II maintenance and Service Guide (1969-1971)

Fuel type 100 oct petrol
Engine oil: 23 imp pt, 27.5 US pt, 13 1, SAE 1OW-40 (summer) , 1OW-30 (winter), change every 2,500 miles, 4,000 km
Gearbox oil: 3.5 imp pt, 4.2 US pt. 2 1, SAE 90, change every 10,000 miles, 16,100 km
Final drive oil: 3 imp pt, 3.6 US pt, 1.7 1, SAE 90, change every 10,000 miles, 16,100 km
Cooling system capacity: 28 imp pt, 33.6 US pt, 15.9 1.
Greasing: every 10,000 miles, 16,100 km, 8 points
Normal tyre pressure: front 26 psi, 1.8 atm, rear 28 psi, 2 atm.
Width of rims: 6"
Tyres: 8.15 x 15.
Fuel tank capacity: 19 imp gal, 22.7 US gal
Carrying capacity: 706 1b, 320 kg

© Motor car History
Maintenance
Maintenance Advanced Data
Members Only !  >>  Register here. <<
Models and years covered 1920 to 2020 all make and years. Car and Commercial vehicles Worldwide including basic to advanced.
Including Full Rebuilds, Service and trouble shooting, Technical diagrams and Wiring diagrams on request..
ENGINES
COOLING SYSTEM
TRANSMISSION
BRAKES
STEERING
SUSPENSION
WHEEL ALIGNMENT
DIMENSIONS AND SIZES
TORQUE WRENCH SETTINGS
CAPACITIES
CARBURETTORS
INJECTION SYSTEMS
SERIAL NUMBER LOCATIONS