Info
VW Karmann Ghia Type 34
Production :

1961 to 1969

Class :

Sports car

Body versions :

Coupe

Engines:

Gasoline : 1.5-1.6 liters (34-40 kW)

Length:

4280 mm

Width:

1620 mm

Height:

1335 mm

Wheelbase :

2400 mm

Curb weight :

910-940 kg
The VW Type 34 Karmann Ghia, the essentially two-seat coupe sports model as a four- or five-seat air-cooled VW of the years 1961 to 1969. This car was contracted for VW at Karmann in Osnabrück.
History
In September 1961, Volkswagen introduced the VW 1500 Karmann Ghia, or Type 34, based on its new Type 3 platform, featuring Volkswagen's new flat 1500cc engine design, and styling by Italian engineer Sergio Sartorelli.Due to model confusion with the Type 14 1500 introduced in 1967, the Type 34 was known variously as the "Der Große Karmann" ("the big Karmann") in Germany, "Razor Edge Ghia" in the United Kingdom, or "European Ghia" (or "Type 3 Ghia" among enthusiasts) in the United States. Today the name Type 34 is recognized as the worldwide naming convention.
The "small" Karmann Ghia received the most powerful engine of the VW Beetle, the big Karmann was always delivered with the most powerful engine and the best equipment of the parallel model VW Type 3 . The car is not a real sports car, but more of a  Ladies' Sportscar, as VW emphasized. This great Karmann Ghia was to be found above all as a second car of the lady of the house wealthy layers and as vehicle of academics. The four-seater applies at most for the entrainment of small children in the rear emergency seats.
This was not the successor of the "little Karmann Ghia" (VW Type 14) , but both were produced and offered in parallel. While the Type 14 is based on a (slightly modified) VW Beetle chassis, the Type 34 is based on the VW Type 3 (VW 1500/1600) and shares with it the platform frame together with axles and drive. Until the appearance of the VW 411 , that is from the end of 1961 to 1968, the big Karmann was the most expensive and fastest passenger car on offer from VW.
The Type 34 is officially a four-seat closed rear-wheel-drive passenger car  The wheels had independent suspension (front crankshaft , rear swing axle ) and initially all around drum brakes . In model year 1966 (from August 1965), the front wheels received disc brakes . In the following model year 1967 (from August 1966) were a 12-volt electrical system and the dual-circuit brake system as standard. From model year 1968 there was a surcharge fully automatic gearbox in conjunction with a modern rear semi-trailing arm. From model year 1969, the cars with manual transmission had the rear semi-trailing arm axle.
On September 1, 1961, the series production of the vehicle began with a 1.5-liter four-cylinder boxer engine, which made 45 hp (33 kW). It reached a maximum speed of 137 km / h. For model year 1964, the model 1500 S appeared with two carburetors, higher compression and 54 hp (40 kW). The S engine required premium gasoline. This was the standard engine for two model years. 
PERFORMANCE: 1500cc Type 34 Karmann Ghia
Engine capacity: 91.31 cu in, 1493 cu cm
Fuel consumption: 34.0 imp gal, 28.3 m/US gal
Max speed: 82 mph", 132 km h
Max power (SAE): 53 hp at 4000 rpm
Max torque (SAE) 83 1b ft. 11.5 kgm at 2000 rpm
Max number of engine rpm: 4500
Specific power 35.5 hp/l
Power-weight ratio: 37.5 lb/hp. 17 kg,hp
Acceleration: 0—50 mph (0—80 kmh) 15 sec
For model year 1966, the S-engine was replaced by a 1600 cc engine with also 54 hp, which could be operated with regular gasoline. The 1600 with 54 hp was with minor modifications - retained until the end of production of the vehicle type.
PERFORMANCE: 1600cc Type 34 Karmann Ghia
Engine capacity: 96.66 cc in, 1,584 cu cm
Fuel consumption: 32.8 m/imp gal, 27.3 m/US gal, 8.3 x 100 km
Max speed: 90.1 mph, 145 km/h
Max power (SAE): 65 hp at 4,600 rpm
Max torque (SAE): 87 1b ft, 12 kg m at 2,800 rpm
Max number of engine rpm: 5,400
Specific power: 41 hp/l
Power-weight ratio: 30.9 lb/hp, 14 kg/hp
Acceleration: 0—50 mph (0—80 km/h) 11.5 sec
In addition to the coupe should originally be offered, as in the small Karmann Ghia, a convertible version. The number of Cabriolet prototypes is speculated; It is very likely that 12 vehicles (prototypes and zero series) were built at Karmann in Osnabrück.
One of these vehicles, a white zero-production vehicle from 1963, is in the (not publicly accessible) Karmann-Werksmuseum in Osnabrück. In the VW factory museum is a silver convertible, this is probably an original convertible, which was set to a coupe chassis from 1969. Various parts of chassis and technology (eg automatic, disc brakes, even the enlarged speedometer of the later model years) were taken from the 1969 donor vehicle.
The Type 34 was not an economic success. After only 42.505 vehicles this type was discontinued without successor.As a result of the small numbers from the beginning, the great Karmann is now hardly to be found on the road. Its technology is relatively simple, easy to maintain and repair, and spare parts for the drive and chassis are also readily available. However, many karmann-specific parts of the body are considered highly problematic. Unlike the VW Beetle and the VW Type 3 , the fenders are welded instead of bolted to the Karmann bodies. Front masks, bumpers, windshields and taillights are intended to pose major problems for replacement.he second automobile model in the world to have this option, an electrically operated sliding steel sunroof was optional in 1962. The styling offered more interior and cargo room than the original Karmann Ghia. It featured an electric clock, three luggage spaces, built-in fog lights, round tail lights, upper and lower dash pads, door pads, and long padded armrests. It was the fastest production VW model of its day.
Although the Type 34 was available in most countries, it was not offered officially in the U.S. – VW's largest and most important export market – another reason for its low sales numbers. Many still made their way to the USA (most via Canada), and the USA has the largest number of known Type 34s left in the world (400 of the total 1,500 to 2,000 or so remaining).
Like its Type 14 brother, the Type 34 was styled by the Italian design studio Ghia. There are some similar styling influences, but the Type 14 Ghia looks very different from the Type 34. The chassis is also a major difference between the cars and the karmann ghia bumpers remain the same; the Type 14 shares its chassis with a Beetle, whereas the Type 34 body is mounted on the Type 3 chassis and drive train (the same as in a 1500/1600 Notchback, Variant (Squareback) and Fastback) – all distinguished by the standard 1500 pancake engine that allowed a front and rear boot. The Type 34 is mechanically the same as other Type 3s. All bodywork, interior, glass, bumpers, and most of the lenses are unique to the Type 34.
The Wilhelm Karmann factory assembly line which assembled the Type 34 also produced the VW-Porsche 914 (known as Porsche 914 in the USA), the Type 34's replacement.
Karmann Ghia TC
As an alternative to the Type 34 Karmann-Ghia coupé, which Volkswagen had introduced to Europe in 1961, Karmann-Ghia do Brasil looked to Ghia in Turin for a reworked version of the Type 14 at the end of the 1960s. At the time Ghia employed Giorgetto Giugiaro, the famous Italian designer and he was set to work on the new Brazilian Karmann Ghia. The result was the Volkswagen Karmann Ghia TC (Touring Coupé), internally known as the Type 145, which was introduced in 1970.
This model looked much like an Italian impression of a Porsche 911 and was a roomy 2+2 coupe with a modern and comfortable interior. Underneath it was similar to the Type 14 though actually the platform of the Volkswagen Variant was used rather than that of the Volkswagen Beetle. The main difference was the engine: the Type 145 TC was fitted with the 1584 cc flat-four air-cooled boxer unit from the Type 3 instead of the 1192 cc unit of the Type 14. The car had 65 hp (48 kW) @ 4600 rpm and a top speed of 86 mph (138 km/h), compared to the 34 hp (25 kW) and 72 mph (116 km/h) of the Type 14.
18,119 TC models were produced during its production run from 1970 until 1976. It was only offered in South America and wasn't exported off the continent. There is a prototype that is part of the factory museum collection of Karmann in Osnabrück, Germany.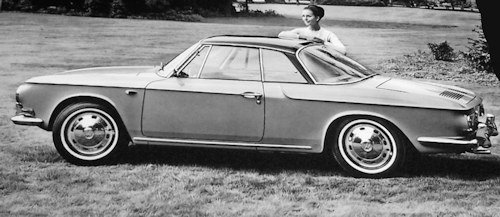 Technical
VW Karmann Ghia Type 34 Technical details and specifications (1961-1969)


ENGINE:1500cc (6v)
location rear
4 stroke; cylinders 4, horizontal, opposed
bore and stroke 3.27 x 2.72 in. 83 x 69 mm
engine capacity. 91.31 cu in, 1493 cu cm
compression ratio: 7.8
cylinder block: cast iron
cylinder head: light alloy
crankshaft bearings: 3
valves: 2 per cylinder overhead
camshaft: 1, lower, central
lubrication: gear pump. filter in sump, oil cooler
carburation: 1 Solex 32 PHN horizontal single barrel carburettor
fuel feed: mechanical pump
cooling system: air-cooled.

ENGINE: 1600cc
4 stroke; cylinders:4, horizontally opposed
bore and stroke: 3.37 x 2.72 In, 85.5 x 69 mm
engine capacity: 96.66 cu in, 1,584 cu cm
compression ratio: 7.7
cylinder block: cast iron
cylinder head: light alloy;
crankshaft bearings: 3
valves: 2 per cylinder, overhead, push-rods and rockers
camshafts: 1, central, lower
lubrication: gear pump, filter in sump, oil cooler
lubricating system capacity: 4.58 imp pt, 5.50 US pt
carburation: 2 Solex 32 PDSIT downdraught carburettors
fuel feed: mechanical pump
cooling system: air-cooled.

TRANSMISSION: (early)
driving wheels: rear
clutch: single dry plate
gear box. mechanical gears: 4 plus reverse:
synchromesh gears: all
gear box ratios (1st) 3.80. (2nd) 2.06, (3rd) 1.32. (4th) 0.89, (Rev) 3.88
gear lever location: central.
(option)automatic clutch.
Final drive: spiral bevel; ratio: 4.125.1.

CHASSIS:
type platform, backbone type
front suspension: independent, swinging longitudinal arms, transverse torsion bars. anti-roll bar. te!escopjc dampers.
rear suspension: independent, swinging half-axles. trailing arms. transverse torsion bars. telescopic dampers"

STEERING: (early)
worm and roller, telescopic dampers
turns of steering wheel lock to lock: 3.
turning radius (between walls): 17.6 ft. 5.35 m
BRAKES:
drum, 2 front leading shoes
braking surface: total 128.65 sq in, 830 sq cm.

ELECTRICAL EQUIPMENT: (early)
voltage: 6 V
battery: 77 Ah
dynamo: 200 W
ignition distributor: Bosch

DIMENSIONS AND WEIGHT:
Wheel base: 94.49 im 2400mm
front track: 51.67mm
rear track: 52.99 in, 1346 mm
overall length: 168.63 in, 4280 mm:
overall width: 63.83 in, 1620 mm
overall height: 53-39 in. 1355 mm
ground clearance: 544 in, 138 mm
dry weight: 1985 lb. 900 kg
distribution of weight: 40.9% front axle, 59.1% rear axle

© Motor car History

Engines comparison

Type

1500

1500 s

1600 L

engine

flat-built four-cylinder four-stroke boxer rear engine; air-cooled; central camshaft; hanging valves operated via bumpers and rocker arms; oil bath; Firing order 1-4-3-2

Bore × stroke (mm × mm)

83 × 69

85.5 × 69

Displacement (cm³)

1493

1584

Power (PS / kW) at 1 / min

45 (34) at 3800

54 (40) at 4200

54 (40) at 4000

Torque (kpm / Nm) at 1 / min

10.8 (106) at 2000

10.8 (106) at 2400

11.2 (110) at 2200

compression

7: 1

8.5: 1

7.7: 1

petrol

normal

great

normal

 

a flat-flow carburetor Solex

two downdraft carburetors Solex

 
 

transmission

Four-speed manual, from 9/67 also three-speed automatic

 
 

Wheelbase (mm)

2400

 
 

Track front / rear (mm)

1310/1346

 
 

Length × width × height (mm)

4280 × 1620 × 1335

 
 

Empty weight kg)

910

Automatic: 940

 
 

Total weight (kg)

1250

1280

1310

Automatic: 1340

 
 

Maximum speed (km / h)

137

150

150

Automatic: 140

Acceleration from 0-100 km / h (s)

22.5

19

19

Automatic: 25

 
 
 

construction time

1961-1962

1962-1965

1965-1969

 
 
 

 
Service
VW Karmann Ghia Type 34 Maintenance and Service Guide (1961-1969)

Gearbox and final drive oil: 2.64 imp qt. 3.17 US qt. 3 1. SAE 90
Steering box oil: SAE 90
Greasing: every 1500 miles, 2500 km, 8 points
Tyre pressure (normal load): front 17 psi rear 24 psi
Tyres: 6.00- 15 tubeless
Fuel tank capacity: 8.8 imp gal, 10.57 US gal

ENGINE: 1500cc
Fuel type: petrol. 85 Oct
Engine oil change: 2.20 imp qt. 2.6 US qt. 2.5 1, SAE 10W-30, change every 3100 miles. 5000 km
Total lubricating system capacity: 2 3 imp qt. 27 US qt
Tappet clearance inlet 0.008 in O.2O mm. exhaust 0.012 in, 0.30 mm
Valve timing: (inlet) opens 7° 5" before tdC and closes 37° after bdc, (exhaust) opens 44° 5" betore bdc and closes 37° after tdc

ENGINE: 1600cc
fuel: 85 oct petrol
engine oil change: 4.40 imp pt, 5.28 US pt, 2.5 1, SAE 10W-30, change every 3,100 miles, 5,000 km
gearbox and final drive oil: 5.28 imp pt, 6.34 US pt, 3 1, SAE 90, change every 31,100 miles, 50,000 km
greasing: every 6,200 miles, 10,000 km, 4 points
tappet clearances: inlet 0.004 in, 0.10 mm, exhaust 0.004 in, 0.10 mm
valve timing: inlet opens 7°30' before tdc and closes 37° after bdc, exhaust opens 44°30' before bdc and closes 4° after tdc
normal tyre pressure: front 17 psi, 1.2 atm, rear 24 psi, 1.7 atm.

© Motor car History
Video
Motor car History
Duration
00:46
Maintenance
Maintenance Advanced Data
Members Only !  >>  Register here. <<
Models and years covered 1920 to 2020 all make and years. Car and Commercial vehicles Worldwide including basic to advanced.
Including Full Rebuilds, Service and trouble shooting, Technical diagrams and Wiring diagrams on request..
ENGINES
COOLING SYSTEM
TRANSMISSION
BRAKES
STEERING
SUSPENSION
WHEEL ALIGNMENT
DIMENSIONS AND SIZES
TORQUE WRENCH SETTINGS
CAPACITIES
CARBURETTORS
INJECTION SYSTEMS
SERIAL NUMBER LOCATIONS