Info
Enzmann Automobiles Schupfheim; Switzerland 1956 to 1967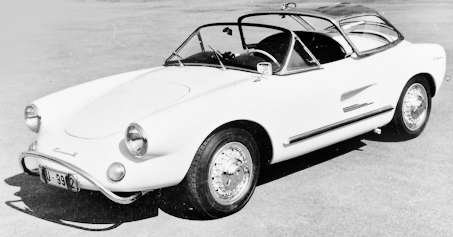 The Enzmann also called the Enzmann 506 is a sports car constructed by the Swiss Emil Enzmann , which was built from 1956 to 1968. The brand name Enzmann has been continued since 2001 by the son-in-law of Emil Enzmann. The company is currently based in Bischofszell as Gossweiler + Schreiber .
History 
In 1953, the Swiss country doctor and hobby designer Dr. med. Emil Enzmann an open sports car, inspired by the Porsche 550 Spyder . The body was a monoblock type made of fiberglass-reinforced plastic ,then was bolted to a VW chassis . To reduce weight, the installation of doors was omitted, which also simplified the body structure.
ENGINE CAPACITY: 79.20 cu in, 1295 cu cm; SEATS: 2; MAX SPEED: 99.4 mph, 160 km/h; PRICE: 10,600 francs.
In 1956, the Enzmann-Spider was presented in Lausanne at the Comptoir Suisse . In 1957, the International Motor Show followed in Frankfurt, where he also received the suffix 506 , the number of the trade fair stand. There were three variants:
Spider - with a small racing disc and open
Cabriolet - with Karmann disc and folding roof
Hardtop - with fixed folding or parallel sliding roof
It was made from 1956 to 1968. The main cause for the production to stop was ultimately the procurement of new chassis , which was torpedoed by VW. VW saw in Enzmann a competitor to the VW Karmann Ghia . Thus, the veto of AMAG , the Swiss VW and Porsche importer, meant the end for the Enzmann production. The alternative would have been to buy new VW Beetle, unscrew their bodies and convert them to men . This would have been far too expensive and Enzmann would have thrown out of the race in the competition - a circumstance that brought the end to other Beetle converters, such as the company Rometsch .Finally, about 100 vehicles have been built. 
Karl Enzmann and Werner Schreiber, son and son-in-law of the company founder, nowadays produce faithful new editions. Since the launch of the new edition in 2001, air-cooled boxer engines with two-liter displacement and a twin carburetor from the Volkswagen Beetle have been used there . The power is rated at 110 hp . 
PERFORMANCE:
max power (DIN): 45 hp at 4600 rpm
max torque (DIN).70 1b ft, 9.7 kgm at 2800 rpm
max number of engine rpm: 5200
specific power: 347 hp/l
power-weight ratio: 26.0 lb/hp, 11.8 kg/hp
useful load: 353 1b, 160 kg
acceleration: 0—50 mph (0 —80 km/h) 9 sec
speed in top at 1000 rpm: 20.2 mph, 32.5 km/h.
max speed in 1st gear: 31.1 mph, 50 km/h
max speed in 2nd gear: 56 mph, 90 km/h
max speed in 3rd gear: 85.1 mph, 137 km/h
max speed in 4th gear: 99.4 mph, 160 km/h
VARIATIONS AND OPTIONAL ACCESSORIES:
Engine capacity 72.90 cu in, 1290 cu cm, bore and stroke 3.03 x 2.52 in, 77 x 64 mm, MAG low pressure compressor, compression ratio 6.6 : 1, max power 42 hp at 3400 rpm; 506 Super 1300
Hardtop, overall height 42.52 in, 1080 mm, dry weight 1323 1b, 600 kg.
Technical
Enzmann 506 Technical details and specifications

ENGINE:

Location rear, 4 stroke

cylinders: 4, horizontally opposed

bore and stroke 3.03 x 2.74 in, 77 x 69.5 mm

engine capacity: 79.20 cu in, 1295 cm

compression ratio: 7.8 : 1

cylinder block: cast iron

cylinder head: light alloy

crankshaft bearings: 3

valves: 2 per cylinder, overhead, parallel, with push rods and rockers
camshaft: 1, central

lubrication: gear pump, oil cooler

carburation: 2 Solex 28 PCI downdraft
carburettors; fuel feed: mechanical pump

cooling system: air-cooled.

TRANSMISSION:

driving wheels: rear

clutch: single dry plate

gear box: mechanical; gears: 4 + reverse

synchromesh gears: II, III, IV;

gear box ratios: (I) 3.36, (II) 1.88, (III) 1.23, (IV) 0.82, (Rev) 4.63; gear lever location: central

final drive: spiral bevel ratio: 4.43 : 1.

CHASSIS:

platform with central backbone

front suspension: independent, swinging trailing arms, laminated torsion bars, anti-roll bar, telescopic dampers

rear suspension: swinging axles, trailing arms, transverse torsion bars, telescopic dampers.

STEERING:

screw and nut.

BRAKES:

drum; braking surface: total 96.10 sq in, 620 sq cm.

ELECTRICAL EQUIPMENT:

voltage: 6 V

battery: 66 Ah

dynamo: 180 W;
ignition distributor: Bosch

headlights: 2 front.

DIMENSIONS AND WEIGHT:

wheel base: 94.49 in, 2400 mm

front track: 50.80 in, 1290 mm

rear track: 49.21 in, 1250 mm

overall length: 165.35 in, 4200 mm,
overall width: 62.99 in, 1600 mm

overall height: 42.52 in, 1080 mm

dry weight: 1169 1b, 530 kg

turning radius clearance: 5.90 in, 150 mm (between walls): 17.7 ft, 5.4 m tyres: 5.60 - 15, tubeless

fuel tank capacity: 11.44 imp gal, 13.73 US gal, 52 1.

BODY:

convertible; doors: none; seats: 2.

© motorcar history

 
Service
PRACTICAL INSTRUCTIONS: Enzmann 506

fuel: petrol, 95-98 oct.

lubricating system capacity. 2.2 imp qt, 2.6 US qt, 2.5 1

FUEL CONSUMPTION: 36 m/imp gal, 30.1 m/US gal, 7.8 Ix 100 km

© motorcar history