Renault Voiturette
Manufactured by Louis Renault, Billancourt, France  1898 to 1903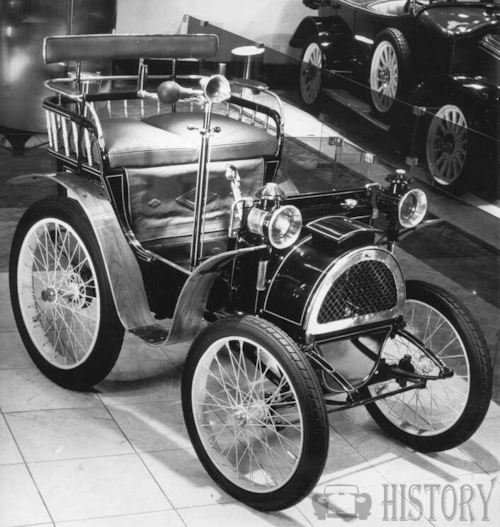 First Renault Car 1898 Voiturette 
Louis Renault, the fourth son of his parents, built his first car in the family garden shed at Billancourt in 1898. he was 21 when he modified a de Dion tricycle to a four-wheeler Voiturette. Renault replaced the then common belts and noisy chains by a newly developed three- speed-and-reverse gearbox.
The drive was transmitted via a propeller shaft to a differential at the rear axle. This system also became widely used in other cars, and in only slightly modified form it is still used on
modern cars. Renault's first car was fitted with a single-cylinder water- cooled engine made by de Dion-Bouton, with bore and stroke of 66x80mm and of 273 cc. This front-mounted engine developed 1.3kW (1.75hp). The Voiturette weighed as little as 350kg (7701b) and with two passengers it had a top speed of 32km/h (20mph).
After showing the vehicle to his friends, Louis Renault received 12 orders for this car, the majority paid in advance. However, in order to make them, he had to build a bigger factory. And so, in partnership with his brothers Marcel and Fernand, the Société Renault Fréres was established in 1899. In that year Renault produced 72 closed limousines, the Renault Coupé model, which was a novelty.
1899 Renault Voiturette 1st small covered sedan.
Voiturette Type C
In 1900 another model by the Renault brothers appeared,  After several mechanical and physical modifications, now fitted with a more powerful 2.6kW (3.5hp) engine. The engines were supplied by de Dion-Bouton.
The Type D and E Voiturettes were similar to the Type C but with some differences, mostly the 5CV upgraded engine. The Type D was identical to the Type C excepting the retractable roof and the Type E showed a longer roof than that of the Type B, but without any door. The Type G used the same chassis and body style than the Type D and E but with an upgraded engine.
Two years later Renault Fréres started making their own engines. The designer of these new twin-cylinder and four-cylinder water- cooled engines had worked in the de Dion-Bouton design department. Renault cars of this period were notable for their twin radiators, fitted alongside the bonnet. The radiators were easily accessible and at the same time well protected against dust.
The garden shed in which the history of Renault started still exists, and now it overlooks the Renault management offices in Emile Zola
Avenue at Billancourt near Paris.
1901 Renault Voiturette 5cv
More information on
Renault Voiturette Manufactured by Louis Renault, Billancourt, France 1898 to 1903