History
Mitsubishi L200 5th generation
Production:

2015 to 2019

Body versions :

Pick up

Engines:

Diesel: 2.4 liters  (113-133 kW)

Length:

5195-5285 mm

Width:

1785-1815 mm

Height:

1775-1780 mm

Wheelbase :

3000 mm

Curb weight :

1921-2027 kg
The Mitsubishi L200 is a pickup from Mitsubishi Motors, built since 1978 in several vehicle generations. The L200 has been available with a single cabin, a double cabin and Club Cab.
In November 2014, Mitsubishi introduced the 5th generation of the L200 in Thailand. Since September 26, 2015, the new generation became available. It is also known as Fiat Fullback. With impressive fuel economy, good off-road ability and a whole host of safety systems it received 4 out of 5 Stars in the Euro NCAP crash test.
There are two four-wheel drive or (4WD) systems available on the L200. Special editions. include the SVP and Barbarian also the Challenger.
All models have Deadlocks and Immobiliser, Two airbags and Electronic stability control and fitted with Daytime running lights, trailer and Hill-start Stability Assist. The display info system includes Apple Carplay and Android Auto for phone connectivity.
Initially the L200 was only available in Double Cab body style, meaning this has four doors, five seats, but a much smaller load area. but those seeking a work only truck by 2016 a Single Cab has just two doors and two seats and Club Cab variant also introduced with small rear side window that gives you better access to the rear seating storage area.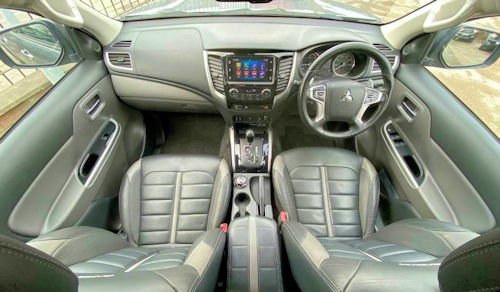 Comes with both two-wheel drive and four-wheel drive modes. Standard is a six-speed gearbox, a five-speed automatic is also an option. A good 5.9m turning circle.
To meet Euro 6 emissions requirements. A 2.4-litre turbodiesel engine became available. load weight is up to 3.5 tonnes a total load capacity of 4,090kg in the single cab payload capacity larger the load area is 415mm longer
Top specification models get Heated front seats with electric adjustment touch screen Satellite-navigation and useful Rear-view camera.
in 2019 it was replaced by the 6th generation.
Technical
Mitsubishi L200 5th gen Technical data

version

Club Cab

double cabin

 

2.4 DI-D

2.4 DI-D +

2.4 DI-D

2.4 DI-D +

number of cylinders

4

Displacement(cm³)

2442

Max. Power (kW / hp)

113/154 at 3500

133/181 at 3500

113/154 at 3500

133/181 at 3500

Max. Torque(Nm)

380 at 1500-2500

430 at 2500

380 at 1500-2500

430 at 2500

Transmission (standard)

6-speed manual transmission

Gearbox (optional)

-

-

-

5- speed automatic transmission

Maximum speed (km / h)

169

179

169

179 (177)

Acceleration (0-100 km / h)

12.2 s

10.4 s

12.2 s

10.4 (11.8) s

Consumption combined (l / 100 km)

6.9 D

6.9 D

6.9 (7.5) D

tank capacity

75

emission standard

Euro 6

 
Video
Motor car History
Duration
05:44
Maintenance
Maintenance Advanced Data
Members Only !  >>  Register here. <<
Models and years covered 1920 to 2020 all make and years. Car and Commercial vehicles Worldwide including basic to advanced.
Including Full Rebuilds, Service and trouble shooting, Technical diagrams and Wiring diagrams on request..
ENGINES
COOLING SYSTEM
TRANSMISSION
BRAKES
STEERING
SUSPENSION
WHEEL ALIGNMENT
DIMENSIONS AND SIZES
TORQUE WRENCH SETTINGS
CAPACITIES
CARBURETTORS
INJECTION SYSTEMS
SERIAL NUMBER LOCATIONS