Jensen 541S
Manufacturer
Jensen Motors Limited
Production
1960–1963 127 made
Class
Sports car
Engine
3993 cc straight-6 5358 cc V8
Body
2 door Grand tourer
Transmission
4-speed automatic 4-speed manual + overdrive
Wheelbase
105 in (2,667 mm)
Length
178 in (4,521 mm)
Width
67 in (1,702 mm)
The Jensen 541S was Jensen Motors luxury GT model of the Jensen 541 series, from the early 1960s
Hstory
 The 541S had a traditional radiator grill (rather than the flap of the 541) to accommodate the extra heat generated by a proposed new V8 engine, as well as a Salisbury limited slip differential to handle the additional torque.Being 4" wider than the 541R. This had the benefit of increasing interior space and enhancing roadholding.
In the 541S, Jensen employed their own powerful version of the Austin DS5 4 litre straight-six engine (equipped with triple SU carburetors, a high compression Weslake head, custom-made twin exhaust manifolds, and an aluminium baffled sump/oil cooler). The Jensen brothers initially tested Chrysler Hemi V8s in the 541S, as well as Richard Jensen's Jensen 541 delux, but none were employed due to supply issues. However, at Donald Healey's request, one was upgraded with a Chevrolet 327 V8.
 A total of 127 cars were hand-built between 1960 and 1962 at Jensen's West Bromwich factory, most having GM-licensed Rolls-Royce hydramatic gearboxes. This was innovative at the time as performance cars mainly had manual gearboxes. It also suited the criteria of effortless speed and luxurious long distance driving Jensen set for their new car, although twenty-two were fitted with Moss manual gear boxes at the request of their prospective owners.
The Jensen 541S is also noteworthy for being the first British car to come standard with seat belts. The adoption of Dunlop disc brakes on all four wheels was another first for the 541 series. The car was equipped with a rack and pinion steering system, which provided extremely precise steering. A padded windscreen surround, fire extinguisher, and first-aid box were among the other safety features. A Motorola radio was also installed in each vehicle.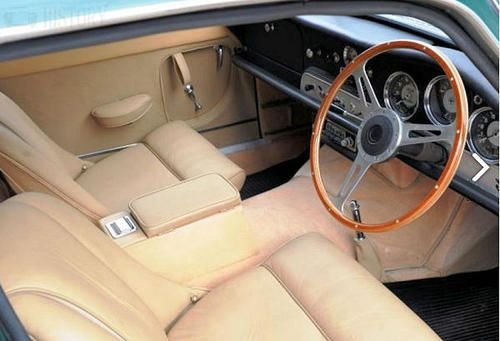 The 541 S was superseded by the Chrysler Golden Commando V8 powered Jensen CV8 model, which inherited from the 541 S the same wheelbase and track dimensions, as well as the Jensen ethos of safe, easy, comfortable and fast inter-continental travel while the groundbreaking 1966 Jensen FF used a perimeter tube style chassis first tried on the 541 series of cars.
BODY:
coupé in plastic material
doors: 2; seats: 4
front seat: double.
PERFORMANCE:
FUEL CONSUMPTION: 18.8 m imp gal, 15.7 m
MAX SPEED; 108.0 mph, 173.9 km h;
max speed in 1st gear: 20.0 mph, 32.2 km/h
max speed in 2nd gear: 42.0 mph, 67.6 km/h
max speed in 3rd qear: 70.0 mph, 112.7 km/h
max speed in 4th gear: 108.0 mph, 173.9 km/h
power-weight ratio: 22.0 lb/hp, 100 kg/hp
useful load: 706 1b, 320 kg
acceleration: standing 1/4 mile 18.8 sec—80 km(h) 9.2 sec
speed in direct drive at 1000 rpm: 26,0 mph,—50 mph 41.9 km/h
Technical
Jensen 541S  technical details and specifications (1960-1963)

ENGINE:

front 4 stroke; cylinders. 6, vertical

stroke: 3.44 x 4.37 in, 87.4 x 111.0 mm

engine capacity: 244.21 cu in, 3993 cu cm

compression ratio: 7.4 : 1

max power (SAE): 152 hp at 4100 rpm; max torque (SAE): 228 1b ft. 31,5 kgm at 2400 rpm

max number of engine rpm: 4600

specific power: 38.1 hp/l

cylinder block: cast iron

cylinder head: cast iron

crankshaft bearings: 4; valves: 2 per cylinder, overhead, with push 'rods and rockers;

camshaft: 1, side

lubrication; gear pump, full flow filter

carburation 3 LSI-J type HD 6 slanted

carburettors; fuel feed: mechanical pump

Cooling system: water

TRANSMISSION:

driving wheels: rear

gear box: automatic, hydraulic torque convertor and planetary gears with 4 ratios and reverse

3-position manual selection; gear box ratios: (l) 3.82, (II) 2.63, (III) 1.45, (IV) 1, (Rev) 4.3

gear lever: steering column

final drive: hypoid bevel

ratio: 2.93 : 1.

CHASSIS:

Tubular

front suspension: independent, wishbones, coil springs, anti-roll bar, lever dampers

rear suspension: rigid axle, semi-elliptic leafsprings, telescopic dampers.

STEERING:

rack-and-pinion

turns of steering wheel lock to lock: 2.75.

BRAKES:

disc, servo.

ELECTRICAL EQUIPMENT:

voltage: 12 V, battery: 64 Ah

ignition distributor: Lucas

headlights: 2 front and reversing.

DIMENSIONS AND WEIGHT:

wheel base: 105.00 in, 2667 mm

font track: 54.31 in. 1379 mm

rear track: 55.25 in, 1403 mm

overall length: 178.00 in, 4521 mm
overall width: 67.00 in, 1702 mm

overall height: 54.38 in, 1381 mm

ground clearance: 7.00 in, '178 mm

dry weight: 3248 1b, 1473 kg

distribution of weight: 60 % front axel '40 % rear axle

turning radius (between walls): 15.0 ft, 4.6 m
Service
Jensen 541S  SEVICE INSTRUCTIONS (1960-1963)

Fuel: petrol, 90-95 oct

Tyre pressure (medium load): front 24 psi, 1.7 atm, rear 24 psi,

Tyres: 6.40 –15

Fuel tank capacity: 14.95 imp gal, 17.95 IJS gal, 68 1.

cooling system capacity: 12.3 imp qt, 14.8 US qt, 14 1.

lubricating system capacity: 9M imp qt. 11 US qt.

Engine sump oil: 8.5 imp qt, 10.2 US qt 9.7 1, SAE 20 (winter) 30 (summer), change every 3000 miles. 4800 km

Gearbox oil: 10.0 imp qt. 12.0 US qt. 11.4 1, change every 20000 miles,32200 km

Final drive oil: 1.5 imp qt, 1.8 US qt, 1.7 1, SAE 90, change every 10000 miles, 16100 km

Greasing: 18 points

Tappet clearances: inlet 0.012 in, O.30 mm, exhaust 0.012 in, 0.30 mm

Valve timing: (inlet) opens 50 before tdc  and closes 45 after bdc, (exhaust) opens 40 opens before bdc and closes 10 after tdc