History
Ford Capri Mk III
 1978 to 1986
Manufacturer
Ford of Europe
Production
1978–1986
Assembly
Dagenham, Halewood, United Kingdom Genk, Belgium Cologne, Saarlouis, Germany
Predecessor
Ford Capri Mk II
Class
Mid-size sports car
Body style
Hatchback coupé
Layout
FR layout
Engine
petrol: I-4 1.3 L, 1.6 L, 2.0 L, V6 2.0 L, 2.3 L, 2.8 L, 3.0 L
Transmission
Manual transmission, Automatic transmission
Wheelbase
101 in (2,565 mm)
Length
167.8 in (4,262 mm)
Width
67 in (1,702 mm)
Height
51 in (1,295 mm)
Curb weight
2,227 lb (1,010 kg) 1.3L 2,293 lb (1,040 kg) 1.6S 2,273 lb (1,031 kg) 2.0S 2,620 lb (1,188 kg) 2.8i 2,688 lb (1,219 kg) 3.0S
The Capri Mk III  were available from March 1978.
History
The Capri II '78 presented in March 1978 was a heavily revised version of the Capri II '74 and was internally called "Project Carla". It represented a thorough model upgrade of the second generation.
Internally, the Capri Mk III was known as "Project Carla," and although being little more than a significant improvement of the Capri II, it was frequently referred to as the Mk III. The first cars were released in March 1978, although sales were on the wane at the time. The concept of a radically facelifted Capri II was displayed at the 1976 Geneva Motor Show: a Capri II with a front identical to the Escort RS2000 (with four headlamps and a black slatted grille) and a rear spoiler effectively foreshadowed the car some time before its appearance. The Mk III had enhanced aerodynamics over the Mk II, resulting in improved performance and economy, as well as the signature quad headlights.
At launch the existing engine and transmission combinations of the Capri II were carried over, with the 3.0 S model regarded as the most desirable model although the softer Ghia derivative with automatic, rather than manual transmission, was the bigger seller of the two V6-engined models.
Mk III models available:
Capri L (1.3, 1.6)
Capri LS (1.6)
Capri GL (1.6, 2.0)
Capri S (1.6, 2.0, 2.3, 3.0)
Capri Laser (1.6, 2.0)
Capri Ghia (2.0, 3.0)
Capri 2.8 Injection (2.8)
Capri 2.8 Injection Special (2.8)
Capri 280 (2.8)
Special limited addition trimmed models:
Capri Cabaret I and II (1.6, 2.0)
Capri Calypso I and II (1.6)
Capri Cameo (1.3, 1.6)
Capri GT4 (1.6, 2.0)
Capri Tempo (1.3, 1.6)
Ford began to focus their attention on the UK Capri market as sales declined, realising the car had something of a cult following there. Unlike sales of the contemporary 4-door Cortina, Capri sales in Britain were to private buyers who would demand less discounts than fleet buyers allowing higher margins with the coupé. Ford tried to maintain interest in 1979 with Ford Rallye Sport, Series X, "X Pack" options from the performance oriented RS parts range. Although expensive and slow selling these proved that the press would enthusiastically cover more developed Capris with higher performance.
Despite being the most popular sporting model in Britain for most of its production life, the third generation Capri was also one of the most stolen cars in Britain during the 1980s and early 1990s, being classified as "high risk" of theft in a Home Office report.
The 3.0 S was used extensively in the TV series The Professionals, with characters Bodie driving a silver 3.0 S and Doyle a gold 3.0 S, which was credited with maintaining interest in the car in the UK. 
2.8 Injection models
In 1981, the 3.0 V6 powerplant was dropped from the line-up, while a new sporty version debuted at the Geneva Motor Show, called the 2.8 Injection. The new model was the first regular model since the RS2600 to use fuel injection. Power rose to 160 PS (118 kW) giving a top speed of 210 km/h (130 mph), but the car still had a standard four-speed gearbox. The Capri 2.8 Injection breathed new life into the range and kept the car in production 2–3 years longer than Ford had planned. The four-speed gearbox was replaced with a five-speed unit early on – at the same time Ford swapped the dated looking chequered seats for more luxurious looking velour trim. A more substantial upgrade was introduced in 1984 with the Capri Injection Special. This development used half leather seating and included a limited slip differential. Externally the car could be easily distinguished by seven spoke RS wheels (without the customary "RS" logo since this was not an RS vehicle) and color-coded grille and headlamp surrounds. At the same time the 2.0 Capri was rationalised to one model the 2.0 S, which simultaneously adopted a mildly modified suspension from the Capri Injection. The 1.6 model was also reduced to one model, the 1.6 LS.
2.8 Turbo
From July 1981 to Sept 1982, German RS dealers marketed a limited edition, Zakspeed inspired, left-hand drive only, 'Werksturbo' model with 190 PS (140 kW), which could propel the car to 220 km/h (137 mph). Based on a 3.0 S, this derivative featured widened bodywork, front and rear 'Ford Motorsport' badged spoilers, deep 7.5j four-spoked RS alloy wheels and an RS badged engine. The engine was based on a normally aspirated 2.8-litre V6, Ford Granada (Europe) engine. Figures of around 200 produced examples are common, but numbered transmission tunnels possibly indicate 155 conversions were made.
Tickford Turbo
The Tickford Capri used a turbocharged 2.8 Injection Cologne engine which developed 205 hp (153 kW), allowing it to reach 60 miles per hour in 6.7 seconds and 100 miles per hour in 13.4 seconds, topping out at 137 miles per hour. This version also featured a luxury interior with optional full leather retrim and Wilton carpeting and headlining, large rear spoiler, colour-coded front grille, deeper bumpers and 'one off' bodykit designed by Simon Saunders, later of KAT Designs and now designer of the Ariel Atom.
Rear disc brakes were standard on the Tickford, which featured numerous other suspension modifications. This model was essentially rebuilt by hand by Tickford at approximately 200 hours per car. It sold fewer than 100 units. One problem was the relative price difference to the standard Capri Injection, with the Tickford version costing twice as much.
Turbo Technics conversions
Independent tuner Turbo Technics also released a turbocharged 200 hp (149 kW) and 230 hp (172 kW) evolution which came supplied with a specially built gearbox. The Tickford Capri pricing issues meant that Ford also sanctioned the Turbo Technics conversion as semi-official, although only the German RS and British Tickford ever appeared in Ford literature as official Ford products.
Capri Laser
From November 1984 onwards, the Capri was sold only in Britain, with only right hand drive cars being made from this date. The normally aspirated 1.6 and 2.0 variants were rebranded with a new trim level – "Laser" – which featured a fully populated instrument pod, leather gear lever, leather steering wheel, four-spoke alloy wheels as used on the S models, an electric aerial and colour-coded grille and mirrors.
Capri 280
The last run limited edition "Brooklands" Green, 280 model, featuring a limited slip differential, full leather Recaro interior and 15 inch versions of the seven spoke 13 inch wheels fitted to the superseded Capri Injection Special. Ford originally intended to make 500 turbo charged vehicles (by Turbo Technics) complete with gold alloy wheels and name it the Capri 500 but a change of production planning meant a name change to Capri 280 as the cars were simply the last models that ran down the production line. A total of 1,038 Capri 280s were built.
When the last Capri was made on 19 December 1986, 1,886,647 cars had rolled off the production lines. Production had ended at Halewood, UK in 1976 and the Capri was made exclusively in Germany from 1976 to 1986. Most of those (more than a million) were the Mk I, because the Mk I sold well in North America and Australia, while the Mk II and Mk III were only exported outside Europe (to Asia and New Zealand) in limited numbers.
Edd with the Laser Capri in wheeler dealers Series 1
Technical
Registered: Advanced information, Maintenance and Service Guides to download and save.
Members Only !  >>  Register here. <<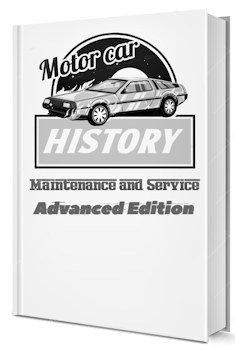 Video
Motor car History
Duration
02:57