History
 Ford Escort Mark 1 Overview
Production
Jan 1968–Nov 1974
Assembly
Halewood Body & Assembly, England Saarlouis, Germany Cork, Ireland Nazareth, Israel Homebush, Australia New Zealand Taiwan (Ford Lio Ho, CKD) Genk, Belgium
Body style
2-door saloon 4-door saloon 3-door estate 2-door panel van
Engine
939 cc Crossflow OHV I4 1,098 cc Crossflow OHV I4 1,298 cc Crossflow OHV I4 1,558 cc Lotus Twin Cam I4 1,994 cc Pinto TL20H OHC I4
Wheelbase
94.5 in (2,400 mm)
Length
159.25 in (4,045 mm) (saloon) 160.8 in (4,084 mm) (estate)
Width
61.8 in (1,570 mm)
Height
58.5 in (1,486 mm)
Curb weight
1,690 lb (767 kg)
The Mark I Ford Escort was introduced in the United Kingdom at the end of 1967, making its show debut at Brussels Motor Show in January 1968 It replaced the successful long running Anglia. The car was presented in continental Europe as a product of Ford's European operation. Escort production commenced at Halewood in England during the closing months of 1967, and for left hand drive markets during September 1968 at the Ford plant in Genk Initially the continental Escorts differed slightly from the UK built ones under the skin. The front suspension and steering gear were differently configured and the brakes were fitted with dual hydraulic circuits; also the wheels fitted on the Genk-built Escorts had wider rims.At the beginning of 1970, continental European production transferred to a new plant on the edge of Saarlouis, West Germany.
The Escort was a commercial success in several parts of western Europe, but nowhere more than in the UK, where the national best seller of the 1960s, BMC's Austin/Morris 1100 was beginning to show its age while Ford's own Cortina had grown, both in dimensions and in price, beyond the market niche at which it had originally been pitched. In June 1974, six years into the car's UK introduction, Ford announced the completion of the two millionth Ford Escort, a milestone hitherto unmatched by any Ford model outside the USA. It was also stated that 60% of the two million Escorts had been built in Britain. In West Germany cars were built at a slower rate of around 150,000 cars per year, slumping to 78,604 in 1974 which was the last year for the Escort Mark I.Many of the German built Escorts were exported, notably to Benelux and Italy: from the West German domestic market perspective the car was cramped and uncomfortable when compared with the well established and comparably priced Opel Kadett, and it was technically primitive when set against the successful imported Fiat 128 and Renault 12.Subsequent generations of the Escort made up some of the ground foregone by the original model, but in Europe's largest auto-market the Escort sales volumes always came in well behind those of the General Motors Kadett and its Astra successor.
The Escort had conventional rear-wheel drive and a four-speed manual gearbox, or 3-speed automatic transmission. The suspension consisted of MacPherson strut front suspension and a simple live axle mounted on leaf springs. The Escort was the first small Ford to use rack-and-pinion steering. The Mark I featured contemporary styling cues in tune with its time: a subtle Detroit-inspired "Coke bottle" waistline and the "dogbone" shaped front grille — arguably the car's main stylistic feature. Similar Coke bottle styling featured in the larger Cortina Mark III (also built in West Germany as the Taunus) that was launched in 1970.
 Ford Escort Mark 1 1300E
Initially, the Escort was sold as a 2-door saloon (with circular front headlights and rubber flooring) on the "De Luxe" model. The "Super" model featured rectangular headlamps, carpets, a cigar lighter and a water temperature gauge. A 2 door estate was introduced at the end of March 1968 which, with the back seat folded down, provided an impressive 40% increase in maximum load space over the old Anglia 105E estate, according to the manufacturer.The estate featured the same engine options as the saloon, but it also included a larger, 7+1⁄2-inch-diameter (190 mm) clutch, stiffer rear springs and in most configurations slightly larger brake drums or discs than the saloon. A panel van appeared in April 1968 and the 4-door saloon (a bodystyle the Anglia was never available in for UK market) in 1969.
Underneath the bonnet was the Kent Crossflow engine which was also used in the North American Ford Pinto. Diesel engines on small family cars were rare, and the Escort was no exception, initially featuring only petrol engines — in 1.1 L, and 1.3 L versions. A 940 cc engine was also available in some export markets, but few were ever sold.
PERFORMANCE: 1100cc (early)
engine capacity: 66.99 cu in, 1,098 cu cm
fuel consumption: 33 m/imp gal. 27.3 m/US gal, 8.6 1 X 100 km
max speed: 80 mph. 128.8 km/h
max power (SAE): 53 hp at 5.500 rpm
max torque (SAE): 62 1b ft. 8.6 kg m rpm
max engine rpm: 6,000
specific power: 48.3 hp/l
power-weight ratio: 31.1 lb/hp, 14.1 kg/hp
acceleration: standing 1/4 mile 21.3 sec, 0—50 mph (0—80 km/h) 13.1 sec
PERFORMANCE : 1300cc (early)
engine capacity: 79.20 cu in, 1,298 cu cm
fuel consumption: 31 m/imp gal, 25.8 m/US gal, 9.1 1 x 100 km
max speed: 85 mph, 136.8 km/h
max power (SAE): 61.5 hp at 5,000 rpm
max torque (SAE): 75 1b ft, 10.3 kg m at 2,500 rpm
max engine rpm: 5,600
specific power: 47.4 hp/l
power-weight ratio: 27.1 lb/hp, 12.3 kg/hp
acceleration: standing 1/4 mile 21.3 sec, 0—50 mph (0—80 km/h) 16.5 sec
There was a 1300GT performance version, with a tuned 1.3 L Kent (OHV) engine with a Weber carburetor and uprated suspension. This version featured additional instrumentation with a tachometer, battery charge indicator, and oil pressure gauge. The same tuned 1.3 L engine was also used in a variation sold as the Escort Sport, that used the flared front wings from the AVO range of cars, but featured trim from the more basic models. Later, an "executive" version of the Escort was produced known as the 1300E. This featured the same 13" road wheels and flared wings of the Sport, but was trimmed in an upmarket, for that time, fashion with wood trim on the dashboard and door cappings.

 Ford Escort Mark 1 1300 GT
A higher performance version for rallies and racing was available, the Escort Twin Cam, built for Group 2 international rallying. It had an engine with a Lotus-made eight-valve twin camshaft head fitted to the 1.5 L non-crossflow block, which had a bigger bore than usual to give a capacity of 1,558 cc. This engine had originally been developed for the Lotus Cortina. Production of the Twin Cam, which was originally produced at Halewood, was phased out as the RS1600 was developed. 
Ford Escort Twin Cam
The Mark I Escorts became successful as a rally car, and they eventually went on to become one of the most successful rally cars of all time. The Ford works team was practically unbeatable in the late 1960s / early 1970s, and arguably the Escort's greatest victory was in the 1970 London to Mexico World Cup Rally being driven by Finnish legend Hannu Mikkola. This gave rise to the Escort Mexico (1.6 L "Kent"-engined) special edition road versions in honour of the rally car.
Ford Escort Mexico Mk1
In addition to the Mexico, the RS1600 was developed which used a Kent engine block with a 16-valve Cosworth cylinder head. This engine was essentially a detuned Formula 3 engine designated BDA, for Belt Drive A Series. Both the Mexico and RS1600 were built at Ford's Advanced Vehicle Operations (AVO) facility located at the Aveley Plant in South Essex. As well as higher performance engines and sports suspension, these models featured strengthened bodyshells, making them good for rallying.
Ford Escort RS1600
Ford also produced an RS2000 model as an alternative to the somewhat temperamental RS1600, featuring a 2.0 L Pinto (OHC) engine. This also clocked up some rally and racing victories; and pre-empted the hot hatch market as a desirable but affordable performance road car. Like the Mexico and RS1600, this car was produced at the Aveley plant.
Ford Escort Mk1 RS 2000
The Escort was built in Germany and Britain, as well as in Australia and New Zealand.
New Zealand
Ford New Zealand's Seaview plant in Lower Hutt built 1.1 and 1.3-litre versions, initially as Deluxe (1.1) and Super (1.3) two-door sedans plus panel vans. The four-door sedan was added in 1970. Trim levels were revised after the 1972 UK facelift with just one run of 1.3XLs (with the GT instrument pack) before these were downgraded to 'L' trim. Base and L trims were offered to the end of the MK1 run. Some 1.6 Mexicos were imported in 1973-4 after the government temporarily freed up import licensing due to a shortage of new cars. Estate versions were mostly imported.
Australia
The Mk I was produced by Ford Australia from 1970 to 1975 as a 2- or 4-door saloon and as a 2-door panel van1,100 cc and 1,300 cc engines were offered, as was the 1,558 cc twin cam unit., the last being offered only in the Escort Twin Cam model, which was renamed to Escort GT 1600 in late 1971. 67,146 examples of the Mk I were built in Australia, with local sourcing bringing the Australian content of the vehicles to 85%
Israel
Assembly of the Mk I Escort was undertaken by Automotive Industries in Upper Nazareth, in conjunction with the local distributor, Palestine Automotive Corp. Assembly from UK-sourced kits started in April 1968. The last Mk I, a light green 1100cc 2-door, was released on November 14, 1975. A total of 14,905 units were assembled in Israel, including 105 Escort 400 Vans.
1972 Ford Escort MkI in Wheeler Dealers series 10
Ford Escort Mark 1 estate Used in the tv program Heartbeat
Technical
Ford Escort Mark 1 Technical details and specifications (1968-1974)


DIMENSIONS AND WEIGHT
wheel base: 94.50 in, 2,400 mm
front track: 49 in. 1,245 mm
rear track: 50 in, 1,270 mm
overall length: 156.60 in, 3,978 mm
over-all width: 61.80 in, 1,570 mm
overall height: 53 in, 1,346 mm
ground clearance: 5.80 in, 147 mm
dry weight: 1,642 1b, 745 kg
distribution of weight: 54.3% front axle, 45.7% rear axle
Estate
overall length 160.80 in, 4.084 mm
dry weight 1,803 1b, 818 kg
distribution of weight 53% front axle. 47% rear axle

ENGINE EARLY:1100cc
location front
4 stroke; cylinders: 4, vertical, in line
bore and stroke: 3.19 x 2.10 in. 81 x 53.3 mm
engine capacity: 66.99 cu in. 1.098 cu cm
compression ratio: 9
cylinder block: iron
cylinder headcast iron
crankshaft bearings: 5; valves: 2 per cylinder, in line, push-rods and rockers
camshafts: 1, side
lubrication: rotary vane-type pump, full flow filter
carburation: 1 Autolite downdraught single barrel carburettor
fuel feed: mechamcal pump
cooling system: water

ENGINE EARLY: 1300cc
4 stroke; cylinders: 4, vertical, in line
bore and stroke: 3.19 x 2.48 in, 81 x 63 mm
engine capacity: 79.20 cu in, 1,298 cu cm
compression ratio: 9
cylinder block: cast iron
cylinder head: cast iron
crankshaft bearings: 5
valves: 2 per cylinder, overhead, in line, push-rods and rockers
camshafts: 1, side
lubrication: rotary or vane-type pump, full flow filter
lubricaitng system capacity: 6.40 imp pt, 7.61 US pt, 3.6 1
carburation: 1 Autolite downdraught single barrel carburettor
fuel feed: mechanical pump
cooling system: water
cooling system capacity: 9 imp pt, 10.78 US pt
gearbox ratios 1300: I 3.656, II 2.185, III 1.425, IV 1, rev 4.235

TRANSMISSION
driving wheels: rear
clutch: single dry plate (diaphragm);
gearbox: mechanical; gears: 4 + reverse
synchromesh gears: all
gear-box ratios 1100: I 3.656, II 2.185, III 1.425, IV 1, rev 4.235
(option) Borg-Warner 35 automatic gearbox, hydraulic torque convertor with 3 ratios (I 2.390, II 1.450, III 1, rev 2.390),
gear lever location: central
final drive: hypoid bevel
axle ratio: 1100 3.900. (option) 4.125 4.440

CHASSIS
type integral
front suspension: independent, by McPherson, coil springs/telescopic damper struts
rear suspension: rigid axle, semi-elliptic leafsprings, telescopic dampers.

STEERING
rack-and-pinion
turns of steering wheel lock to lock: 3.50.
turning circle (between walls): 29.7 ft, 9.1 m

BRAKES
drum (option)front disc brakes (diameter 8.60 in, 218 mm)
drum area rubbed by linings: front 76.40 sq in, 492.78 sq cm
drum area rubbed by linings: rear 76.40 sq in, 492.78 sq cm
drum area rubbed by linings: total 152.80 sq in, 985.56 sq cm.
(option) servo brake

ELECTRICAL EQUIPMENT
voltage: 12 V
battery: 32 Ah
generator type: dynamo, 264 W
ignition distributor: Autolite

© Motor car History
Registered: Advanced information, Maintenance and Service Guides to download and save.
Members Only !  >>  Register here. <<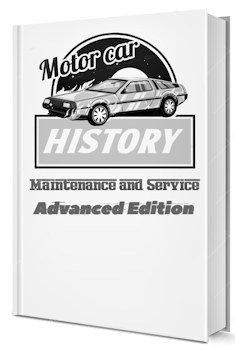 Service
Ford Escort Mark 1 Maintenance and Service Guide (1968-1974)

Gearbox oil: 1.50 imp pt, 1.90 US pt. 0.9 1, SAE 80, no change recommended
Final drive oil: 2.60 imp pt, 3.17 US pt. 1.5 1, SAE 90, no change recommended
Greasing: none
Normal tyre pressure: front 24 psi, 1.7 atm, rear 24 psi
Width of rims: 3.5" (option) 4,5" wide rims
Tyres: 5.50 x 12 (option) 155 x 12, 6.00 x 12 tyres
Fuel tank capacity: 9 imp gal, 10.8 US gal
Carrying capacity: 882 1b, 400 kg

1100cc 1300cc Engine (early)
Fuel: 97 oct petrol
Engine oil change: 5.40 imp pt. 6.55 US pt. 3.1 1, SAE 1OW-30, change every 5,000 miles, 8,000 km
Total lubricating system capacity: 6.40 imp pt. 7.61 US pt
Cooling system capacity: 9 imp pt, 10.78 US pt, 5.1 1.
Tappet clearances: inlet 0.010 in, 0.25 mm, exhaust 0.017 in, 0.43 mm
Valve timing: inlet opens 17° before tdc and closes 51° after bdc, exhaust opens 51° before bdc and closes 17° after tdc

© Motor car History
Video
Motor car History
Duration
06:00