Méan Motor Liberta Engineering SA
Automotive manufacturer Liege Belgium from 1966 to 1974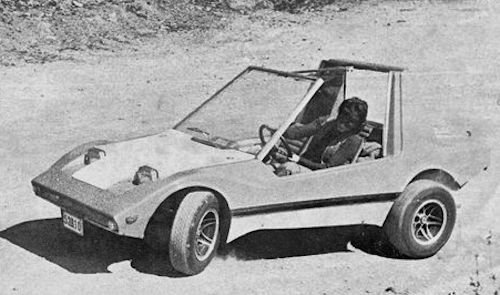 The Méan Motor Engineering SA was a Belgian manufacturer of automobiles . The brand name was Méan .
History 
The company from Liège began in 1966 under the direction of Jacques d'Heur with the production of automobiles. End of 1971 it was renamed Liberta Engineering SA . The company offered the vehicles with plastic body both ready assembled and as a kit car .1974 ended production.
The first the Sonora 1000 model was an open two-seater with the chassis of the VW Beetle . The choice was the four-cylinder engines of Ford Anglia , Ford Cortina , NSU TT , Peugeot 404 and Renault 8 and the six-cylinder engine of the Ford Taunus with 2000 cc displacement . The top speed was specified at 185 km / h for the strongest model.
The Barquette This was an open two-seater with roll bar for racing.The Aquila This model had a built-in motor of Ford , which was mounted in the rear.
Liberta Funcar .This model was created between 1972 and 1974. It was a fun car in the style of a buggy . For the drive provided four-cylinder engines from Renault or Simca .
More information on
Méan Motor Liberta Engineering SA
Automotive manufacturer Liege Belgium from 1966 to 1974