Info
Austin A60 Cambridge (1961-1969)
Austin A60 Cambridge
 1961 to 1969
Overview
Production
1961–1969 276,534
Body and chassis
Related
Morris Oxford VI
Powertrain
Engine
1.6 L B-Series Straight-4 61 bhp petrol 1.5 L Straight-4 40 bhp diesel
Transmission
3-speed automatic
Dimensions
Wheelbase
100.3 in (2,548 mm)
Length
174.5 in (4,432 mm)
Width
63.5 in (1,613 mm)
Height
58.5 in (1,486 mm)
Curb weight
2,464 lb (1,118 kg)

An updated Cambridge model, now called the A60, was introduced for 1961. It included a new 1.6 L version of the B-Series straight-4 engine which had first been used in the MGA. Modified styling included side chrome stripes – some models with contrasting colour infills – and reduced fins on the rear wings. The style continued to be known as "Farina". This body covered a chassis that was slightly longer in wheelbase and wider in track than the A55. This allowed three people to be accommodated on the rear seat. Anti-roll bars were added to both front and rear suspension.
An estate version with the petrol engine, called the Countryman, was also offered.A diesel version was introduced in 1961 for export cars and was available in the UK from 1962. Early manual models had the option of column gear change. The Borg Warner three-speed Type 35 automatic transmission was an option, the first British car to be fitted with this type, with the selector on the steering column.
The A60 Cambridge sold well, with over 275,000 built when production finally ended in 1969. Its intended successor, the front-wheel-drive Austin 1800 of 1964, did not dent sales, so Cambridge production was continued until 1969 at the Morris plant at Cowley when the Austin Maxi took over production and the Morris Oxford version continued in production until 1971, when the Morris Marina was launched.
Austin A60 saloons assembled in Ireland by Brittain Smith of Portobello, Dublin 2 were identifiable by the use of Morris Oxford series VI tail-lights. The last of these were produced in 1970, and some were registered in 1971. The A60 Cambridge was effectively replaced by the Austin Maxi hatchback in April 1969, while the Oxford continued until early 1971, when it was replaced by the Morris Marina.
The car was popular with the UK taxi trade, but its dominating popularity with the Hong Kong taxi trade was even more impressive. In 1967 taxi versions of the Austin A60 accounted for nearly 17% of car sales, helping BMC to a total Hong Kong car market share of 28% in that year.
Both a manual and automatic versions of the A60. The manual had a top speed of 80.4 mph (129.4 km/h) and could accelerate from 0–60 mph (97 km/h) in 19.8 seconds. A touring fuel consumption of 25.1 miles per imperial gallon (11.3 L/100 km; 20.9 mpg-US) was recorded.The automatic was slightly slower, with a top speed of 77.9 mph (125.4 km/h) and acceleration from 0–60 mph (97 km/h) in 24.9 seconds. A touring fuel consumption of 28.9 miles per imperial gallon (9.77 L/100 km; 24.1 mpg-US) was recorded. The car cost £982 including taxes of £309.
PERFORMANCE:1.6 L PETROL
MAX SPEED: 82.0 mph, 132 km/h
FUEL CONSUMPTION: 31.0 m/imp gat, 25.8 m/US gal, 9.1 x 100 km
max speed in 1st gear. 25 mph, 40.2 km/h
max speed in 2nd gear: 42 mph, 67.6 km/h
max speed in 3rd gear: 65 mph, 104.6 km/h;
max speed in 4th gear: 82 mph, 132 km/h
power-weight ratio: 37.5 lb/hp, 17.0 kg/hp
useful load: 882 1b, 400 kg
acceleration: 0—50 mph (0 —80 km/h) 14 sec
speed in direct drive at 1000 rpm: 16.5 mph, 26.6 km/h.

VARIATIONS AND OPTIONAL ACCESSORIES:
steering column gear lever,Borg- Warner automatic gear box, hydraulic torque convertor and planetary gears with 3 ratios (I 2.39, II 1.45, III 1, Rev 2.09), max ratio of convertor at stall 2.0 compression ratio 7.2 : 1; A60 Cambridge De Luxe, Diesel engine. 
A 1967 Austin A60 Cambridge in the Heartbeat, TV Series (ITV)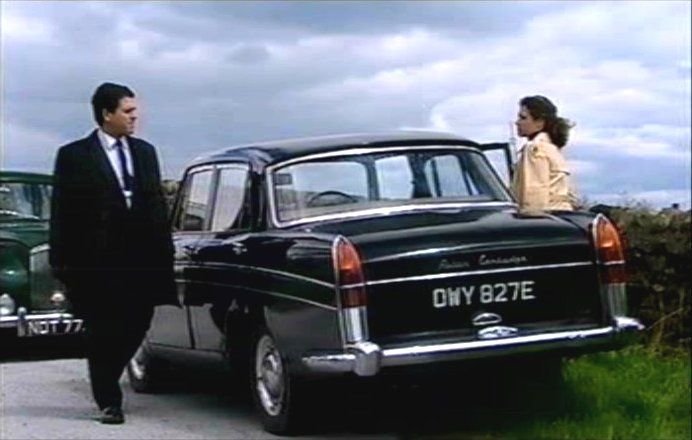 1962 Austin A60 Cambridge in The Italian Job, Movie,from 1969
Technical
Technical
Austin 60 Cambridge Technical details and specifications


ENGINE:1.6L petrol

ENGINE CAPACITY: 99.20 cu in, 1622 cu cm
Firing order 1-3-4-2
front, 4 stroke
cylinders: 4, in line
bore and stroke: 3.00 x 3.50 in, 76.2 x 88.9 mm
engine capacity: 99.20 cu in, 1622 cu cm
Suitable for unleaded petrol No
Fuel system Make SU Type HS2 Carb
Ignition coil Make Lucas Type LA12
Firing order 1-3-4-2
Distributor Make Lucas No. 25D4 41282
Distributor Contact breaker gap 0.4 mm
Distributor Dwell angle 57-63° (63-70%)
Fuel system Fuel pump pressure 0.14-0.27 bar bar
Starter motor Make Lucas Type M35G
Maximum cranking amps 97-119 A
Alternator (Dynamo) Make Lucas Type RB106-2/4TR
Regulated voltage 13.9-14.3 V
compression ratio: 8.3 : 1
max power (SAE): 63 hp at 4500 rpm
max torque (SAE): 90 1b ft, 12.4 kgm at 2100 rpm
max number of engine rpm: 5400
specific power: 38.8 hp/l
cylinder block: cast iron
cylinder head: cast iron
crankshaft bearings: 3
valves: 2 per cylinder, overhead, with push rods and rockers
camshaft: 1, side
lubrication: gear pump, full flow filter
carburation: 1 SU type HS2 semi-downdraft carburettor
fuel feed electric pump

TRANSMISSION:
driving wheels: rear
clutch: single dry plate
gear box: mechanical
gears: 4 reverse; synchromesh gears: II, III, IV
gear box ratios: (I) 3.637, (II) 2.215, (III) 1.373, (IV) 1, (Rev) 4.755; gear lever: central
final drive hypoid bevel
ratio: 4.3 : 1.

CHASSIS:
integral
front suspension: independent, wishbones, coil springs, anti-roll bar, lever dampers
rear suspension: rigid axle, semi-elliptic leaf-springs, lever dampers.

STEERING:
cam and peg
turns of steering wheel lock to lock: 3.2.

BRAKES:
drum, 2 front leading shoes
braking surface: total 45.57 sq in, 294 sq cm.

ELECTRICAL EQUIPMENT:
voltage: 12 V
battery: 43 Ah
ignition distributor: Lucas
headlights: 2 front

DIMENSIONS AND WEIGHT:
wheel base: 100.20 in, 2546 mm
front track: 50.37 in, 1279 mm
rear track: 51.37 in, 1305 mm
overall length: 174.54 in, 4430 mm
overall width: 63.00 in, 1600 mm
overall height: 58.00 in, 1473 mm
ground clearance: 6.00 in, 152 mm
dry weight: 2363 1b, 1072 kg
distribution of weight: 52.2% front axle, 47.8% rear axle
turning radius (between walls): 18.5 ft, 5.65 m
tyres: 5.90-14 tubeless
fuel tank capacity: 10 imp gal, 11.88 US gal, 45 1.

© motorcar history
Service
Service
Austin A60 Cambridge (1961-1969) SERVICE INSTRUCTIONS:

1.6L PETROL 

Fuel: petrol, 95 oct
Lubricating system capacity: 3.9 imp qt, 4.8 US qt, 4.5 1
Engine sump oil: 3.3 imp qt, 4.0 US qt, 3.8 1, SAE IOW-20 (winter) 20W-30 (summer), change every 3000 miles, 4800 km
Cooling system: water; cooling system capacity: 4.7 imp qt, 5.6 US qt, 7 1.
Gearbox oil: 1.2 imp qt, 1.5 US qt, 1.4 1, SAE 30W
Final drive oil 1.2 imp qt, 1.5 US qt, 1.4 1, SAE 90, change every 6000 miles, 9600 km
Greasing: every 3000 miles, 4800 km, 9 points
Tappet clearances: inlet 0.015 in, 0.38 mm, exhaust 0.015 in, 0.38 mm
Valve timing: (inlet) opens 00 before tdc and closes 500 after bdc, (exhaust) opens 350 before bdc and closes 150 after tdc
Tyre pressure : front 23 psi, 1.6 atm, rear 25 psi, 1.8 atm.

Spark plugs: Electrode gap 0.8 mm
Spark plugs: Tighten 35 Nm
Spark plugs Original equipment: Champion Type RN9YCC
Road wheels Tighten 83 Nm 

© motorcar history
Maintenance
Maintenance Advanced Data
Members Only !  >>  Register here. <<
Models and years covered 1910 to around 2020 all make and years. Car and Commercial vehicles Worldwide including basic to advanced.
Including Below on request for members..
Engine rebuilds
Manufacturer recall checks
Known problems
Trouble shooting
Wiring diagrams
Transmission rebuilds
Brakes
Steering
Suspension
Wheel alignment data
Dimensions and sizes
Torque wrench settings
Capacities
Carburettors
Injection systems
Cooling system
Serial number locations