History
VW Amarok
Production :

2010 on

Class :

commercial

Body versions :

Pick up

Engines:

Gasoline :2.0 liters (118 kW)
Diesel :2.0-3.0 liters (90-190 kW)

Length:

5191-5254 mm

Width:

1944-1954 mm

Height:

1834-1878 mm

Wheelbase :

3090-3095 mm

Curb weight :

1872-2324 kg
The VW Amarok is a pickup model from Volkswagen . Built from 2010 on .With 4 out of 5 Stars in the Euro NCAP crash test.
History
The Amarok pickup model, with the exception of the USA and Canada, is distributed worldwide.An annual production of 40,000 vehicles at the Hannover plant  (double cab only) began for the European markets as well as for the Russian market at the end of June 2012. The Amarok is based directly on the concept vehicle  , which was presented for the first time at the IAA for commercial vehicles in 2008.The Amarok name is a wolf-like creature in the mythology of the Eskimos . The VW Amarok was officially seen as the official escort vehicle of the Dakar Rally in Chile and Argentina in January 2010.
The Amarok pickup model number VWN817 is 5.25 meters long, has a double cabin and a loading area of ​​2.52 square meters. Since spring 2011, there is also a version with a single cabin and a correspondingly longer loading area. The loading platform is 1.55 meters long in the double cabin.  The payload is up to 1.15 tons. In the Euro NCAP crash test in November 2010, the VW Amarok achieved 31 points (86%) in occupant protection and 17 points (47%) in pedestrian protection. In the overall ranking he received four out of five stars.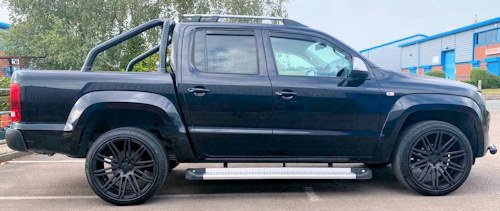 Optionally, a 2.0-liter 120 kW (163 hp) bi-turbo diesel engine or a 90 kW (122 hp) 2.0 l turbo diesel engine is available. The base model has rear-wheel drive. On request, a permanent four-wheel drive or manually engageable four-wheel drive with reduction and differential lock the rear axle is available (Shiftable 4Motion and Permanent 4Motion).  The vehicle has a box frame , one at the front double wishbones with spring dampers suspended wheels, a steering rack and a suspended on leaf springs rigid rear axle. Front there are ventilated disc brakes, rear drum brakes.
Since fall 2011, a rear hardtop can be ordered directly from the manufacturer. In January 2012, the Amarok also came in Australia with the 2.0-liter TSI engine with 118 kW (160 hp) and rear-wheel drive. 
In September 2016, a revised version of the Amarok came on the market. Since then, the engine has been powered by a three-liter V6 diesel engine, which also powers the Audi A6 or the VW Touareg . This engine is used in the Amarok in three power levels between 120 kW (163 hp) and 165 kW (224 hp), with the weakest being available only since spring 2017. Reason for the change is the lack of Euro 6 capability of the previous unit, which is also mandatory for light commercial vehicles since September 2016.  For the 2017 model year, Volkswagen announced a facelifted Amarok range.
Technical
 VW Amarok Technical data 

 

2.0 TD I

2.0 TD I 4Motion

2.0 TD I

2.0 TD I 4Motion

2.0 T DI

2.0T DI 4Motion

2.0 T DI

2.0T DI 4Motion

3.0 TDI

3.0 TDI 4Motion

2.0 TSI

Construction period

03 / 2010-11 / 2012

11 / 2012-06 / 2016

03 / 2010-05 / 2012

06 / 2012-09 / 2016

11 / 2011-09 / 2016

since 09/2017

since 09/2016

09 / 2016-04 / 2018

since 04/2018

since 01/2012 *

motor series

VW EA189, VW EA288

VW EA897 evo

 

engine type

Four-cylinder diesel engine in serial construction , common-rail injection

Six-cylinder diesel engine in V-type , common-rail injection

Four-cylinder gasoline engine in series design , direct injection

engine charging

turbocharger

BiTurbo

turbocharger

capacity

1968 cm³

2967 cc

1984 cm³

Max. Power at min -1

90 kW (122 hp) / 3750

103 kW (140 hp) / 3500

120 kW (163 hp) / 4000

132 kW (180 hp) / 4000

120 kW (163 hp) / 2750-4500

150 kW (204 hp) / 3000-4500

165 kW (224 hp) / 3000-4500

190 kW (258 hp) / 3250-4500

118 kW (160 hp) / 3750

Max. Torque at min -1

340 Nm / 1750-2250

340 Nm / 1600-2250

400 Nm / 1500-2000

400 Nm / 1500-2250 (420 Nm / 1750) **

450 Nm / 1250-2500

500 Nm / 1250-2750

550 Nm / 1400-2750

580 Nm / 1400-3000

300 Nm / 1600-3750

Drive type, standard

rear-wheel drive

all wheel drive

rear-wheel drive

all wheel drive

rear-wheel drive

all wheel drive

rear-wheel drive

all wheel drive

rear-wheel drive

all wheel drive

rear-wheel drive

Gearbox type, standard

6-speed manual transmission

6-speed manual transmission

8-speed automatic transmission

6-speed manual transmission

 

Transmission type, optional

-

8-speed automatic transmission

-

8-speed automatic transmission

-

tare

1872-2064 kg

1948-2168 kg

1797-2248 kg

1875-2345 kg

1882-2074 kg

1958-2178 kg

1911-2178 kg

2005-2178 kg

2069-2177 kg

2010-2145 kg

2078-2095 kg

2241-2324 kg

1737-1842 kg

 

maximum payload

778-1147 kg

673-1057 kg

572-1243 kg

475-1165 kg

768-1137 kg

663-1047 kg

 

 

743-831 kg

545-1053 kg

596-679 kg

545-985 kg

 

 

Trailer load, braked

2800 kg

2800-3000 kg

2800 kg

2800-3000 kg

2900-3000 kg

3300-3500 kg

3500 kg

3000 kg

 

Acceleration 0-100 km / h

13.5 s

13.7 s

12.6-13.3 s

12.6-13.5 s

10.8 s

11.1 s

10.0-10.7 s

10.3-11.0 s

9.6-10.0 s

8.3-9.2 s

7.9-8.2 s

7.3-7.6 s

k. A.

 

top speed

163 km / h

161 km / h

163-169 km / h

161-167 km / h

182 km / h

181 km / h

178-184 km / h

177-179 km / h

171-180 km / h

182-193 km / h

185-193 km / h

199-207 km / h

 

 

Fuel consumption
per 100 km (combined)

7.3-7.4 l diesel

7.4-7.6 liters of diesel

6.8-7.7 liters of diesel

7.0-7.8 l diesel

7.6-7.7 liters of diesel

7.8-7.9 liters of diesel

7.4-7.5 liters of diesel

7.3-8.2 liters of diesel

8.1-9.2 liters of diesel

7.6-9.2 liters of diesel

8.0-8.9 liters of diesel

8.4 l diesel

9.5-9.6 Super

 

CO 2 emission, combined

192-194 g / km

194-199 g / km

179-202 g / km

185-205 g / km

199-203 g / km

206-209 g / km

185-194 g / km

187-203 g / km

213-242 g / km

199-241 g / km

210-233 g / km

220 g / km

226-228 g / km

 

Emission standard according to EU classification

5 euro

Euro 6

Euro 4

 

* Australia

** with 8-speed automatic transmission 420 Nm / 1750

 

Production figures

| | | | | | | | | | | | |
| --- | --- | --- | --- | --- | --- | --- | --- | --- | --- | --- | --- |
| year | 2008 | 2009 | 2010 | 2011 | 2012 | 2013 | 2014 | 2015 | 2016 | 2017 | 2018 |
| number | - | 193 | 44525 | 76965 | 78633 | 91739 | 69695 | 81019 | 63367 | 80328 | 88950 |

 
Video
Motor car History
Duration
01:56
Related