Info
Mitsubishi Space Runner 1st generation
Make:

Mitsubishi

Production period:

1991 to 1999

Class :

Motor car

Engines:

Gasoline: 1.3-1.8 liters 


The Mitsubishi Space Runner is a compact car from Mitsubishi Motors , which was produced in the first generation between autumn 1991 and summer 1999 and in the second generation from summer 1999 to mid-2002. The Japanese name was Mitsubishi RVR . Other regional sales names were Mitsubishi Expo LRV, Eagle Summit Wagon, Plymouth Colt Wagon and Dodge Colt Wagon.
The Space Runner had four doors: two front doors, a sliding door on the passenger side and a tailgate.As standard the rear seat arrangement could accommodate three, the seatbacks had a 50:50 type split so that the reclining seat backs could be folded forward,The seats, could then be detached and folded up and forward towards the front seats, leaving a large flat floor for transporting items.
 Up to the B-pillar, the Mitsubishi Space Runner is identical to the Mitsubishi Space Wagon .All models were equipped with four-cylinder engines, the top models used the drive of the first Mitsubishi Galant VR-4, a 2.0-liter 16V DOHC turbo engine.
As standard FWD versions, also a AWD version available ,with engines available in conjunction with a four-speed automatic or a five-speed manual transmission.Mitsubishi revived the name RVR in 2010 for a crossover / SUV model. In Europe, it is also marketed as Mitsubishi ASX .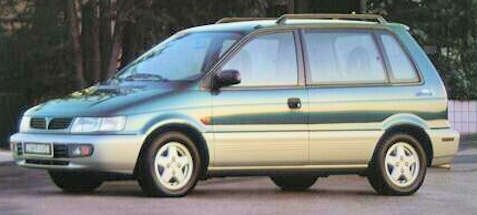 Technical details
Engine Size: 1.6 to 2.0 litre
Fuel Type: Petrol
Transmission: 5 Speed Manual or Auto
Drivetrain: Rear wheel drive
Doors: 4
Seats: 5
Braked Towing Weight: 1200kg
Fuel Capacity: 55 litres
Weight: 1205kg
Length: 4270mm
Width: 1695mm
Wheelbase: 2520mm
Power: 114 bhp (1.8)
Top Speed: 109 mph
Torque: 162 Nm
CO2 Emissions: 205 g/km
Euro Emissions: Standard 2
Video
Motor car History
Duration
01:34
Maintenance
Maintenance Advanced Data
Members Only !  >>  Register here. <<
Models and years covered 1910 to around 2020 all make and years. Car and Commercial vehicles Worldwide including basic to advanced.
Including Below on request for members..
Engine rebuilds
Manufacturer recall checks
Known problems
Trouble shooting
Wiring diagrams
Transmission rebuilds
Brakes
Steering
Suspension
Wheel alignment data
Dimensions and sizes
Torque wrench settings
Capacities
Carburettors
Injection systems
Cooling system
Serial number locations