Mitsubishi Space Runner
Make:

Mitsubishi

Production period:

1991 to 2002

Class :

Motor car

Engines:

Gasoline: 1.3-1.8 liters 


The Mitsubishi Space Runner is a compact car from Mitsubishi Motors , which was produced in the first generation between autumn 1991 and summer 1999 and in the second generation from summer 1999 to mid-2002. The Japanese name was Mitsubishi RVR . Other regional sales names were Mitsubishi Expo LRV, Eagle Summit Wagon, Plymouth Colt Wagon and Dodge Colt Wagon.
The Space Runner had four doors: two front doors, a sliding door on the passenger side and a tailgate. Up to the B-pillar, the Mitsubishi Space Runner is identical to the Mitsubishi Space Wagon .All models were equipped with four-cylinder engines, the top models used the drive of the first Mitsubishi Galant VR-4, a 2.0-liter 16V DOHC turbo engine.
All engines were available in conjunction with a four-speed automatic or a five-speed manual transmission.Mitsubishi revived the name RVR in 2010 for a crossover / SUV model. In Europe, it is marketed as Mitsubishi ASX .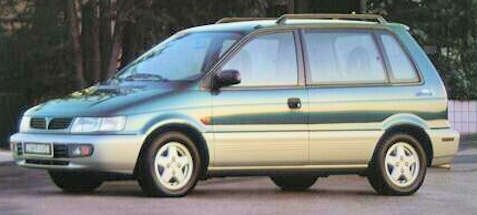 Technical details
Engine Size: 1.6 to 2.0 litre
Fuel Type: Petrol
Transmission: 5 Speed Manual or Auto
Drivetrain: Rear wheel drive
Doors: 4
Seats: 5
Braked Towing Weight: 1200kg
Fuel Capacity: 55 litres
Weight: 1205kg
Length: 4270mm
Width: 1695mm
Wheelbase: 2520mm
Power: 114 bhp (1.8)
Top Speed: 109 mph
Torque: 162 Nm
CO2 Emissions: 205 g/km
Euro Emissions: Standard 2