History
Jensen-Healey
Manufacturer
Jensen
Production
1972 to 1976
Class
sports car
Body style
2-door convertible 2-door coupé
Engine
1973 cc Lotus 907 engine
Transmission
4 or 5 speed manual
Wheelbase
92.01 in, 2,337 mm
Length
161.93 in, 4,113 mm
Width
63.23 in, 1,606 mm
Height
47.64 in, 1,210 mm
Ground clearance
5 in, 127 mm
Dry weight
2,650 1b, 1,202 kg
Cost New
GB: £1,620. USA: $4,595. 
The Jensen-Healey is a two-seater convertible sports car that was originally produced between 1972 and 1976 by Jensen Motors, Ltd.
History
With the demise of the Austin-Healey 3000, car dealer Kjell Qvale was looking for a new product to replace it. He entered into discussions with Donald Healey and Jensen Motors, who had built the bodies for Healey's Austin-Healey cars. Kjell Qvale became a Jensen shareholder and Donald Healey became the chairman.
The Jensen-Healey was designed in a joint venture by Donald Healey, his son Geoffery, William Towns and Jensen Motors. It was hoped that Healey could help to contribute the sense of style that made the Austin-Healey a hit. The unitary body under structure was designed by Barry Bilbie, who had been responsible for the Austin-Healey 100, 100-6 and 3000 as well as the Sprite.
It was designed to be cheap to repair, with bolt-on panels, to reduce insurance premiums. In 1974, United States Government-mandated rubber bumpers were attached.Roughly 10,000 were produced at West Bromwich, England. A related fastback, the Jensen GT was introduced in 1975. Jensen Healey Mark I: March 1972 – May 1973; VIN 10000 – 13349 in total 3356 manufactured the Jensen Healey Mark II and JH5: August 1973 – August 1975; VIN 13500 – 20504 a total of 7142 manufactured Jensen GT coupe: September 1975 – May 1976; VIN 3000 – 30510 (only 511 manufactured).
Engines 
During development, the use of very different motors was tested The Vauxhall 2.3 L engine met United States emission requirements but did not meet the power target of 130 hp (97 kW). Aggregates from Ford, BMW could not supply an engine in the volumes needed, Saab and Porsche were discussed. In the end, the new Lotus 907 four-cylinder engine with a displacement of 1973 cubic centimetres was chosen, which was also to be used in the Lotus Esprit from 1976. The engine with two overhead camshafts, 16 valves all-alloy powerplant and two Dell 'Orto carburettors (for the American market Stromberg carburettors were used for emission) puts out 144 hp in the Jensen Healey. 
PERFORMANCE
max power (DIN): 140 hp at 6,500 rpm
max torque (DIN): 130 1b ft, 17.9 kg m at 5,000 rpm
max engine rpm: 7,000
power-weight ratio: 19 lb/hp, 8.6 kg/hp
acceleration: standing 1/4-mile 16 sec, 0-50 mph (0-80 km/h) 5.7 sec
fuel consumption: 22 m/ imp gal, 18.2 m/US gal, 12.9 1 x 100 km.
max speeds: (l) 40 mph, 64 km/h; (Il) 63 mph, 101 km/h; (Ill) 97 mph, 156 km/h; (IV) 123 mph,198 km/h
The initial transmission was a four speed Chrysler unit sourced from the Sunbeam Rapier. Later a Getrag 235 five speed was used. Interestingly on the five-speed gearbox the fifth gear is not an overdrive gear but a direct 1:1 ratio making this a Close-ratio transmission. Suspension was simple but effective with double wishbone and coil springs at the front, and a live rear axle with trailing arms and coils at the rear. Brakes consisted of discs at the front and drums at the rear. The suspension, steering gear, brakes and rear axle were adapted from the Vauxhall Firenza with the exception of the front brakes which were the widely used Girling Type 14 Callipers.
Jensen-Healey interiors started out austere and functional, with plastic centre consoles and all-black colour schemes. (Some earlier models have sport brown interiors, however.) In August 1973, aesthetic extras such as a clock, wood grain on the dashboard and glove-box and padding as well as air conditioning as an option were added. 1976 Jensen GT models went even further by offering an elaborate burr walnut wood dashboard and paisley-patterned cloth seats, with leather as an option. Inside by late 1973 as well as air conditioning as an option.
The oil crisis hit Jensen Motors hard, greatly damaging the sales of their very large V8 Interceptor model and thus degrading their financial condition as a whole. The Jensen GT was then hurriedly brought to market, requiring massive labour expense and taxing the firm's budget even further. As the Jensen-Healey continued to garner mediocre sales in the United Kingdom (though the car was relatively popular in the United States), the situation proved to be too much for the company, which, amid strike action, component shortages and inflation, proceeded to liquidate in 1975 and close their doors in May 1976.
Technical
Jensen-Healey Technical details and specifications (1972-1976)

DIMENSIONS AND WEIGHT
wheel base: 92.01 in, 2,337 mm
tracks: 53.31 in, 1,354 mm front, 52.44 in, 1,332 mm rear;
length: 161.93 in, 4,113 mm
width: 63.23 in, 1,606 mm
height: 47.64 in, 1,210 mm
ground clearance: 5 in, 127 mm
dry weight: 2,650 1b, 1,202 kg

ENGINE
location front
4 stroke; 4 cylinders, in line, slanted at 45%
compression ratio: 8.4:1
light alloy cylinder block and head
5 crankshaft bearings
valves: Vee-slanted
camshafts: 2, overhead, cogged belt
lubrication: electric pump, full flow filter
2 Dellorto or Stromberg twin barrel carburettors
fuel feed: electric pump
water-cooled


TRANSMISSION
driving wheels: rear
clutch: single dry plate (diaphragm)
gearbox: mechanical; gears: 4 fully synchronized
gearbox ratios: 1st 3.122, 2nd 1.993, 3rd 1.296, 4th 1, overdrive 0.797, rev 3.320
final drive: hypoid bevel
axle ratio: 3.730

CHASSIS
type integral
front suspension: independent, wishbones, coil springs, telescopic dampers
rear suspension: rigid axle, lower longitudinal trailing arms, upper oblique torque arms, coil springs, telescopic dampers.

STEERING
rack-and-pinion
turns lock to lock: 3.16
turning circle (between walls): 32 ft, 9.8 m

BRAKES
disc front, rear drum
swept area: front 193.8 sq in, 1.250 sq cm
swept area: rear 99.2 sq in, 640 sq cm
swept area: total 293 sq in, 1,890 sq cm.

ELECTRICAL EQUIPMENT
12 V
50 Ah battery
35 A alternator
Lucas 23 D4 distributor


© Motor car History
Registered: Advanced information, Maintenance and Service Guides to download and save.
Members Only !  >>  Register here. <<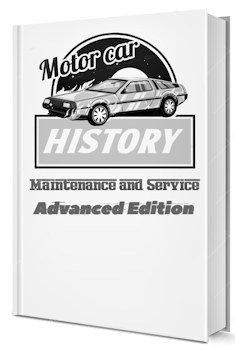 Service
Jensen-Healey Maintenance and Service Guide (1972-1976)

Fuel type: 91 oct petrol
Engine oil change: 10 imp pt, 12 US pt, 5.7 1, SAE 20W-50, change every 6.000 miles, 9,700 km
Total oil system: 11 imp pt. 13.1 US pt
Cooling system: 12 imp pt, 14.4 US pt, 6.8 1.
Gearbox oil: 3.5 imp pt, 4.2 US pt, 2 1, SAE 20W-50, change every 6,000 miles, 9,700 km
Final drive oil: 2.5 imp pt, 3 US pt, 1.4 1, SAE 90, change every 6,000 miles, 9,700 km
Greasing: 4 points, every 6,000 miles, 9,700 km
Valve timing: 21° 71° 71° 21°
Tyre pressure: front 24 psi, 1.7 atm, rear 24 psi, 1.7 atm.
Width of rims: 5.5"
Tyres: 185/70HR x 13.
Fuel tank: 11 imp gal, 13.2 US gal


© Motor car History
Video
Motor car History
Duration
02:32
Related