History
Tri-Tech Autocraft UK Limited
 Automotive manufacturer of Preston, Lancashire Great Britain from 1996 to 2002.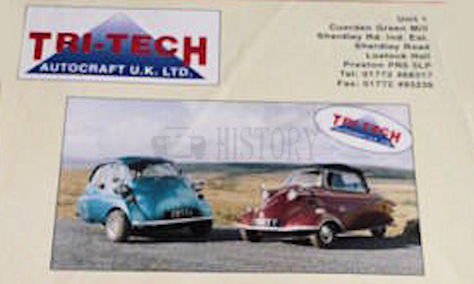 History
Rick Edwards and Dave Chapman founded the company in 1996 in Preston , Lancashire . They started with the production of automobiles and kits . The brand name was Tri-Tech . 2002 ended the production. In total, about 32 copies were made. 
The first model was the Zetta . This was the replica of the BMW Isetta . The base was a frame made of steel. The front suspension came from the small Bedford Rascal , which had the same gauge as the Isetta. The brakes came from the mini . The body of the cabin scooter was made of fiberglass . A four-stroke engine from Honda with 250 cc displacement or alternatively, an engine with 400 cc displacement was possible. The engine power was transmitted via a chain to the rear wheel. For this model created between 1996 and 2001 about 17 copies.
In 1998, the Schmitt supplemented the range. This was the replica of the Messerschmitt KR 200 . Alternatively, another front was available that resembled the FMR Tg 500 . The body was made of fiberglass. The empty weight was given as 270 kg. By 2002, this model had about 17 buyers.