Volkswagen Beetle A5 
From 

2011

Overview
Manufacturer
Volkswagen
Also called
Volkswagen Coccinelle (France) Volkswagen Maggiolino (Italy) Volkswagen Fusca (Brazil)
Production
2011–present
Assembly
Puebla, Mexico
Designer
Walter de'Silva Marc Lichte
Body and chassis
Class
Compact car
Body style

2+2 hatchback

2+2 Convertible
Platform
Volkswagen Group A5 (PQ35) platform
Related
Audi A3 Audi TT Volkswagen Golf Volkswagen Tiguan Volkswagen Scirocco
Powertrain
Engine
petrol engines: 1.2 L I4 TSI 1.4 L I4 16 valve TSI 2.0 L I4 16 valve TSI 2.5 L I5 20 valve diesel engines: 1.6 L I4 TDI 2.0 L I4 TDI
Transmission
5-speed manual 6-speed manual 6-speed automatic 6-speed DSG
Dimensions
Wheelbase
2,537 mm (99.9 in)
Length
4,278 mm (168.4 in)
Width
1,808 mm (71.2 in)
Height
1,486 mm (58.5 in)
Chronology
Predecessor
Volkswagen New Beetle
 The Volkswagen Beetle (also sold as the Volkswagen Coccinelle, Volkswagen Maggiolino or Volkswagen Fusca in some countries) is a compact car manufactured and marketed by Volkswagen introduced in 2011 for the 2012 model year, as the successor to the New Beetle launched in 1997. It features a lower profile while retaining an overall shape recalling the original Volkswagen Type 1 Beetle.
One of Volkswagen's goals with the model was to give it a more aggressive appearance while giving it some stylistic aspects reminiscent of the Beetle's design. This was an attempt to distance the new model from the Volkswagen New Beetle, produced from 1997 to 2011, which never approached the success of the Beetle.
The second generation "new" Beetle shares the "A5" (PQ35) platform with the current Volkswagen Jetta and is built alongside the Jetta, Golf Variant and the old Jetta ("Clásico") at Volkswagen's plant in Puebla, Mexico. It is longer than the previous New Beetle (now 4,278 mm (168.4 in) and also has a lower profile, 12 mm (0.5 in) lower than its predecessor, and 88 mm (3.5 in) wider. The trunk is now 310 L (11 cu ft), up from 209 L (7.4 cu ft).
A convertible version followed the coupé for the 2013 model year, first shown at the Los Angeles Auto Show in November 2012 when it also went on sale. A performance version, called Beetle R, is projected to follow later.
Launch
On 22 November 2010, on the final episode of the Oprah's Favorite Things special, Oprah Winfrey and Volkswagen announced that every member of Winfrey's audience that day would receive one of the Beetles upon its release in 2011. VW staff gave the audience their special keys to the car. This was followed by a teaser commercial during Super Bowl XLV in February 2011.
To celebrate the global reveal, VW partnered with MTV, to make a debut on three continents on 18 April. The reveal began in Shanghai, China with a MTV Sound System celebration hosted by MTV VJs, followed by MTV World Stage events in Berlin and New York City.
On 18 April 2011, the 2012 model was unveiled as the Volkswagen Beetle, dropping the word "New" from its name. It debuted at Auto Shanghai and the New York Auto Show.
During the marketing campaign at Mexico, it was advertised as "The new Vocho" (oddly in English) in the "Das Auto" marketing campaign.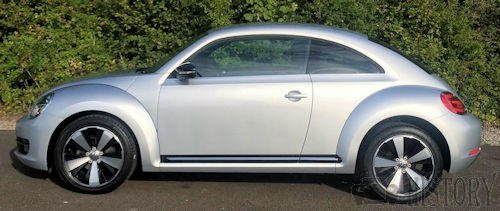 Engines
The new model retains the front-engine, front-wheel drive layout of the New Beetle, while improving interior packaging with more room in the rear. Four-cylinder engine options for the European market are expected to include 1.2-litre (77 kW (105 PS; 103 bhp)), 1.4-litre (118 kW (160 PS; 158 bhp)) and 2.0-litre (147 kW (200 PS; 197 bhp)) TSI petrol engines, and 1.6-litre (78 kW (106 PS; 105 bhp)) and 2.0-litre (103 kW (140 PS; 138 bhp)) TDI diesel engines. In addition to the 2.0-litre TSI and TDI engines the North American market retains the 2.5-litre (125 kW (170 PS; 168 bhp)) straight-five engine found in the previous Beetle.
All engines for this model are offered with an option of a six-speed manual transmission or the option of a dual-clutch DSG automatic. In the United States transmissions on petrol models come with either a five-speed manual or optional six-speed automatic on 2.5 L models, while on the clean diesel model there is the option of a DSG six-speed dual-clutch transmission.
Options: Equipment included on some trim levels
Air conditioning
Alarm
Alloy wheels
Audio remote
CD
CD Multichanger
Climate control
Cruise control
Front fog lights
Heated seats
Lumbar support
Parking sensors
Sports seats
Steel wheels
Special editions
The first special edition of the 2012 Beetle is the Black Turbo launch edition. It was limited to 600 cars on the U.S. market and will be the first car available through Volkswagen's new Vehicle Pre-Order program.
A Beetle Turbo Black made an appearance at the 30th annual Wörthersee Treffen in June 2011 in Reifnitz, Austria. It was located on the floating barge showcase at the entrance to the show. Other cars on the barge included a Reifnitz Edition GTI and the Touareg Racer. A heavily modified in-house electric-powered Beetle, called E-Bugster, was unveiled at 2012 North American International Auto Show. Unlike other new Beetles, the E-Bugster is a two-seater instead of 2+2.
2.0 TSI  Sport Performance
| | |
| --- | --- |
| Power | 207 bhp |
| Top Speed | 142 mph |
| 0-60 mph | 7.1 secs |
| Torque | 280 Nm, 207 ft-lb |
| CO2 Emissions | 169 g/km |
| Euro Emissions Standard | 5 |
| Miles Per Tank | 459 miles |
In 2012 an official Fender Edition was released.
In January 2013 an official XBOX special edition was released. It uses the straight-five 2.5 L (170 HP) and comes in three different colors: Black, White and Silver all of them with the characteristic XBOX colours, panoramic sunroof, rear spoiler and 18" rims. This special edition will only be available for the mexican market.
In February 2013 Volkswagen introduced the Beetle GSR Limited Edition. It is painted in yellow and black and only 3,500 will be produced, half of which will be sold in the United States, the other half in Europe. This special edition is modeled after the original 1973 special edition Super Beetle donned the GSR or, Gelb Schwarz Renner, Yellow Black Racer in English. The new GSR comes with Volkswagens new 2.0l turbo four cylinder, this time making an extra 10 horsepower for a total of 210.
R-Line. Volkswagen has started production of a new R-Line Beetle. This new, limited edition trim level comes equipped with the new 210hp gen3 turbo four, new front fascia and a metal dash plate finished off with r badging all around.
R-Line 2.0 TDI BMT Performance
| | |
| --- | --- |
| Power | 147 bhp |
| Top Speed | 125 mph |
| 0-60 mph | 8.6 secs |
| Torque | 340 Nm, 251 ft-lb |
| CO2 Emissions | 119 g/km |
| Euro Emissions Standard | 6 |
| Miles Per Tank | 738 miles |
Along with increased performance, the new engine is expected to get about 8% greater fuel economy, or around 1-2 more miles per gallon. The engine will be fitted to all Volkswagens that currently use the gen2 2.0l turbo four.
More information on