History
Vanden Plas Princess 3-litre Mark II
Manufacturer

BMC

Production

1959 to 1964

Designer

Pininfarina

Class

Luxury car

Body style

4-door saloon

Layout

FR layout

Engine

2.9 L C-Series I6 

Wheelbase

86 in (2,184 mm) 

Length

187.75 in (4,769 mm)

Width

68.5 in (1,740 mm)

Height

59 in (1,499 mm)

Dry weight: 

3416 1b, 1549 kg
The Vanden Plas Princess 3 Litre series II was a four-door sedan of the British Motor Corporation (BMC), which they manufactured under the traditional name Vanden Plas 1961 to 1964. 
History
The Princess 3 Litre Mark II from 1961 with the body of Pininfarina in the style of the Austin version .This replaced the mark one built from 1959 to 1961. Now with a slightly more powerful engine with 120 bhp (88 kW). The outside dimensions remained the same but used the same chassis and body but a diffrent Vanden Plas style front grille , but the wheelbase was extended by 2 "(51 mm) and anti-roll bars were added to the suspension front and rear and improved brakes. As a result, the inner fenders were not so far in the interior, and there was more space available inside.
The interior was typical Vanden Plas luxurious in style, with built-in drop-down picnic tables for the rear seat passengers , high-quality carpeting burr walnut wood trim , leather seats and door panels. Options of rear divider and air-conditioning. axle ratio of 3.545:1,power-assisted steering and Borg-Warner automatic gear box.
Vanden Plas Princess 3 Litre series II was powered by BMC's 3-litre engine, developing 126 hp and top speed of 105.6 mph, 170 km h; with fuel consumption of 20 m/imp gal, 16.7 m US gal, 14.1 1 x 100 km .
PERFORMANCE:
ENGINE CAPACITY: 178.10 cu in, 2912 cu cm;
max power (SAE): 126 hp at 4750 rpm; max torque (SAE): 163 1b ft, 22.5 kgm at 2750 rpm
max number of engine rpm: 5600
max speed in overdrive: 105.6 mph, 170 km/h
power-weight ratio: 27.1 lb/hP, 12.3 kg/hp
acceleration: 0-50 mph (0—80 km/h) 11 sec
speed in direct drive at 1000 rpm: 21 mph, 33.8 km/h.
max speed in 1st gear: 37.9 mph, 61 km/h; max speed in 2nd gear: 71.4 mph, 115 km/h; max speed in 3rd gear: 99.4 mph, 160 km/h
This model was discontinued in 1964 and replaced by a new Rolls-Royce powered model the Princess 4 Litre R .  
Technical
Vanden Plas Princess 3 Liter mark II Technical details and specifications (1961-1964)

 

ENGINE:
front, 4 stroke
cylinders: 6, vertical, in line
bore and stroke: 3.28 x 3.50 in, 83,3 x 88.9 mm
engine capacity: 178.10 cu in, 2912 cu cm
compression ratio: 8.3 : 1
cylinder block: cast iron
cylinder head: cast iron
crankshaft bearings: 4; valves: 2 per cylinder, overhead, in line, with push rods and rockers
camshaft: 1, side; lubrication: gear pump, full flow filter
lubricating system capacity: 6.4 imp qt, 7.7 US qt, 7.3 1
carburation: 2 SU H4 horizontal carburettors
fuel feed: electric pump
cooling system: water;

TRANSMISSION:
driving wheels: rear
clutch: single dry plate, hydraulically controlled
gear box: mechanical
gears: 3 reverse and overdrive
synchro-mesh gears: Il, III; gear box ratios: (I) 3.095. (II) 1.650, (III) 1- (ov.) 0.77. (Rev) 3.00
gear lever: steering column
final drive: hypoid bevel
ratio: 3-909 : 1.

CHASSIS:
integral
front suspension: independent, wishbones, coil springs, anti-roll bar, lever dampers
rear suspension: rigid axle, semi-elliptic leafsprings, anti-roll bar, lever dampers.

STEERING:
cam and peg
turns of steering wheel lock to lock: 4.2.
turning radius (between walls): 20.5 ft, 6.2 m

BRAKES:
front disc, rear drum.

ELECTRICAL EQUIPMENT:
voltage: 12 V
battery: 72 Ah
dynamo: 30 Ah
ignition distributor: Lucas

DIMENSIONS AND WEIGHT:
wheel base: 110.00 in. 2794 mm
front track: 53.81 in, 1367 mm
rear track: 53.25 in, 1352 mm
overall length: 188.00 in, 4775 mm:
overall width: 68.50 in, 1740 mm
overall height: 60.00 in, 1524 mm
ground clearance: 6.30 in, 160 mm
dry weight: 3416 1b, 1549 kg
distribution of weight: 55 0/0 front axle, 45 0/0 rear axle

© Motor car History
Registered: Advanced information, Maintenance and Service Guides to download and save.
Members Only !  >>  Register here. <<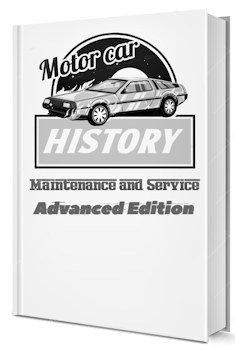 Service
Vanden Plas Princess 3 Liter mark II  Service Guide (1961-1964)

fuel: petrol, 95-98 Oct
engine sump oil: imp qt, 6.5 US qt, 6.2 1, SAE IOW-20 (winter) 20W-30 (summer), change every 3000 miles, 4800 km
gearbox oil: 2.7 imp qt, 3.3 US qt, 3.1 1, SAE 30W, change every 6000 miles, 9600 km
final drive oil: 1.6 imp qt. 1.9 US qt. 1.8 1, SAE 90
greasing: every 3000 miles, 4800 km, 8 points
cooling system capacity: 9.5 imp qt, 11.4 US qt, 10.8 1.
tappet clearance: inlet 0.012 in, 0.30 mm hot, exhaust 0.012 in, 0.30 mm hot
valve timing: (inlet) opens 0° before tdc and closes 50° after bdc, (exhaust) opens 35° before bdc and closes 15° after tdc
tyre pressure (medium load): front 26 psi, 1.8 atm, rear 26 psi, 1.8 atm
tyres: 7.00 - 14
fuel tank capacity: 16.00 imp gal, 19.27 US gal, 73 1.

© Motor car History