Merz Cyclecar Company
The Merz Cyclecar Company was an American automaker in Indianapolis (Indiana) . The company was founded by former racing driver Charles Merz and built small cars only in the first half of 1914.
History
Although the vehicles were called cycle cars, they did not meet the criteria. The Merz was a tandem roadster with two seats arranged one behind the other. The car was quite high-heeled with its high-frame and 28" wheels, but already had an engine cowling and passenger compartment in one piece. The fenders were attached to the wheel carriers, as is common in motorcycles. The wheelbase was only 2134 mm and the track width 1016 mm. Above the radiator a single cyclops headlight was mounted.
The car was powered by a V2 engine from De Luxe . 88.9 mm bore and 93.218 mm stroke gave 1157 cc displacement . The engine power of 9 bhp (6.6 kW) was transmitted to the rear wheels via a friction-pulley transmission and V-belt.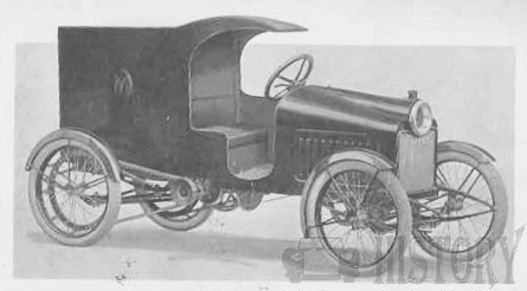 The car cost US $ 450. For US $ 485, there was also a small van.In the summer of 1914, the company had to file for bankruptcy.