Eclipse Automobile Company
Automotive manufacturer of Boston , Massachusetts  USA From 1900 to 1903.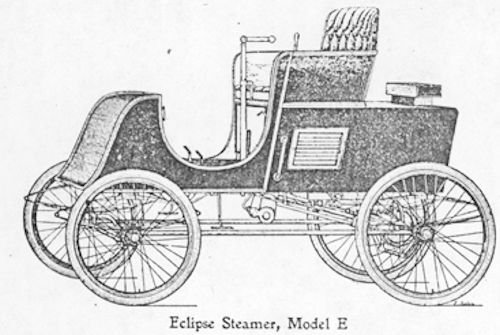 Eclipse Automobile Company was an early American manufacturer of steam automobiles from the 1900s. 
History 
The company was founded in 1900 in Massachusetts . The seat was in Boston and the plant in Easton . The designer was Everett S. Cameron. The production of automobiles began, which were marketed as Eclipse . In January 1901, three vehicles were presented at a motor show in Boston. This was followed by seven orders, including one from the United States Postal Service . 
Cameron had already left the company in 1901 and then founded the Taunton Automobile Company and later Cameron .By 1903 ended the production.
The offer included steam cars . The steam engine had three cylinders . He propelled the rear axle via a cardan shaft . The chassis had 157 cm wheelbase . The open runabout accommodated two people. It was steered with a steering lever. The brake is in the same easing as the Compensating gear and is double-acting, operated from cither side ot the carriage by separate self-locking foot levers.
The boiler is a Water.tube tppe, 20 inches and rapid steamer. The shell is made of drawn steel with One head. In constructing the boiler 200 feet of steel tubing running spirally from top to bottom of shell are used. giving a rapid and perfect circulation so that it cannot burn.Provision is made for superheating the steam in copper boiler. The burner is constructed of a casting which passes through the center into which are screwed piece of pipe in Which are Slots about Inch Width, distribute the gas to the air which is admitted through tine Wire netting the The tire burns with a steady blue flame. The pilot gives a steady bluo flame, heating a section of tho vaporizing coil which passes over the main burner
The engine is of three-cylinder type. Ring packing used on piston valves and pistons connect direct to crank, doing away with cross-head. The reversing is done by a shifting eccentric With rack and gear and is operated by the toot. The crank and moving parts carefully All moving parts drop forgings and bronzo castings. The body or engine Is a single iron castingThe crank chamber is encased and all moving parts oiled from the inside by a Rochester lubricator which works on the engine.
The steering post comes up directly in front , and can be operated from either side of carriage.
The throttle lever is directly back Of steering post, self-locking and Operated on either Side. Gasoline tanks are Of drawn steel and have a capacity of 25 gallons. Water tank is made of copper
There were no links to the other American manufacturers of Eclipse cars: Eclipse Machine Company (Ohio) , Eclipse Machine Division , Krueger Manufacturing Company , Eclipse Machine Company (Michigan) and Eclipse Motor Car Company.
USA

Duryea (1893–1917)
113 / 223
Eclipse Detroit (1916)
More information on
Eclipse Automobile Company Boston , Massachusetts