Automobili Intermeccanica
Automotive manufacturer of Santa Ana California ;United States of America from 1976 to 1982.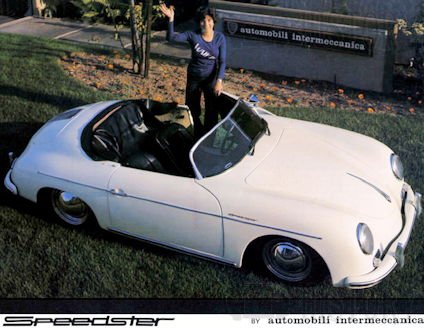 Automobili Intermeccanica was a manufacturer of replica automobiles from the USA .
History
Frank Reisner , who previously led Costruzione Automobili Intermeccanica in Italy , and Tony Baumgartner founded the company in 1976 in Santa Ana . 1977, they began with the production of automobiles. The brand name was again Intermeccanica . In the first year already created around 200 vehicles. 
Classic Motor Carriages later took over the company. Production ended in 1982 in the US. A total of 608 vehicles emerged in the United States. 
The main model Intermeccanica Speedster was a replica of the Porsche 356 Speedster . A shortened chassis of the VW Beetle formed the basis. An open fiberglassbody was mounted on top. Later was the Viva 200SX Intermeccanica a convertable euro look conversion.