Pioneer (Nic-L Silver Battery Company)
Pioneer was an American automobile brand that was built in 1959 by the Nic-L Silver Battery Company  Santa Ana in California. This electric vehicle was also sold as a Lipcoft Pioneer or Nic-L-Silver only one two-door roadster prototype was built .
The Pioneer was a 3 passenger fiberglass electric car range that would of been available as a two-door roadster , two-door hardtop - coupe or three-door station wagon . The wheelbase was 95"(2413 mm), the total length 157"(3988 mm). The cars were powered by two electric motors, each driving a rear wheel. The total output was 11.8 kW, the range depending on driving between 65 km and 160 km which could be plug into any 110 22 volt outlet Weight 1800 lbs.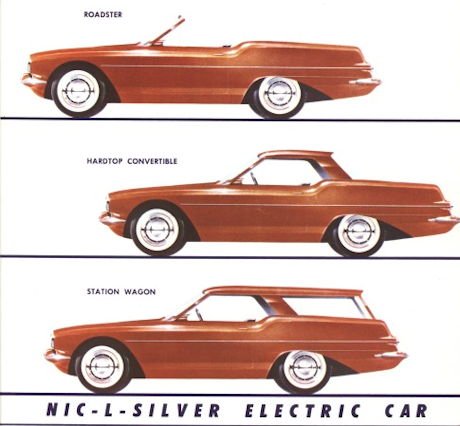 USA

Pioneer (1914)
1056 / 1216
Playboy (1947-1951)
More information on
Pioneer (Nic-L Silver Battery Company)
Car manufacturer of Santa Ana California.United States from 1959.