Pennington and Baines  (Anglo-American Rapid Vehicle Co )
Automotive manufacturer of United States and Great Britain from 1894 to 1902.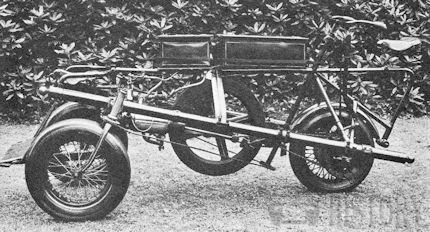 1896 Pennington tricycle
Pennington was a car brand both in the USA and Great Britian at the turn of the 19th century.
History 
The engineer Edward Joël Pennington founded in 1894 in Cleveland , Ohio , USA, a company that bore his name for the production of automobiles . In 1896 he moved to Coventry in England and founded the Great Horseless Carriage Co Limited . In 1898 it became Pennington and Baines , which settled in London . 1899 was renamed Pennington Motor Co Limited . In the same year he moved back to the US and founded the Anglo-American Rapid Vehicle Co in New York City which existed until 1902. Overall, only about 15 vehicles.The first motorcycle, the Pennington (1895) , was introduced in 1895. in Cleveland in 1894 and was a four-wheeled quadricycle.
Forecar
In 1896 in England he designed a tricycle . The single wheel was behind. The driver sat on a motorcycle saddle above the rear wheel. The two-cylinder engine with 1871 cc capacity was mounted in mid-engine design. The tubular frame was made by Humber . Between the front wheels a seat for a passenger was mounted. From this model originated until 1898 in Coventry five copies.
Raft Victoria
This model was created in 1898 in London. This vehicle with a 3.5- horsepower engine had front-wheel drive and rear-wheel steering. The companies Eclipse Machine Co Limited from Oldham , which later manufactured the Rothwell , and Protector Lamp & Lighting Co Limited from Eccles , which later produced the Bijou , made some parts for the vehicle. A vehicle received a body from Stirling . Three copies of this model were made.
The 1898  Pennington front-wheel drive Victoria