Berg Automobile
 American Automotive manufacturer Cleveland, Ohio ,USA  from 1903 to 1904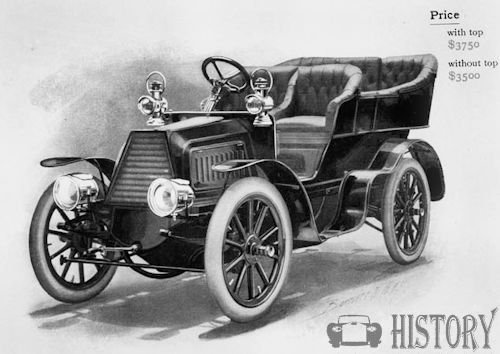 Berg Automobile Company was a manufacturer of automobiles in Cleveland, Ohio from 1903 to 1904. The New York Bergs were made by the Worthington Automobile Company. 
History
As early as 1902, Hart O. Berg had announced that he would soon bring two "foreign-type" cars to the US market. He founded the company in 1902 in Cleveland , Ohio. The capital amounted to 400,000 US dollars . In 1903 he started producing automobiles. The brand name was Berg . Starting from July 1903 still vehicles of the mark Euclid came to it. The Worthington Automobile Company from New York City took over the company in 1904 and continued production of the mountain until 1905. Berg said goodbye to technology and in the future financed new companies. Among other things, he partnered with the Wright brothers .The mountain a perfect copy of a contemporary French Panhard & Levassor model and was also marketed like that. Apparently, this action did not bother Panhard & Levassor, because they did not deliver cars to the US.
The car presented at the New York Automobile Show in January 1903 was a two-seat runabout with a two-cylinder engine . He soon got a touring car with a four-cylinder in - line engine at his side.Also, the mountain of 1904 was a touring car. It was equipped with a tonneau, could accommodate six people and cost US $ 3,500, -. The in-line front-mounted four-cylinder engine delivered 24 bhp (17.6 kW). The engine power was transmitted via a four-speed spur gear to the rear wheels. The car with wooden frame had semi-elliptic leaf springs and was considered very modern at the time.
In 1905, the model from the previous year was essentially further built, but there were two different bodies, one with side entry and one with entry from the rear.
The 1904 Berg was a touring car model. Equipped with a tonneau, it could seat 6 passengers and sold for US$3500. The vertical-mounted straight-4, situated at the front of the car, produced 24 hp (17.9 kW). A 4-speed sliding transmission was fitted. The armored wood-framed car used semi-elliptic springs and was considered quite advanced for the time. The wheelbase was 90 inches long.
Brand name Euclid 
JG Heaslet was the designer. A four-cylinder engine with 18 hp power powered the vehicles. The wheelbase was 229 cm.
The Berg 8 and 15hp Chassis options.
USA

Benz Spirit (1900)
230 / 1216
Berg Electric (1920)
More information on
Berg Automobile
American Automotive manufacturer Cleveland, Ohio ,USA from 1903 to 1904
Technical
| model | Construction period | cylinder | power | wheelbase | constructions |
| --- | --- | --- | --- | --- | --- |
| runabout | 1903 | 2 row | 8 bhp (5.9 kW) | 1981 mm | Runabout 2 seats |
| Touring | 1903 | 4 row | 15 bhp (11 kW) | 2286 mm | Touring car 5 seats |
| Touring | 1904-1905 | 4 row | 24 bhp (17.6 kW) | 2438 mm | Touring car 5 seats |