Wheeler Dealers Series 11 (2014)
Presented by Mike Brewer & Edd China.
The 2014 series,now with the 100th car  completed.(not including the trading up and specials)
 The wheeler dealers have many cars under there belt. But still have time for some Great rare and modern classics .
View series 11 cars technical data Here

1 Ford Fiesta XR2
Asking price £2,500 paid £2,000
Work Completed: Gearbox rebuilt. new clutch and bushes £525 Gearstick throw shortened from 200mm to 130mm. Faded black window surrounds repainted; metal fracture welded up and minor rust treated on the window frame. Parcel shelf from a donor car refurbished with new paint, carpeting, and hanger strings.£68 Rear interior quarter panels, front bumper, and spotlight replaced with donor car parts. Aftermarket exhaust replaced with original unit.
Notes: Mike spent £1,000 on a donor car for all the spare parts the project car needed; donor car was resold for £873. Restored car brought to Colin Stancombe of Ford Special Vehicles Engineering. Edd ran the car from 0-60 in 10.5 seconds - slightly more than one second slower than the original factory rating of 9.3 seconds.
2 Porsche 993 Targa
Asking price £13,000 paid £12,000
Work Completed: Engine performance problem resolved by replacing one of the VarioRam lifters in the intake manifold. Shock absorbers replaced with custom-built units at a cost of £3,000. Brake back plates and suspension drop links replaced. Rear spoiler mechanism repaired by replacing faulty crown wheel. Leather steering wheel, gear knob & gaiter, and rear lights replaced with salvage parts. New tailpipes, clear fog lamps and indicators, and halogen headlamp bulbs installed.Total £850 Alloys fully refurbished; new tyres installed.£820 Body given a deep cut and polish.£850
Notes: Restored car taken to Yorkshire Dales to participate in a Porsche 911 club drive-out. The leather interior was significantly worn on purchase and not attended to during the program, however it had been restored when the car was sold.
3 Mazda RX-7
Asking price £6000 paid £5000
Work Completed: New radiator and intercooler kit. £900 Faulty aircon assembly removed and battery moved to the boot. New programmable ECU installed; £875 engine remapped from 247 bhp to 296 bhp.£400 Original BBS alloy wheels repainted in orange with snake skin water transfer pattern;£500 spoiler and side mirror covers also decorated with snake skin pattern. Added matching "snake skin fade spots" vinyl decals to body.£350
Notes: JDM import with Mazdaspeed body kit, aftermarket spoiler of unknown origin, Pivot water temperature gauge, and A'PEXi power FC (Fully programmable ECU). Engine was rebuilt by original owner roughly 10,000 miles prior to sale. Restored car taken to Anglesey Circuit for track testing with a local Mazda Wankel club. Sold back to original seller.
4 Citroën 2CV AZLP
Asking price 4,500 euros  paid 4,000 euros
Puchased in France
Work Completed: .New suspension cylinders installed, new leading arm friction dampers installed, tuned mass damper refilled with LHM oil and the housing cleaned and resprayed satin black £300 .Body resprayed in period satin blue.£1,900 Engine rebuilt with new barrels and pistons .Interior refurbished with new seat covers and door panels. Steel steering wheel and seat frames repainted in original gray. New custom canvas roof fitted. New headlamp pods and taillight lenses installed. £600
Notes: Purchased from France. Restoration price includes £200 travel expenses. Restored car taken to a ploughed farm field to test Citroën's original claim of the body and suspension being able to keep a basket of eggs intact while in motion before going to Chateau Impney.
5 Maserati 3200 GT
Asking price £7,300 paid £7000
Work Completed: Accelerator pedal position sensor replaced, Throttle body refurbished; carbon track replaced with a magnet-based contact system.£399 Air conditioning serviced, new heat exchanger and dryer fitted. replaced. £463 Instrument binnacle fixed. Driver airbag unit and gear knob replaced.£208 Mismatched tyres replaced.and new Track rod ends £562.
Notes: *£475 for replacement accelerator pedal position sensor missed from final financial summary. Restored car taken to Scarborough, North Yorkshire, as part of a cross-country drive.
6 Chevrolet Camaro
Asking price $15,000 paid $11,750
Work Completed: New gearbox oil sump, gasket, and filter. Wiring loom sorted. Braking system upgraded with brake servo and new master cylinder. New power steering mechanism; £2,000 alternator moved to the opposite side of the engine to make room for the power steering pump. Non-authentic "SS" badges replaced with original or blank units; "SS" badges on the wings resprayed in Le Mans Blue to cover up the holes. New binnacle lenses, car stereo, and door cards. Windshield wipers and new brightwork installed.£2,000
Notes: Purchased from San Diego, California. Restoration price includes £2,500 shipping. Original straight-six engine was swapped with an Edelbrock 350 cid V8. Previous owner abandoned restoration project, but supplied the old and replacement parts with the car. Restored car taken to the Ace Cafe London to be sold at a car meet.
7 Amphicar
Work Completed: Body work repaired: original paint stripped using sodablasting method to address all of the corroded areas and remove body filler from previous repairs; old fiberglass floor repair panels removed, rusted offside floor panel cutout and replaced with new metal; rusted front offside floor corner and corner bracket were cut out and new metal panels were welded in; offside rear three quarter panel and inner panel cutout and new metal panels welded in; body resprayed to original red colour. Old aftermarket bilge pump and float switch replaced with new aftermarket parts. Bilge pump outlet hole relocated from rear offside to the original hole in the rear and plastic outlet fitting replaced with chrome equivalent. To make the car legal to operate in public waters marine-spec fuel lines with protective sheath, external fuel filler and breather, modified fuel tank, fuel shutoff valve, electric kill switch, warning labels, fire extinguisher and waterproof battery case were fitted. New marine boards in the front compartment fitted to replaced non-standard carpets and wooden oars with "Amphicar" label were custom made. Transmission input shaft needle bearing replaced (not shown).
Notes: Purchased from Florida. Restored car taken to the River Thames. During the test drive, the car stalled and it was revealed that transmission input shaft needle bearing has been shredded and was replaced by Edd off camera.
8 Ford Thunderbird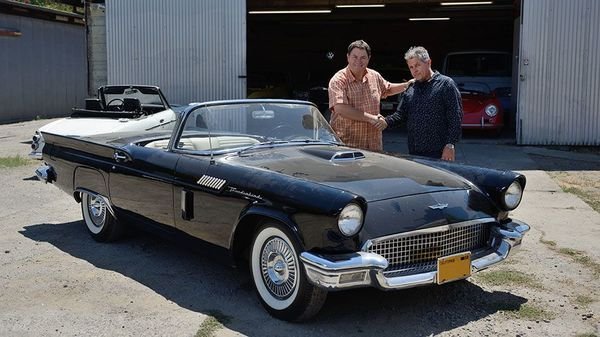 USA Car Asking price £26,000 paid $24,500
Work Completed: Power srteering kit with replacement hoses £95 Electric windows £600 Dial-o-matic seat and trim full re trim £1,730 roof replacement chrome trim and paint work £4,145 Fauty fuel sender unit replaced £50
9 Jaguar XJ 4.2C
The rare Jag coupe Asking price £12,000 paid £11,500
Work Completed:  Replaced mechanical ignition system with electronic ignition, £200 fixed non-working fan in the cooling jacket for the battery, replaced exhaust from the downpipe to the tailpipe with a stainless steel exhaust, replaced exhaust manifold with refurbished and ceramic coated manifold,£1,200 repaired non-working lock-nut on the adjustable reach of the steering column .Replaced grumbling bearing in the water pump, £290

10 Audi TT Mk1
Asking price £2,000 paid £1,500
Work Completed:
Repaired Dash display LED unit as faulty,£100,faulty gearbox striped and found to be a bolt snaped from selector fork cost £50p.New clutch fitted, Haldex coupling oil and filter replaced,both electric window switches replaced.headlight upgrade kit £300.a trip to Milton Keynes snow dome for test drive.
 
11 Volkswagen Type 2 Splitscreen (1968)
Purchased in the USA (south Carolina)
Asking price $14,800 Paid $14,000
Car had slight custom work but with no interior.
Work Completed:
Changed steering box for modern rack and pinion steering system  £850.wheels banded  (widened wheels) to fit moon discs by 2" .£340.Replaced Gearbox rod bushes and installed quick shifter.De tint the black windows and installed window catches and other chrome, stainless parts (lights, wipers and mirrors), Painted the inside of the bus cream .£960 with matching door cards £400. new seats £400 clock retro fit radio and new steering wheel. lighting changed to UK spec.UK shipping costs £2000
12 BMW Z1
Picture shows Z1 with all body panels removed
Purchased in the Netherlands Asking price €16,950 paid €16,550 (Euros)
Car been painted Yellow ,and another first Edd takes car out for a spin with all the panels removed. during the build.
Work Completed:
Clutch plate and release bearing replaced. Exhaust replaced (custom made). £757 Seats and shift gaiter dyed black.£360 . Car was a aftermarket Yellow so Panels repainted in Toprot Red (The original colour that Edd discovered while removing the panels). £3,500 Seals replaced. Indicator stalk found under the passenger seat, welded and re-attached. Door belt re-tensioned to fix door mechanism.£150 ,shipping costs £350.

13 1903 Darracq (100th car)
100th car in the show, this veteran car is on loan from the Haynes motor museum
Work Completed: Car on loan from the Haynes motor museum for a light restoration so Ed and mike can compete in the London to brighton . Hickory wooden wheels soaked in water to stretch loose spokes not fully successful so taken for a repair by heating steel tyre to wheel.
Water pump reconditioned with new machined cam.and impellers £810 and radiator flushed to resolve overheating. New period hoses and clamps. L.E.D headlamps made with use of a 3D printer total spent £1517

14 1963 Lincoln Continental
Asking Price $10.000 Paid $8.000
Purchased in North california
Work Completed: leather seats retrimmed,wood veneers replaced.£1,400 Door card inserts £360. Engine and transmission serviced £50,new rubber seals all round,all new electric window switches,new exhaust system.brightwork repaired and replated £400 .set of custom made wire wheels made by Wire Wheel King installed £770.Full  Respray £3,400. Shipping costs £2,000.
#

Vehicle

Budget

Purchase
Price

Final Cost
After Restoration

Final
Selling Price

Profit/Loss

1

Ford Fiesta XR2

£3,000

£2,000

£2,750

£5,000

+£2,250

2

Porsche 993 Targa

£15,000

£12,000

£17,520

£19,500

+£1,980

3

Mazda RX-7

£8,000

£5,000

£8,025

£9,500

+£1,475

4

Citroën 2CV AZLP

£6,000

£3,300

£6,300

£10,000

+£3,700

5

Maserati 3200 GT

£10,000

£7,000

£8,632*

£12,300

+£3,668

6

Chevrolet Camaro

N/A

£7,500

£14,030

£23,000

+£8,970

7

Amphicar

£20,000

£21,000

£30,600

£35,200

+£4,600

8

Ford Thunderbird

N/A

£16,000

£25,120

£33,000

+£7,880

9

Jaguar XJ-C

£11,995

£11,500

£13,190

£15,000

+£1,810

10

Audi TT Mk1

£2000

£1,500

£2,153.50

£3,600

+£1,447

11

Volkswagen Type 2 "Split

$15,000

$14,000

£16,665

£25,000

+£8,335

12

BMW Z1

N/A

£14,037

£19,154

£25,000

+£5,846

13

Darracq

Not for Sale

£0

£1517

Not for Sale

+£0

14

Lincoln Continental

 $10,000

£4,696

£13,076

£15,000

£1,924
More information on
Wheeler Dealers Series 11 cars and details (2014)