Wheeler Dealers Series 10 (2013)
Presented by Mike Brewer & Edd China.
The 2013 series, with a budget up to £20,000  exotic supercars now in reach. the wheeler dealers have came along way. But still have time for some now awesome custom projects.
View series 10 cars technical data Here
Episode 1
Aston Martin DB7 (1996)
Asking price £13,500 Paid £12,500
Work Completed
New oil cooler and pipes to fix oil leak; new oil filter. £1,115 exhaust manifolds replaced.£268 Black grille replaced with chrome unit.£80 Satin alloy wheels chemically stripped, black powder coated and sprayed silver,£260 front tyres replaced and tracking adjusted.£235 Leaking door rubbers diagnosed with smoke machine, and padded with rubber tube to fix water ingress.
Episode 2
Ford Escort Mk1 (1972)
Asking price £5,100 Paid £4,500
Work Completed
 Front drum brakes and suspension upgraded to 2.8L Ford Capri based air vented disc brakes New brake hoses and servo assisted dual brake master cylinders shock absorbers and springs. £350 Limited slip differential fitted.£500 . Replacement near-side "Mexico" front wing. Full body respray from brown to Daytona Yellow. £1,850 New window rubbers. Pair of 1970's Lucas rally spot lights, sports steering wheel, chrome wing mirrors and replacement original chrome bumper fitted. Replacement front seats, re-trimmed rear seat from brown to black. Replacement black door cards, carpets and dashboard panel. Centre of front grille resprayed satin black. Wheels swapped with repainted 13" units.£500
Episode 3
 Range Rover Series 3 (2002)
Asking price £5,700 Paid 5,000
Work Completed
Full body respray from textured satin black and blue to Whistler White. Replaced the wiring loom for the fuel injectors due to failed connection to injector #3. Black/blue 22" rims refurbished to graphite. Refurbished all of the blue interior trim to carbon fibre style using a water transfer print method. Replaced air suspension compressor as failed piston ring in original unit was unavailable as a spare part. Replaced headlamps, bumper, front grill and rear lights with 2007 facelift units. Steering wheel emblem restored.
Episode 4
Porsche Boxster S (2000)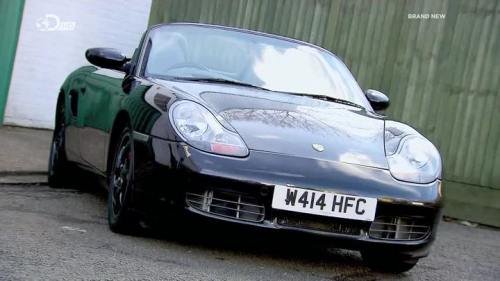 Asking Price Paid £1500 Paid £1000
Work Completed
  Tiptronic transmission oil changed and filter replaced to sort out slipping first gear in automatic mode, £200 all four brake discs skimmed with on-car brake lathe and brake pads replaced,£130 both catalytic converters replaced with aftermarket units due to rusted and rattling heat shields, exhaust back box changed with a stainless steel aftermarket unit,£600  headlights and taillights replaced with clear lens lights from a 2003 model,£1010 both leather seats refurbished with Alcantara inserts,£300 all four wheels refurbished and painted black.£300
Episode 5
Morris Minor 1000 Traveller (1966)
Askng price £2,800 paid £2,450
Work Completed
Replaced wood frame and panels; £1,200 and roof guttering; £200 new rear wings full body respray to original Almond Green;£2,400 new head lining (supplied by seller) and carpet set;£200 cleaned seats and door cards; replaced gaskets of rocker cover, £50 inspection panels and manifolds; engine repainted to original BMC green.
Episode 6
 TVR Cerbera (1999)
Asking price £8,500 Paid £8,000
 Work Completed
 Replaced steel chassis frame and suspension and powder coated body off £2,000 new wishbones;£1,500  new shock absorbers; £350 CV joints refurbished with new gaiters; new accessory belt; new windscreen; £600 silver alloy wheels powder coated to gloss black.£200
Episode 7
 Lamborghini Urraco S (1972)
Askng price 25,000 paid £25,000 euros
Purchased from Poland
Work Completed
 Refurbished engine: New timing belt installed, timing belt idler pulley bearings replaced, new distributor cap, HT leads, spark plugs, air filters installed. £208 Engine oil and filter changed. Ignition timing set to 18° BTDC, four Weber two-barrel downdraft carburetors adjusted for correct idle, choke and A/F mixture. New clutch installed with a refurbished clutch plate and new clutch disc, new clutch slave cylinder and clutch release bearing, missing clutch slave cylinder return spring reinstalled, new custom made hydraulic pipe installed. £2,572 Seized brakes refurbished by cleaning the brake discs and installing new brake pads.£76 Clutch and brake fluids replaced.Shipping from Poland £3,000
Episode 8
 Ford Popular 103E Hot rod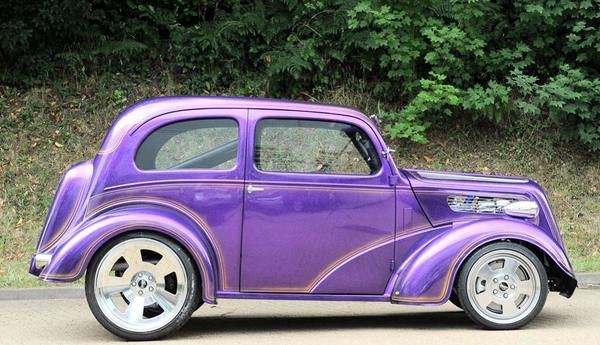 Asking price £6,500 paid £6,000
Work Completed
Second-hand front suspension from a Jaguar XJ installed by replacing the old front suspension mountings with modified chassis rails, shortened XJ subframe and sway bar.£450 Rusted metal front wings and bonnet replaced with one-piece fiberglass flip front panel. Rear lights and exhaust back pipes moved to the rear wings.  Engine spruced up with new rocker covers and headers, chrome alternator, HT leads and a retro air filter. Original headlight pods replaced with Venom LED retro headlights and LED taillights. Interior upgraded with re-trimmed vinyl dashboard and door cards, new carpets and simple vinyl seats. and custom back lit rear number plate installed.Total £3,100.Four custom made aluminum rims for £1,700
Car painted in one of the original paint schemes from the famous "Pinball Wizard" Ford Popular (to impress Mikes Father) with Medium flake Purple for the base coat and Holographic flake Gold for the stripes.cost £7,000
Episode 9
 Chevrolet Corvette C2 Sting Ray
Asking price $32,000 Paid $29,000
Work Completed
Distributor shaft and cap, spark plugs and HT leads replaced; mechanical ignition system replaced with electronic unit, £220 rev counter reconnected to distributor. Right-hand side front drum brake adjusted. Clock fixed. Fibreglass body reinforced with carbon fibre filler.soft top £960 Full body respray to original Rally Red colour. New interior installed. Re-chromed bumpers and brightwork installed.£3,000,Shipping costs £3,000
Episode 10
 FSM Syrena 105L (1983)
Asking price 9,000 paid 7,000
Work Completed
Purchased from Poland
 Worm and roller steering box replaced; £45 existing steering shaft welded to replacement unit. Drum brake slave cylinders replaced and shoes refurbished. Gear linkage repaired.£65 Dynamo replaced with alternator;£55 new drive belt installed, old regulator removed, polarity of coils and battery rotated from positive to negative earth. Full body respray from yellow to Polish flag greyish white/burgundy red motif. New door cards to match seat colour. £3,750 New car stereo. £45 Chrome brightwork polished; black plastic wheel parts chromed.
 Episode 11
 Lotus Elise Series 2
Asking price £9,000 Paid £8,400
Work Completed
 Rover K engine head polished and ported to give a power increase from 120 bhp to 150 bhp £450 ; . Stock springs and shock absorbers replaced with adjustable units.£700 New Advan Neova tyres; alloy wheels refurbished in satin black. Rear grille replaced with new diffuser; rear air scoops replaced with carbon fibre pods; new matte black filler cap; fog lamps replaced with 2010 model units; new Lotus badge.engine bolts and head gasket replaced £1700  Front bodywork repair corrected; scratches and imperfections repainted; £300 headlamps and indicator lamps correctly refitted.
Episode 12
 Cadillac Coupe de Ville
Asking price $6,300 Paid $5,000
Work Completed
 Shock absorbers and springs replaced with air suspension.£1,800 Front wings replaced. Missing side skirts replaced. Rusted panels on right-side C-pillar patched. Full body respray from black to Sugar Apple Green with white top;£4,500 custom gold plate pinstriping added.£500 New white vinyl headliner, door cards, and seat upholstery with green piping. Dashboard refurbished and painted to body colour.£4,000 ouch! Chrome bumpers, grille, and brightwork polished; hubcaps painted in body colour, other spares £3,700 Shipping to the UK £2,000 a expensive build.
#

Vehicle

Budget

Purchase
  Price

Final Cost
  After Restoration

Final
  Selling Price

1

"Aston Martin DB7

£13,000

£12,500

£14,468

£15,000

2

"Ford Escort Mk1

£5,000

£4,500

£8,500

£11,800

3

"Range Rover L322 TD6 Vogue

£5,000

£5,000

£9,565

£10,500

4

"Porsche Boxster S

£5,000

£1,000

£3,540

£6,400

5

"Morris Minor 1000 Traveller

£5,000

£2,450

£6,500

£8,500

6

"TVR Cerbera"

£10,000

£8,000

£12,850

£14,000

7

"Lamborghini Urraco P250S

£20,000

   £21,380

£27,236

£35,000

8

"Ford Popular 103E Hot rod

£10,000

£6,000

£18,250

£23,000

9

"Chevrolet Corvette C2 Sting Ray

£20,000

£18,100

£25,280

£45,500

10

"FSM  Syrena 105L

N/A

£1,400

£5,454

£8,000

11

"Lotus Elise Series 2

£10,000

£8,400

£11,550

£13,250

12

"Cadillac Coupe de Ville

N/A

   £3,000

£19,550

£25,000
About
Updated
Saturday, 04 April 2020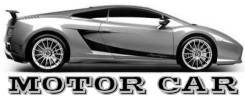 Published date
Wednesday, 17 September 2014