Top Gear: Series 1, Episode 8 (2002)
Stig Power Laps
Audi RS6 Time 1:33.00 (wet lap)
Mercedes E55 AMG Time 1:35.50 (wet lap)
Maserati Coupé Time 1:38.00 (wet lap)
Star in a Reasonably Priced Car (Suzuki Liana)
Sir Michael Gambon Time 1:55.00 (wet lap)
Episode Car Guide.
Episode highlight: The Star in a Reasonably Priced Car, the one and only Sir Michael Gambon. Almost rolling the car on a wet track. Following this incident, the final corner was renamed "Gambon "corner in his honour.
On a later appearance Sir Gambon admitted he was now "a household name because of the corner".
Featured Cars
Audi RS6 (C5 Typ-4B)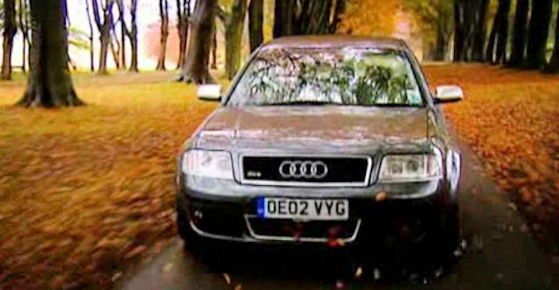 Jeremy road tests the new £58,000 Audi RS6 in Wiltshire ,with a twin-turbo 4.2L V8 which develops 450bhp. At £58,000 it's £5,000 more than the BMW M5 – Jeremy pulls over to ask Nick Mason (the drummer from Pink Floyd, who was on his way to borrow a cup of sugar from Roger Daltrey) for directions to Steve Windward's house,Like you do.
Mercedes E55 AMG (W211)
The Mercedes E55 may have some 500bhp, the 5.5L Supercharged V8 .Unlike the Audi the Mercedes doesn't have four-wheel drive and on a wet road the traction control is constantly working to keep the car in check.
Lada Riva (modified by Lotus)
Richard investigates if it is possible to turn anything at all into a sporty Driver's Car.they get hold of a Lada Riva.The Lada is brought to the Lotus headquarters to see what they can do to improve it.The, Lotus test driver take it  for a couple of laps and describe it as the worst car they have ever driven.
They fit a Fiat twin-cam engine new brakes,custom exhaust system,alloy wheels, racing seats and a special Lotus black and silver paint job aka Sunbeam lotus look alike. And With Proof that any car can be turned into a decent sports Car with a large budget and if at least Lotus help out. 
Ford WRC Transit van
In the previous episode, the team set out to find Britain's fastest faith – and now they want to find Britain's fastest white van driver. After many applicants, they were left with 5 people. The van being used to lap the track is the 200bhp Ford WRC Transit van. Dale won with a time of 2:02, Steve came second and Roger third. And one white van driver lost on route haha.
Superminis: (Ford Fiesta •Citroën C3 • Honda Jazz • Nissan Micra • MG ZR) 
Richard reflects on the Super Mini and decides to compare a few. Tests included the Nissan Micra, Ford Fiesta,Citroen C3,and the popular for the time Honda Jazz. The Honda Jazz wins in practicality and the MG ZR wins for the sporty.
2002 Maserati Coupé
Jeremy takes the new 400bhp. 4.2L V8 Maserati Coupé out for a power test on the track. And says the suspension is also far too soft  even when set to Sport mode, it also becomes uncontrollable when driven at the limit with the Traction control turned off. Jeremy admits £60,000 is to expensive as it puts it way above most sporty cars from the time and behind only the Ferrari in price.