Toyota Land Cruiser

Fourth generation
 2009–present
Overview
Also called
Lexus GX 460
Production
2009–present
Model years
2010–present
Assembly
Japan: Tahara, Aichi Russia: Vladivostok (2013–)
Body and chassis
Body style
4-door SUV
Layout
Front engine / four-wheel drive
Powertrain
Engine

Petrol: 2.7 L I4 2TR-FE petrol 160hp 4.0 L V6 1GR-FE petrol 271hp Diesel: 3.0 L I4 5L-E diesel 94hp

3.0 L I4 1KD-FTV diesel turbo 170hp
Transmission
5-speed automatic 6-speed automatic 5-speed manual 6-speed manual
Dimensions
Wheelbase
2,850 mm (112.2 in)
Length
4,820 mm (189.8 in)
Width
1,885 mm (74.2 in)
Height
1,845 mm (72.6 in)
 This generation was available in some markets since October 2009. There are two base versions: a five-door variant and a three-door variant. The five door variant in the general market is offered in TXL & VXL grades – which are much more option packed. This generation of Prado features advanced 4WD capabilities and an array of electronic gadgets.
This generation of the Prado is offered in the US badged as the 2010 model year Lexus GX 460 with luxury trim.
For dual tank configuration vehicles, the fuel tank capacity was reduced from 179 L to 150 L compared to the J120. The removable third row three-seaters of the J120 were replaced by fold-into-floor seats which seat only two people – which is also responsible for a loss of cargo capacity and usable height in the cargo compartment. On the higher end VX and Kakadu models, there are six camera positions enabling viewing to the front and down, to the side both front and rear, and to the rear. The engine remained the same, although the gear change points were altered for maximum fuel economy rather than maximum performance, even in Sports mode.
| | |
| --- | --- |
| Doors | 5 |
| Seats | 7 |
| Luggage Capacity | 621 litres |
| Unbraked Towing Weight | 750kg |
| Braked Towing Weight | 3000kg |
This model is available with a rear mounted spare tire or under-floor mounted spare wheel, depending on the market. For example, UK market vehicles have the spare wheel mounted under-floor, while in Australia or Argentina the spare wheel is mounted on the rear door. Having the spare wheel mounted on the rear door allows the addition of an auxiliary fuel tank, which is desirable in countries like Australia or Argentina where long distance journeys are common.
Performance 3.0 D
| | |
| --- | --- |
| Power | 187 bhp |
| Top Speed | 109 mph |
| 0-60 mph | 10.6 secs |
| Torque | 420 Nm, 310 ft-lb |
| CO2 Emissions | 213 g/km |
| Euro Emissions Standard | 5 |
| Miles Per Tank | 650 miles |
In Europe it is sold as simply the Toyota Land Cruiser LC3, LC4 or LC5 (depending on the generation) or with the number series designation (LC 70, LC 90 and LC 120). In North America it is not part of the Land Cruiser range, as the Toyota 4Runner replaces the Land Cruiser Prado's affordable trim levels, while the expensive trim levels are instead sold as the Lexus GX 470, with nearly identical body panels and a V8 engine.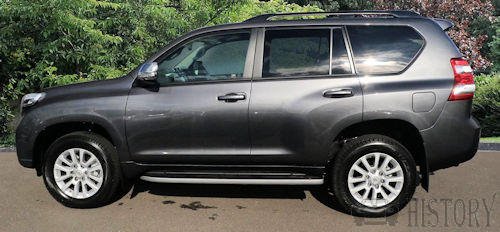 Dimensions
| | |
| --- | --- |
| Fuel Capacity | 87 litres |
| Weight | 2215kg |
| Length | 4780mm |
| Width | 1885mm |
| Height | 1890mm |
| Wheelbase | 2790mm |
| Turning Circle | 11m |
2009 Toyota Land Cruiser Prado in Wheeler Dealers: Trading Up (2013)
Created by
Chris
Spec
Info
Toyota Land Cruiser  Specs & Dimensions (2009 onwards)

 
Engine
Power
(bhp)
0-60 mph
(secs)
Fuel Economy
(mpg)
Insurance
Group
Road Tax
(per annum)
Length
(mm)
 
3.0 D-4D Diesel
170 - 187
10.3 - 11.3
34
31
£295
4,315 - 4,760

 
Engine
Power
(bhp)
0-60 mph
(secs)
Fuel Economy
(mpg)
Insurance
Group
Road Tax
(per annum)
Length
(mm)
 
2.8 D-4D Diesel
174
11.7 - 12.3
38 - 39
35
£270
4,335 - 4,780
 
3.0 D-4D Diesel
187
9.9 - 10.6
34
33 - 36
£295
4,335 - 4,780

 
Engine
Power
(bhp)
0-60 mph
(secs)
Fuel Economy
(mpg)
Insurance
Group
Road Tax
(per annum)
Length
(mm)
 
2.8 D-4D Diesel
174
12.3
38
40
£270
4,780
 
3.0 D-4D Diesel
187
10.6
34
38
£295
4,780

 
Engine
Power
(bhp)
0-60 mph
(secs)
Fuel Economy
(mpg)
Insurance
Group
Road Tax
(per annum)
Length
(mm)
 
2.8 D-4D Diesel
174
12.3
38
41
£270
4,780
 
3.0 D-4D Diesel
187
10.6
34
39
£295
4,780

 
Engine
Power
(bhp)
0-60 mph
(secs)
Fuel Economy
(mpg)
Insurance
Group
Road Tax
(per annum)
Length
(mm)
 
4.5 V8 Diesel
268
8.6
29
48
£500
4,950

 
Engine
Power
(bhp)
0-60 mph
(secs)
Fuel Economy
(mpg)
Insurance
Group
Road Tax
(per annum)
Length
(mm)
 
3.0 D-4D Diesel
170 - 187
10.6 - 11.3
34
34
£295
4,760

 
Engine
Power
(bhp)
0-60 mph
(secs)
Fuel Economy
(mpg)
Insurance
Group
Road Tax
(per annum)
Length
(mm)
 
3.0 D-4D Diesel
170 - 187
10.6 - 11.3
34
35 - 38
£295
4,760

 
Engine
Power
(bhp)
0-60 mph
(secs)
Fuel Economy
(mpg)
Insurance
Group
Road Tax
(per annum)
Length
(mm)
 
3.0 D-4D Diesel
187
10.6
34
35
£295
4,760
Info
Specifications
Options: Equipment included on some trim levels

3x3 point rear seat belts
Air conditioning
CD
CD Multichanger
Climate control
Cloth seat trim
Cruise control
DVD
Electric driver`s seat
Electric mirrors
Electric passenger`s seat
Electric sunroof
Folding rear seats
Full size spare wheel
Heated mirrors
Heated seats
Height adjustable drivers seat
Isofix child seat anchor points
Leather seat trim
Lumbar support
Parking sensors
Passenger`s airbag
Rear electric windows
Roof rails
Sat Nav
Service indicator
Side airbags
Steering wheel rake adjustment
Steering wheel reach adjustment
TV