Sunbeam Rapier

Series IIIA
 (1961 to 1963)
Production
1961–1963 17,354 produced.
Body style
2 door saloon 2 door convertible
Engine
1592 cc overhead valve Straight-4
On 20 April 1961 the Series IIIA was announced with the Series II Sunbeam Alpine 1592 cc engine.
Externally and internally the Series IIIA was identical to the Series III. The improvements were directed solely at improving the durability of the car. To this end, engine capacity was increased to 1592 cc and a stiffer crankshaft fitted. To increase reliability, the crankshaft incorporated larger diameter connecting rod bearings which called for modifications to the connecting rods and gudgeon pins. Modified oil and water pumps completed the engine changes. As a result, power output increased from 78 bhp (58 kW) to 80.25 bhp (59.84 kW) at 5100 rpm and torque increased from 84 lb·ft (114 N·m) at 3500 rpm to 88.2 ft·lbf (119.6 N·m) at 3900 rpm.
In addition, the Series IIIA included many detail changes such as an increased diameter front anti-roll bar which greatly improved roadholding, a redesigned clutch bell housing, a revised clutch assembly with 9 pressure springs instead of 6 and a redesigned air cleaner assembly. Inside the car a fresh-air heater, hitherto available only at extra cost, became a standard fitting. All of these changes combined to make the Series IIIA subtly different from its predecessor and to give the Sunbeam Rapier a new lease of life in the showroom.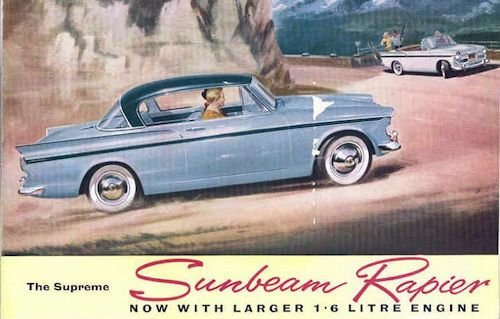 Maximum speed for the Series IIIA was lower than the Series III at 90 mph (140 km/h). It also took longer than the Series III to get to 60 mph (19.3 seconds) but its engine was far more durable
In mid 1963, the Series IIIA convertible was discontinued but the hardtop soldiered on until October 1963 when it was replaced by the Series IV. When production of the Series IIIA ceased, 17,354 units had been built.