Sunbeam Rapier

Series III
Production
1959–1961 15,368 produced.
Body style
2 door saloon 2 door convertible
Engine
1494 cc overhead valve Straight-4
The Series III was introduced in September 1959.
Rootes made subtle changes to the car's body which individually were insignificant but when combined, considerably altered its appearance. For example, the number of horizontal bars in each of the side grilles was increased from three to four and the boot lid acquired an oblong number plate recess and surround in place of the square one of the earlier cars. The most striking change was the redesigned side flash, now narrower and lower down the side of the car with the Rapier script on its rear end. The most subtle change, however, was a reduction in thickness of the windscreen pillars and a lowering of the scuttle line to give a 20% increase in windscreen area.
Inside the Series III the changes were more evident. Rootes stylists completely redesigned the seats and interior panels and specified that they be trimmed in single colour vinyl with contrasting piping. For the first time, deep pile carpets were fitted as standard in the foot-wells (previous versions had rubber mats). The steering wheel, control knobs and switches were in black plastic instead of beige. The dashboard, instead of being as in the earlier cars padded metal and plastic, was covered in burr walnut veneer surmounted by a padded crash roll fitted with black-faced British Jaeger instruments.
Mechanically, the Series III benefited from the design of the Sunbeam Alpine sports car with which it shared its engine. Although the engine's displacement was still 1494 cc, it was fitted with a new eight-port aluminium cylinder head with an increased compression ratio and redesigned valves, and used a new, sportier camshaft. The twin Zenith carburettors from the Series II remained but were mounted on a new water heated inlet manifold. The result of these changes was a power increase of 5 bhp (4 kW) to 78 bhp (58 kW) at 5400 rpm.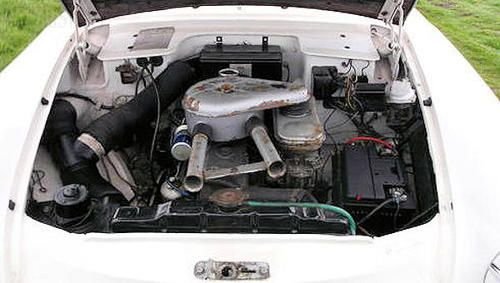 Gearbox changes included higher second, third and top gear ratios, and a reduced angle of gear lever movement to make for shorter lever travel and snappier changes. New front disc brakes significantly improved the Rapier's braking capability and widened its front track to give greater stability and improved road-holding.
A saloon with overdrive was tested by the British magazine The Motor in 1960 and had a top speed of 91.7 mph (147.6 km/h) and could accelerate from 0-60 mph (97 km/h) in 16.6 seconds. A fuel consumption of 29.5 miles per imperial gallon (9.58 L/100 km; 24.6 mpg-US) was recorded. The test car cost £1045 including taxes.
The Series III, of which 15,368 units were built (hardtop and convertible) gave way to the Series IIIA in April 1961.