Singer 9 Roadster
  1939 to 1949
Overview
Manufacturer
Singer Motor Company
Production
1939–1949
Assembly
Coventry, England
Body and chassis
Body style
2-door convertible
Layout
FR layout
Dimensions
Wheelbase
91 in (2,311 mm)
Length
151 in (3,835 mm)
Width
58 in (1,473 mm)
Height
58 in (1,473 mm)
Chronology
Predecessor
Singer 9 sports
The Singer Roadster is an automobile that was produced by the Singer Motor Company from 1939 to 1955. It was launched in 1939 as an open version of the Singer Bantam saloon. Production was suspended for the duration of World War II following which it was restarted in virtually unchanged form. The Roadster was upgraded to the 4A model in 1949 with a four speed manual gearbox. The short lived 4AB and 4AC models were released in 1950 followed by the 4AD SM Roadster in 1951. The last cars were made in 1955.
The original Roadster was an occasional four seat, two door tourer and had the overhead camshaft, 1074 cc I4 engine used in the Bantam range but tuned slightly to give 36 bhp (27 kW) by fitting a better manifold and downdraught SU carburettor. Performance was handicapped by the use of a three speed gearbox and top speed was in the order of 65 mph (105 km/h).
The body was built in the traditional method of aluminium panels fixed to a wooden framework. The suspension used leaf springs and was non independent with rigid axles front and rear. The brakes were mechanically operated.
Post World War II cars had the chassis stiffened and the engine mounted further forwards.
Nearly all production post war was exported.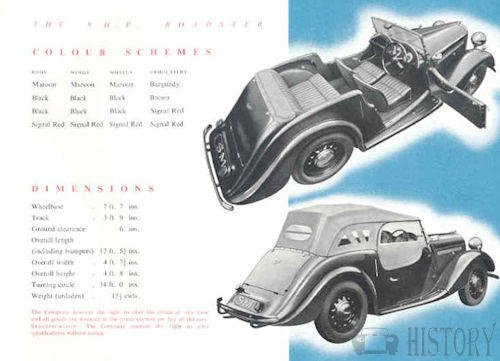 author
Chris