Simica 8 and 9 Sports car
 
Overview
Manufacturer
 Simica
Production
 1949 to 1953
Body and chassis
Class
Sports coupe, cabriolet
Layout
 Front engine, rear drive
Powertrain
Engine
Four-cylinders
Transmission
Four-speed manual
Simica 8 Sport and 9 Sports cars Built: Paris, France, from 1949 to 1953
The postwar Simca line-up begins with Fiat in the 1930s. Simca, at that time, and until the beginning of the 1950s, were building lightly modified Fiats under licence (Fiat had a substantial shareholding in the French concern), and the Simca 8 of the late 1930s was really nothing more than a Fiat 1100 of the day.
In 1948, however, Simca showed the Simca 8 Sport prototype model at the Paris Salon, which used the Simca 8/ Fiat 1100 rolling chassis, but had an attractive cabriolet body style 2 +2 seater by Pininfarina.
This car duly went into production — as an '8' with the 1089cc engine, and as a '9' with the bored out 1221cc engine. The steel bodywork was built for Simca by Facel Metallon, who would later become famous for building their own cars.
The Simca 8 mechanical components were retained until 1952, at which point the bodyshell was noticeably but not completely restyled by Facel Metallon, with a new Aronde-style air intake, a higher wing line, and pillarless construction, along with the Simca Aronde's engine, transmission and suspensions. Even before this time, however, the car had been a great success, with Facel making up to 20 bodies a day, and sales were often over 2000 a year. Within a year, however, the car was again redesigned, and the bodyshell was grafted on to the complete underframe of the unit-construction Simca Aronde. With this move it became substantially less sporting, being little more than a special open version of the Aronde, and therefore does not qualify for inclusion in this volume. 
These latter cars, known as Plein Ciels (coupes) or Oceanes (convertibles) were available in one form or another until 1963 when the Aronde range disappeared in favour of the 1300/1500 models. No further front-engined sporting Simca was ever marketed, though the companies produced a quantity of rear-engined and Bertone-styled coupes, based on the Simca 1000 chassis, during the 1960s.
Specification
Engine and transmission: Four-cylinders, in-line, with pushrod operated overhead valve cylinder head. Bore, stroke and capacity (8 Sport) 68 x 75mm., 1089cc. Or, Bore, stroke and capacity (9 Sport) 72 >< 75mm., 1221 cc. Maximum power 50bhp at 4800rpm. Torque not quoted. Four-speed manual gearbox in unit with engine. Spiral bevel final drive.
Chassis: Front engine, rear drive. Separate steel chassis frame, with channel section sidemembers and cruciform member. Independent front suspension by coil springs and wishbones. Worm-type steering. Rear suspension of live axle by half-elliptic leaf springs. Four-wheel drum brakes.
Bodywork: Choice of cabriolet or fixed-head coupe versions of Pininfarina-derived style, in two-door 2+2 seating, built by Facel Metallon. Length 13ft. 11.7in.; width 5ft. 1.8in.; height 5ft. 2.6in. Unladen weight 22051b.
Performance: (Manufacturer's claims) Maximum speed 84mph. Typical fuel consumption 28mpg.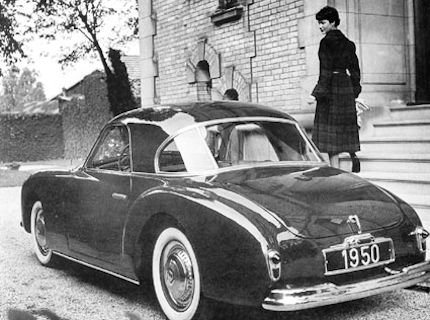 More information on
Simica 8 Sports and spoets 9 (1949-1953) Specification