Saab 9-5 First generation
 1997 to 2010
Production
1997–2009 (sedan) 1998–2010 (wagon)
Body style
4-door sedan 5-door station wagon
Layout
FF layout
Platform
GM2900 platform
Engine
1.9 L turbodiesel I4 2.0 L B205 I4 2.2 L turbodiesel D223 I4 2.3 L B235 I4 3.0 L L81 (B308) V6 3.0 L Isuzu 6DE1 diesel V6
Transmission
4-speed (1997–2001) 50-40LE 5-speed (2002-09) AF33 5-speed FM55B03
Wheelbase
2,703 mm (106.4 in)
Length
1997–2000 Sedan: 4,805 mm (189.2 in) 1998–2000 Wagon: 4,808 mm (189.3 in) 2001–05 Sedan: 4,825 mm (190.0 in) 2001–05 Wagon: 4,830 mm (190.2 in) 2006–present Sedan: 4,836 mm (190.4 in) 2006–present Wagon: 4,841 mm (190.6 in)
Width
1997–2000 Sedan: 1,793 mm (70.6 in) Wagon & 2001–09 Sedan: 1,790 mm (70.5 in)
Height
1997–2005 Sedan & 2001–05 Wagon: 1,448 mm (57.0 in) 1998–2000 Wagon: 1,496 mm (58.9 in) 2006–09 Sedan: 1,453 mm (57.2 in) 2006–present Wagon: 1,465 mm (57.7 in)
Related
BAW C71 Opel Vectra Opel Calibra Opel Omega Saab 900 (NG) Saab 9-3 Saturn L-Series
Engines
The first-generation 9-5 was powered by Saab's B205 and B235 straight-4 engines, and from 2002 in Europe by an Opel Ecotec X22DTH 2.2 diesel engine (Saab D223L), replaced in 2006 by Fiat's 1.9 JTD 16V diesel straight-4. A turbocharged version of the GM 54°, designated by Saab as B308, had a unique asymmetrical low-pressure turbocharger and was available from 1999 to 2003. This engine was available only with an automatic transmission, and cars with this engine installed are distinguishable by their twin tailpipes. The V6 was only available on Arc, SE, and Griffin models. In 2004, the V6 engine was replaced by a high pressure turbo straight-4 engine producing 220 hp (160 kW). By 2006 this engine was producing 260 hp (190 kW) even in the non-Aero or non-sport models (US models).
The B205 & B235-based 9-5 models have suffered a high rate of engine failures due to engine oil sludge. This primarily affected the 1999–2003 models. Saab refined the engine's positive crankcase ventilation system (PCV) for the 2004 and later model years and required use of fully synthetic oil, virtually eliminating the problem. Additionally, SAAB created update kits to retrofit to the 1999–2003 cars since they cannot be easily modified to accept the 2004 and later system. Mounting complaints by 9-5 owners forced GM to offer an eight-year warranty on the engine in 4-cylinder models for original owners, provided the owner can produce proof that they followed the manufacturer's oil change intervals. Saab now also recommends the use of recommended blended oil as a preventative measure.
Transmissions
The 9-5 was available with an Aisin AW 4-speed automatic transmission from 1997 to 2001. A new Aisin AW unit replaced the dated four-speed automatic with a five-speed automatic. A five-speed manual transmission is fitted as standard to the base models and the Aero. A six-speed manual transmission was never offered in first-generation 9-5's.
| | |
| --- | --- |
| Fuel Capacity | 70 litres |
| Weight | 1520kg |
| Length | 4827mm |
| Width | 2042mm |
| Height | 1475mm |
| Wheelbase | 2703mm |
| Turning Circle | 11m |
Alternative propulsion
E85
In 2005, an updated version of the 2.0 L turbocharged I4 was introduced in the European market together with the 2006 9-5. The engine is sold as 2.0T BioPower, and it is optimized to run on E85 producing 132 kW (180 hp) at 5500 rpm. There is also a 2.3T BioPower version sold from 2007. It was also introduced in Australia.
E100
There is a Saab 9-5 E100 Concept, based on the turbo 2.0.
BioPower Hybrid
The Saab BioPower Hybrid concept/prototype is based on the Saab 9-5 E100, with three additional electric motors.
Safety
Continuing Saab's long-running tradition of offering class-leading safety features, the 9-5 introduced Saab's Active Head Restraints (SAHR), which moved up and forward to prevent whiplash when the car was struck from the rear. This feature won technology and safety awards in Australia, Denmark and the United Kingdom. The Saab 9-5 also was one of the first cars to have extensive side-crash protection. In the front seats were torso and head airbags, on even the oldest of 9-5s, making it unique in that few other late 1990s vehicles provided the same feature. The basic structure included a robust passenger cage, front and rear deformation zones, reinforced door posts and pillars, as well as the "Pendulum B-Pillar", which combined high-strength low-alloy steel at chest and head height with tailored blank steel at the floorpan, designed to direct the crash forces down toward the floor. The design was proven by the Insurance Institute for Highway Safety (IIHS) to protect occupants in side crashes, even without the addition of curtain airbags or rear side airbags. From 2002, ESP (electronic stability control), was included as standard equipment.
Another Saab feature was the "Night Panel", which permitted dousing of the instrument panel lighting, except for essential information, for less distraction when driving at night. Once the night panel button (located by the stereo and caution lights) has been activated, the instrument cluster will dim except for the speedometer, which will illuminate from 0-87 mph, until 87 has been exceeded. As a gauge becomes a necessity for the driver's attention, it will illuminate (for example, if the car needs to be refueled, if the engine is overheating, etc.)
In the United States OnStar was available, and provided as standard equipment in selected 9-5's from 2001 onward.
Aero
2.3 HOT Aero (250bhp) Performance
| | |
| --- | --- |
| Power | 250 bhp |
| Top Speed | 155 mph |
| 0-60 mph | 6.5 secs |
| Torque | 350 Nm |
| CO2 Emissions | 209 g/km |
| Euro Emissions Standard | 3 |
| Miles Per Tank | 492 miles |
The performance 9-5 Aero (with earlier versions sometimes referred to as the HOT Aero) was first released in 2000 with a 2.3T B235R engine. The B235R engine of the 9-5 Aero was capable of providing immense torque.Initially badged as a 230ps engine, Saab later conceded that the 230 hp power figure was quite conservative,with the manual versions rated 240 hp and having more torque than stated. This flagship model had a long list of standard features, a sport tuned suspension, and body side moldings. In 2002 a 253 PS (186 kW; 250 hp) 2.3 turbo engine was made standard,which allowed for more torque after 4500 rev/min. All Aero models from 2002-2005 have an identical engine layout and management system, with the 2002-05 models just having a slightly remapped version of that ECU from factory. The high-powered version of the 9-5 in the final form produces 263 PS (193 kW; 259 hp) and 350 N·m (260 lb·ft) of torque (370 N·m (270 lb·ft) with its 20-second overboost function accessible on the manual transmission equipped version. Hirsch Performance, MapTun Performance, Nordic Uhr, and BSR AB, all tuners specializing in Saab models, can increase this to a maximum of approximately 600 hp (450 kW) ECE (220 kW).
From model year 2006 to end of production, the 260 PS (191 kW; 256 hp) B235R was the standard engine in the 9-5 in both the 2.3T and Aero trims. 2006 had only one badge designation, the 2.3T and appointments normally found on the Aero could be added via a "Sport Package". 2007 and on added an Aero badge to the trunk lid to distinguish from regular 2.3T models. In addition, almost all standard features on the Aero were standard on the 2.3T, the exceptions being sport-tuned chassis, two-tone leather upholstery, "anniversary" wheels and brushed aluminum interior trim, all of which were standard on Aero and not available on the 2.3T. Model Year 2002-2009 Saab 9-5 Aero's were able to significantly outperform Porsche 911 Turbo's from 40-100MPH while in second gear, a great feat.
Additionally, in the past companies, such as MapTun Performance, have developed aftermarket BioPower conversion kits for the 9-5 Aero and other Saab models. Larger injectors and remapped software in the Engine Control Unit (ECU) allow impressive power levels from 285 hp (213 kW), 330 lb·ft (450 N·m) in the Aero model on E85 ethanol. Due to the efforts at ECUPROJECT.com, tuning can be accomplished by the car's owner now through the open source program called T7Suite which allows the ability for nearly infinite power and torque possibilities. This is a major advantage over the mail box-style tunes that were/are currently available from the limited SAAB tuning community.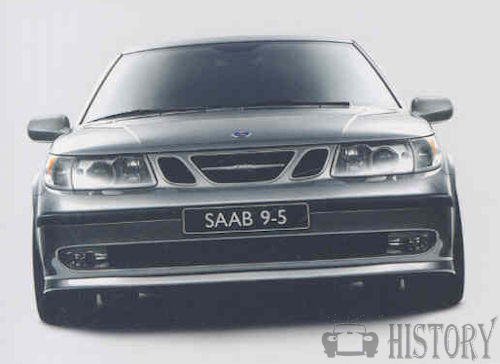 Police car
The 9-5 is used for patrol and undercover in several parts of its native country, Sweden, alongside the Volvo V70. Several police forces in the UK also use the 9-5 in their fleets, mostly in Aero guise.
The city of Aspen, Colorado, used Saabs as patrol cars from early 1970s until 2005, when the 9-5 was discontinued in favor of Volvo XC90.
The town of Vail, Colorado, had been using Saabs since 1980, but in 2005, the black 9-5 patrol cars were replaced by Ford Explorers, due to budget reasons.
In 2006 Lothian and Borders Police in Edinburgh, Scotland, started using three Saab 9-5 Aero 2.3T patrol cars as part of a fleet of 580 various vehicles. These 9-5s were customised to police specifications by the Saab, Vauxhall and Chevrolet Special Vehicles Operation (SVO) in Papworth, Cambridgeshire.In undercover guise, these cars were outwardly identical to the Linear Sport models, but featured the 260 bhp Aero drivetrain.
In Poland, an unmarked 9-5 is used as a video-pursuit vehicle. 
 
More information on
Swedish cars Saab 9-5 First generation
Technical
Trim levels

Standard Trim
Linear
Airflow
SE Airflow
SE
Vector
Linear Sport
Arc
Vector Sport
Aero
Griffin

Engines

| Model | Years | Engine | Engine type | Displ. | Max. power | Max. torque | 0–100 km/h |
| --- | --- | --- | --- | --- | --- | --- | --- |
| 1.9TiD | 2006–2009 | Fiat JTD | straight-4, diesel | 1910 cc | 150 PS (110 kW; 148 hp) @ 4000 rpm | 320 N·m (240 lb·ft) @ 2000 rpm | 10.1 (10.7) s |
| 2.2TiD | 2002–2006 | Opel Ecotec X22DTH | straight-4, diesel | 2171 cc | 120 PS (88 kW; 118 hp) @ 4000 rpm | 280 N·m (210 lb·ft) @ 1500 rpm | 11.0 s |
| 3.0 V6TiD | 2001–2006 | Isuzu DMAX | V6, diesel | 2958 cc | 176 PS (129 kW; 174 hp) @ 4000 rpm | 350 N·m (260 lb·ft) @ 1800 rpm | 8.9 s |
| 2.0t | 1998–2009 | B205E | straight-4, petrol | 1985 cc | 150 PS (110 kW; 148 hp) @ 5500 rpm | 240 N·m (180 lb·ft) @ 1800 rpm | 9.8 (10.2) s |
| 2.0t (SAAB tuned) | 1998–2009 | B205E | straight-4, petrol | 1985 cc | 192 PS (141 kW; 189 hp) @ 5500 rpm | 300 N·m (220 lb·ft) @ 3500 rpm | 8.3 s |
| 2.0t BioPower | 2005–2009 | B205E | straight-4, E85 | 1985 cc | 180 PS (132 kW; 178 hp) @ 5500 rpm | 280 N·m (210 lb·ft) @ 1800 rpm | 8.5 (9.0) s |
| 2.3t BioPower | 2006–2009 | B235L | straight-4, E85 | 2290 cc | 210 PS (154 kW; 207 hp) @ 5500 rpm | 310 N·m (230 lb·ft) @ 1800 rpm | 7.9 (8.5) s |
| 2.3t | 1998–2001 | B235E | straight-4, petrol | 2290 cc | 170 PS (125 kW; 168 hp) @ 5500 rpm | 280 N·m (210 lb·ft) @ 1800 rpm | 8.7 (9.3) s |
| 2.3t | 2001–2009 | B235E | straight-4, petrol | 2290 cc | 185 PS (136 kW; 182 hp) @ 5500 rpm | 280 N·m (210 lb·ft) @ 1800 rpm | 7.9 (8.5) s |
| 2.3T | 2004–2005 | B235L | straight-4, petrol | 2290 cc | 220 PS (162 kW; 217 hp) @ 5500 rpm | 310 N·m (230 lb·ft) @ 2500 rpm | 7.9 (8.5) s |
| 3.0t V6 | 1998–2003 | L81 | V6, petrol | 2962 cc | 200 PS (147 kW; 197 hp) @ 5000 rpm | 310 N·m (230 lb·ft) @ 2500 rpm | 8.3 (auto) s |
| Aero | 1999–2001 | B235R | straight-4, petrol | 2290 cc | 230 PS (169 kW; 227 hp) @ 5500 rpm | 350 N·m (260 lb·ft) @ 1900 rpm | 6.2-6.9 s |
| Aero | 2002–2005 | B235R | straight-4, petrol | 2290 cc | 250 PS (184 kW; 247 hp) @ 5300 rpm | 370 N·m (270 lb·ft) @ 1900 rpm | 5.9-6.7s |
| Aero | 2006–2009 | B235R | straight-4, petrol | 2290 cc | 260 PS (191 kW; 256 hp) @ 5300 rpm | 350 N·m (260 lb·ft) @ 1900 rpm | 5.9-6.7 s |