Riley Two-Point-Six
  1957 to 1959
Overview
Manufacturer
BMC
Production
1957-1959
Body and chassis
Body style
4-door saloon
Powertrain
Engine
C.26.R C-Series Straight-6
Dimensions
Wheelbase
113 1⁄2 inches (2,880 mm)
Length
185 inches (4,700 mm)
Chronology
Predecessor
Riley Pathfinder
Successor
Riley Four Sixty-Eight
The Two-Point-Six replaced the Riley Pathfinder as Riley's top-line automobile. While its predecessor retained the Riley 4 cylinder twin cam, cross flow engine, the Two-Point-Six was almost identical to the Wolseley Six-Ninety Series III. It featured both monotone and duotone paintwork, as did the last of the Pathfinders.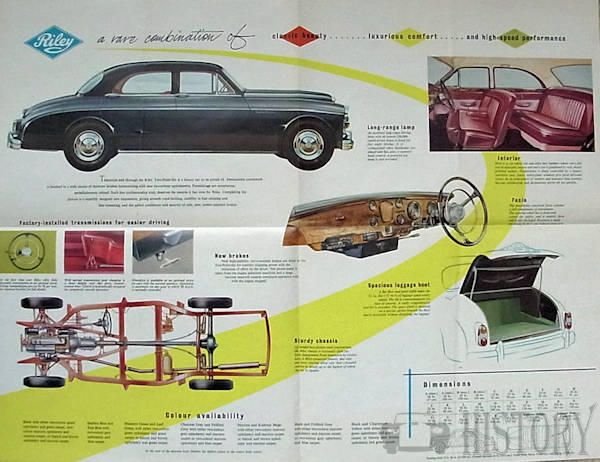 Externally the most obvious differences from the Pathfinder were the bonnet arrangement - while the Pathfinder's grille lifted with the bonnet, the Two-Point-Six, in common with the 6/90, had a fixed grille - and the wheel arches having a raised edge.
It used the BMC C-Series straight-6, an engine that produced 101 hp (75 kW). This was actually less than the 2½ Litre Riley "Big Four" straight-4 engine it replaced. The Two-Point-Six was a commercial failure and was pulled from the market in May, 1959, the last large Riley.
Engine:
2.6 L (2639 cc) C-Series straight-6, 97 hp (72 kW)
About
Updated
Sunday, 26 January 2020