Vauxhall,Holden,Opel Monterey 4X4 range 
 
Vehicle technical details
Manufacturer:
 Opel,Vauxhall,Holden
Production:
 1992 to 1999
Class:
 off road
Body and chassis
Body styles:
 SUV 
Doors:
 3-5 door
Chassis/body:
 steel
Suspension:

 Double triangle front suspension,rear multilink suspension

Engine and Powertrain
Drive:
 4x4
Engine Type:
 straight 4,V6
Displacement:
 3.1-3.2 liter
Engine location:
 front
Engine power:
 114-215 hp
Transmission:
  5 Speed ​​manual
Cooling:
 water cooled
Brakes:
 Four ventilated disc brakes
Fuel:
 diesel ,petrol
Weights and Dimensions
Wheelbase:
 2,760 mm
Length:
 4,880 mm
Width:
 1,745 mm
 
The Opel Monterey was built from March 1992 to April 1999 and shared its shape with the Isuzu Trooper II. Opel's sister company Vauxhall offered the Monterey in the UK and Holden in Australia .
The Opel Monterey was a more high-end 4x4 with more luxurious finishes. Like the Opel Frontera but with more powerful engines , the Monterey was offered as a three-door RS version and as a five-door long version.
Double triangle front suspension with stabilizer bar and torsion springs; independent wheels
rear multilink suspension with stabilizer bar and coil springs; stiff shaft
Two reversing lights,
Four ventilated disc brakes.
Selectable 4x4 drive with moving vehicle
Front seat and passenger seat belt, 3-point, roll-up and height adjustable,
Rear seat belt on the driver's side with 3 points and roll-up, rear seat belt on the passenger side with 3 points and roll-up, rear seat belt in the central ventral and static seat.
 1,455 mm front track width, 1,460 mm rear track width,
11,600 mm turning diameter between curbs and 12,400 mm diameter twist between walls.
There was  a facelift in July 1998, in which the front something friendly and rounder designed and the engine range was revised. In addition, the Monterey received a new dashboard and an upgraded interior.
Up to this revision, a 3.1-liter four-cylinder diesel engine with turbocharging and intercooler with 84 kW (114 hp) 3,059 cc, in-line engine with two valves per cylinder front-facing and longitudinal orientation with 95.4mm bore, 107mm stroke, 20/1 compression ratio and camshaft lateral (OHV);
Version: 3.1 TD LS Fuel: Diesel Maximum Power: 114 hp at 3,600 rpm Maximum Torque: 84 Nm at 2,000 rpm
No. of cylinders: 4 In-line Displacement: 3,059 cc Distribution: V Power: diesel - Indirect injection
Drive: 4x4
Gearbox: manual 5 Speed ​​Reducer: Yes
Number of doors: 5 length x width x height: 4,880 x 1,840 x 1,745 mm
Boot volume: 430 L
No. of seats: 7 Weight: 1,985 kg with driver
Tank capacity: 85 L
Acceleration (0-100km / h): 16.5 s
Maximum speed: 150 km / h
And a 3.2-liter V6 gasoline engine with 130 kW (177 hp) were available, the In 1998, it was replaced by a 3.0-liter common-rail direct-injection turbodiesel with 117 kW (159 hp) or a 3.5-liter V6 gasoline engine with 158 kW (215 hp).
 All-wheel drive and off-road gearbox are standard on the Monterey.  Interior Equipment ,Digital clock,Headrests in height and tilt adjustable front seats, headrests in height adjustable rear seats,Rear armrest,Individual driver's seat, reclining with longitudinal and height adjustment, individual reclining front passenger seat with longitudinal adjustment.Three-seater rear seats, split bench type and reclining with asymmetrical folding backrest.Fuel cap with mechanical remote opening,Immobilizer,Courtesy lights with four switches,Front reading lights,Trunk light,Sports steering wheel,Power steering.
Warning lights on open doors,Dual headlights with conventional lens and halogen bulb,Headlight adjustment with interior height adjustment,Side turn signals,Central locking with key and interior switch inc. boot opening,Air conditioning system with four fan speeds, air recirculation and rear air ducts with particle filter,CFC-free air conditioning,Front two-speed wiper with fixed turn signal,Front and rear electric windows,Acoustic warning lights on.
Interior dimensions:1,015 mm height between bench-ceiling (front), 970 mm height between bench-ceiling (behind), 1,356 mm width at the hips (front), 1,355 mm width at the hips (behind), 1,037 mm clearance for the legs (front), 831 mm of legroom (behind), 1,457 mm width at the shoulders (front) and 1,463 mm width at the shoulders (behind); Cargo compartment capacity: 430 L (up to windows with mounted seats), 1,464 L (up to windows with folded seats) and 2,548 L (up to the roof with folded seats).
Opel ceased the import of the Monterey. From January 1999.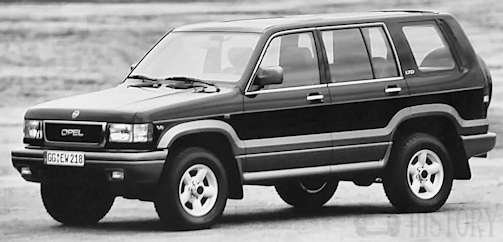 More information on
Opel,Vauxhall,Holden Monterey range and history