OM Leoncino Truck
---

Marque

Brand

OM

Years of Production

1950 - 1968

Engine and transmission

Engine (s)

Diesel OM

Displacement

4561 cm

3

Transmission

rear axle

Gearbox

Manual 6-speed

Weight and performance

 Empty weight

6 500

kg

 Chassis - Body

Bodywork (s)

Chassis Cab

Dimensions

Dimensions

Width

2150

mm

Height

3450

mm

Wheelbase

2600

mm
The OM Leoncino was a truck medium tonnage manufactured between 1950 and 1968 by the Italian manufacturer OM of Brescia .
. Launched in 1950, the Leoncino is a versatile and reliable truck making it in a short time the workhorse of the Italian manufacturer to all European markets.. This vehicle was very special because it was the first mid-size truck to have a width less than that of all its competitors, specially designed for narrow urban centers.
It was also built as: chassis for buses, 4x4 mobile home.
 The Leoncino will be the first in a long line of trucks OM, called zoological series because the names of animals.
Tigrotto in 1957,

Tiger in 1958,

 Lupetto in 1959

Cerbiatto and Daino 1964

 Orsetto in 1967.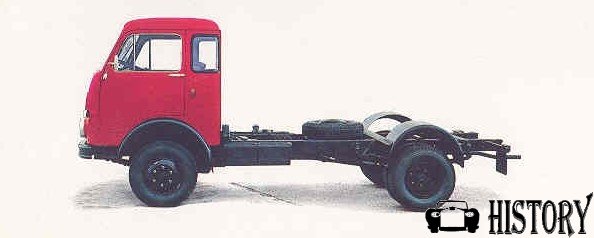 It was manufactured until 1968, when the range Fiat-OM "S" series  replace it.
OM Leoncino had a cab very modern for its time, with panoramic visibility.The shift lever was located on the steering wheel 3 branches T, in the same manner of an automobile.with the dashboard had backlit round dials.
On the first series, the windshield, was in two parts, The doors opened against the wind, as requested at the time.it had a diesel engine OM 3770 cm3 developing 54 hp at 2100 rev / min
The second series appeared in 1963, with a change of the code of the Italian highway of the time.The second series engine had a increase of displacement 4156 cm 3, which will be increased to 4397 cm 3 reach 4561 cm 3 in the last series developing 92 bhp.
1955 OM Leoncino Angelo Orlandi Smart-Van
The manufacturer also made a 4x4 which enjoyed great success in its versions for firefighters, military versions, known as OM CL 51, and buses, to climb the slopes of Mount Etna in particular.
The production version of the truck ended in 1970 but the bus chassis will be produced until the end of 1972.
1955 OM Leoncino Scall Intercity Bus
Foreign versions
At that time, tariffs were very important and very difficult exports, as the models with high commercial potential were often produced under license by other major manufacturers.
Ce sera le cas pour toute la gamme OM qui sera fabriquée : This is the case for the whole range of OM to be manufactured:
Germany by Bussing ;

Austria by Steyr ;

Switzerland by Saurer , who has always maintained excellent relations with OM and Fiat.and

imported and locally built models, as all the zoological series OM.
OM Leoncino in The Italian Job Movie from 1969
More information on