Nissan 300ZX Turbo Z32
 
Overview
Manufacturer
 Nissan
Production
1989-2000
Body and chassis
Class
 Sports
Layout
 hatchback
Powertrain
Engine
3.0 Twin Turbo
Transmission
Five-speed manual
The 300ZX's ancestor, the 240Z, was launched in 1969 it established itself as a diver's machine with plenty of torque, good handling and handsome
coupe styling. Over the years that car turned into the early 1980s bloated 300ZX, which even in turbocharged form wasn't a great car. So when Nissan wanted to produce a replacement, it started with a clean sheet.
By the end of 1989, the 300ZX (code: Z32) came on the domestic market. At first there was only the 300ZX Twin Turbo , via a twin turbo of 208 V6 engine with three liters of displacement and an output kW (283 hp ) and with automatic: 268 PS, which was electronically limited 250 km / h. The naturally aspirated version of the same engine had 165 kW (225 hp), but was not offered in Europe.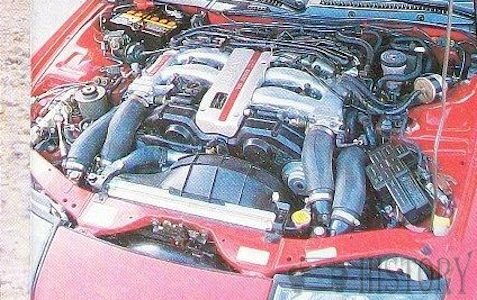 The vehicle was offered in three versions: as a two-seater coupe , as a 2 + 2-seater coupe and from the spring of 1993 as a two-seater convertible . The latter was only available with the naturally aspirated engine. The two coupe versions are equipped with a two-part T-bar - glass roof, which can be removed . The convertible was sold especially in the US in large quantities. This was discontinued in late 1996.
The equipment was rich for the then standard in all models. In addition to standard power windows, a full-fledged sound system, which could be coupled from 1994 with a CD radio from the factory, and the T-bar roof (Coupe) there was also Nissan's self-developed all-wheel steering HICAS .
In the summer of 2000, the production of the 300ZX expired, initially without a successor. Only in mid-2002 came with the 350Z a successor to the 300ZX.
The 1989 hi-tech car had a stiffened bodyshell, double wishbone and multi-link rear suspension complemented by four-wheel steering .Wishbone lower with axial brace, lower wishbone with diagonal brace, coil springs. Rack and pinion steering, power assisted, twin turbo with hydraulic four-wheel steering Super Hicas. The engine was state-of-the-art 24 valves, quad camshafts, variable valve-timing on the inlet cams, sequential fuel injection and direct ignition with a coil for each cylinder.Inner ventilated disc brakes all around (diameter front / rear 28.0 / 29.7 cm), brake booster, ABS. Hybrid Garret T2/T25 twin turbos blew through twin intercoolers for the massive power output The car wasn't as pure as the original 240Z, but it did provide as much driver involvement.
Technical Data
Top speed: 155 mph (248 km/h)
0—60 mph (0—95 km/h): 5.8 sec
Engine type: VG30DETT
Displacement: 180 ci (2,960 cc)
Compression: 8.5: 1
Transmission: 5-speed manual
Max power: 300 bhp (223 kW) @ 6,400 rpm
Max torque: 273 1b ft (369 urn) @ 3,600 rpm
Weight: 3,485 1b (1,584 kg)
Economy: 14 MPG
Wheelbase: 2570 mm
Dimensions: 4525 × 1800 × 1250 mm 
How do you rate this vehicle ?
Share this page
Related
About
Title
Nissan 300ZX Turbo Z32 (1989-2000)
Japanese sports cars 1980s
Brand
Japanese sports cars 1980s