Maserati A6 1500 
1947 to 1951
Overview
Manufacturer
Maserati
Production
1947–1951
Powertrain
Engine
1.5 straight-six
Maserati A6 TR  The 1.5-litre straight-six was named A6 TR (Testa Riportata), and was based on the pre-war Maserati 6CM; 65 bhp (48 kW). It first appeared in the A6 Sport or Tipo 6CS/46, a barchetta prototype, developed by Ernesto Maserati and Alberto Massimino. This became the A6 1500 Pininfarina-designed two-door berlinetta, first shown at the 1947 Salon International de l'Auto in Geneva (59 made) and the spider shown at the 1948 Salone dell'automobile di Torino (2 made).
Modena, Italy, 1946-1951 In their early years, Maserati had built a handful of roadgoing sports cars, but in the 1930s they concentrated solely on the manufacture of single-seater racing cars. After the Orsi group took control in 1938 there was a renewed interest in things which might be commercially profitable, and from 1946 the firm re-entered the road car business. The first two A6/1500s were built in 1946, and the car was formally launched at the Geneva motor show of 1947.
The basis of the A6/1500, like that of many postwar Italian sporting machines, was a simple separate chassis frame with tubular sidemembers and bracings. Coil
spring independent front suspension was fitted, but the live rear axle was located by radius arms and suspended on coil springs. The engine was an under-square single overhead camshaft unit, directly descended from the racing unit of 1936, and the gearbox was specially designed by Orsi for Maserati to use. It sounded to be a reasonable mechanical specification, until one noted that no more than 65bhp was produced at best, and although the handling was reputed to be very good, the performance was really not at all exciting. This, and the high price asked for a handbuilt motor car, probably ensured the low demand for the model.  there were 60 cars all told, all the Pininfarina two-seater coupe bodyshells. In 1949 and 1950, 23 cars were built in each year.
A direct derivative of this car was the A6G/2000, but as it also gave its name to the more exciting twin-cam derivative.
Specification
Engine and transmission: Six-cylinders, in-line, with single overhead camshaft cylinder head. Bore, stroke and capacity 66 x 72.5mm., 1488cc. Maximum power 65bhp (net) at 4700rpm.; maximum torque not quoted. Four-speed manual gearbox in unit with engine. Spiral bevel final drive.
Chassis: Front engine, rear drive. Separate steel chassis frame, with tubular side-members and cruciform cross bracings. Independent front suspension by coil springs and wishbones. Worm and sector steering. Suspension of rear live axle by coil springs
Bodywork: Coachbuilt bodyshells, in various styles of two-door two-seater or four-seater coupes by Pininfarina. Typical dimensions: Length 13ft. 4in.; width 5ft. Oin.; height 4ft. Sin. Unladen weight (approx) 17651b.
Performance: (Manufacturer's claims) Maximum speed 94mph.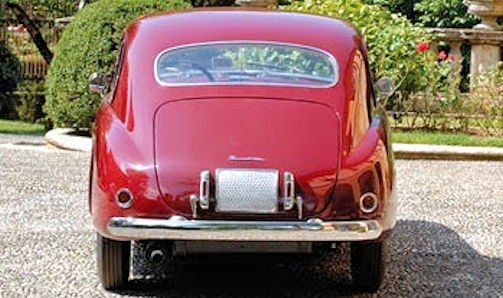 More information on
Maserati A6 1500 TR (Testa Riportata) history