Lotus Europe
Production period:

1966 to 1975

Class :

sports car

Body versions :

Coupe

Engines:

Gasoline 1.47-1.57 liters 
The Lotus Europe is a built from late 1966 to mid-1975 sports coupe by manufacturer Lotus Cars 
History 
The Europe was introduced in December 1966 and was not originally intended for Britain, but only for foreign markets. The first vehicles were sold in February 1967 to France and Switzerland. Both engine and transmission were from the beginning of 1965 presented Renault 16 . The unit was installed with the engine forward behind the passenger compartment.
The Europe was one of the first commercially available sports cars with a mid-engine after the Second World War. Road holding and driving characteristics reminded of a racing car . The frame was suitable for engines with more than 1470 cc. The body made of glass fiber reinforced polyester was glued to the central carrier chassis made of sheet steel. The wheels were suspended individually, in front on double wishbones. Rear, the wheel carrier were articulated on far reaching forward boom directly to the frame and guided laterally over two wishbones, the upper, shorter was the drive shaft. Front there is a rack and pinion steering, rear drum brakes.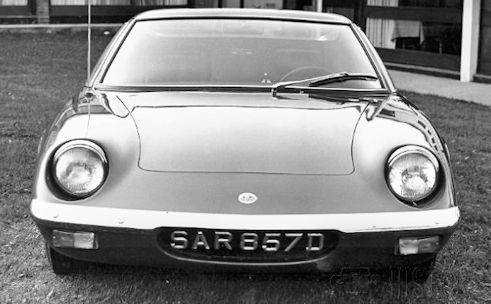 Only 296 copies of the original S1 (based on the basic idea of ​​the Lotus founder Colin Chapman ) were made (chassis number 460001 to 460296). These vehicles were designed extremely minimalist, with fixed side windows and seats (only the pedals were adjustable), hardly any door panels and simple instruments.
When introduced in the spring of 1969, the second series (Europe S2) chassis and body were bolted together, but this changed the driving characteristics. At the same time an engine with 1565 cc was introduced for the American market.
In mid-1971, the Europa TwinCam was introduced, with the Ford Kent engine modified by Harry Mundy for Lotus with light alloy cylinder head, two overhead camshafts and 1558 cc, as it was already installed in the Lotus Elan .
In the fall of 1972, they went to the uprated version "Big Valve" (similar to the Lotus Elan Sprint) and joined him with a five-speed gearbox from Renault. This new version was called Europa Special .
Technical data 
Engines
Fuel: Gasoline
Displacement: 1.47-1.57 liters
Power: (57-93 kW)
Europe S1 / S2: 1470 cc displacement with 57 kW (78 hp)
Europe S2: 1565 cc displacement with 61 kW (83 hp)
Twin Cam: 1558 cc with 77 kW (105 hp)
Twin Cam Special: 1558 cc capacity with 93 kW (126 hp)
Length: 3994 mm
Width: 1638 mm
Height: 1079 mm
Wheelbase: 2311 mm
Curb weight: 612-710 kg