Lexus GS 
Third generation (S190)
2006 to 2011
Overview
Production
January 2005 – December 2011
Model years
2006–2011
Designer
Yasuhide Hosoda(2002)
Body and chassis
Layout
Front-engine, rear-wheel-drive
Front-engine, all-wheel-drive
Platform
Toyota N platform
Related
Toyota Crown
Powertrain
Engine
3.0 L 3GR-FE V6 (gasoline; Middle East)
3.0 L 3GR-FSE V6 (gasoline)
3.5 L 2GR-FSE V6 (gasoline)
3.5 L 2GR-FSE V6 (hybrid gasoline)
4.3 L 3UZ-FE V8 (gasoline)
4.6 L 1UR-FE V8 (gasoline)
Transmission
6-speed A761E automatic
8-speed AA80E automatic
CVT automatic (hybrid)
Dimensions
Wheelbase
2,850 mm (112.2 in)
Length
4,826–4,844 mm (190.0–190.7 in)
Width
1,821 mm (71.7 in)
Height
1,425–1,435 mm (56.1–56.5 in)
2005–2007
In 1999, development commenced on a successor to the JZS160 under chief engineer, Shigetoshi Miyoshi. Styling for both the exterior and interior was done under lead designer Yasuhide Hosoda between 2000 and 2002, during which L-finesse came to fruition in 2001. By 2002, a design was finalized, to be introduced the following year. In October 2003, Lexus debuted the LF-S (Lexus Future Sedan), a concept car which previewed the design of the upcoming GS. The design patent was filed by Toyota on December 22, 2003 in domestic Japanese patent offices, preceding an imminent public unveiling. The third generation GS first appeared as a pre-production vehicle at the 2004 North American International Auto Show on January 5, with the production version shown at the same show in 2005.
Production of the third generation began on January 24, 2005, with an equivalent Toyota Aristo not released as Toyota had introduced the Lexus channel to Japan and sought to align all world markets using Lexus as their luxury brand worldwide. The third generation GS was the introductory Lexus model for the marque's new L-finesse design philosophy, indicating the future direction of the Lexus lineup; it featured a fastback profile, retained quad headlights, LED tailamps, and one-piece bumpers. This generation GS had a drag coefficient of Cd=0.27, and used a newly designed midsize platform later shared with the second generation IS.
In September 2005, the GS 350 (GRS191) and GS 430 (UZS190) went on sale in Japan; the GS 350 using a 3.5-liter 2GR-FSE engine with D4-S direct injection, while the GS 430 used the same 4.3-liter 3UZ-FE V8 engine used in the previous model. Sales in the US began in March 2006, with the initial lineup including the GS 300 (GRS190), featuring a ULEV certified 3.0-liter 3GR-FSE V6 engine, and the GS 430 featuring the 4.3-liter V8. All GS models at launch featured a new six-speed automatic sequential shift gearbox. An all-wheel drive system was made available in the GS 300.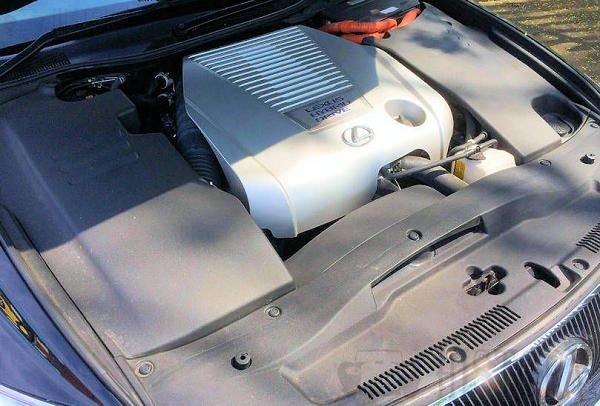 Unveiled at the 2005 New York International Auto Show, the gasoline hybrid GS 450h (GWS191) joined the GS line in 2006 for the 2007 model year. GS Hybrid production started in February 2006. It was the first mass-production rear-wheel drive luxury hybrid car, featuring the naturally aspirated 3.5-liter 2GR-FSE V6 engine mated to an electric motor and a continuously variable transmission (CVT). This powertrain made use of the Lexus Hybrid Drive system of integrating electric and gasoline engine motors, giving the GS 450h a Super Ultra Low Emissions Vehicle (SULEV) emissions rating, and total output of 253 kW (339 hp), allowing the GS to accelerate 0–60 mph (0–97 km/h) in 5.2 seconds, according to manufacturer data.
New to the GS line was an electric power steering (EPS) system, and both the V8 and hybrid models featured a variable gear ratio steering (VGRS) system and Electronically Controlled Brake (ECB) a type of brake-by-wire system. V8 and hybrid models also featured an adaptive suspension system that individually altered suspension damper firmness. Vehicle Dynamics Integrated Management (VDIM) was standard on the GS 430, 460, and 450h models and coupled to VGRS, with which it could alter steering gear ratios.
Standard safety features on the GS ranged from multiple airbags, including knee airbags and front row side torso airbags, to adaptive headlights, anti-lock braking, electronic brakeforce distribution, brake assist and electronic stability control. The radar-based pre-collision system with an autonomous cruise control system system was optional. The GS 450h was among the first vehicles to receive the infrared Driver Monitoring System for driver attentiveness. For the 2007 model year, the GS 350 replaced the GS 300 in the US and several other export markets.
The GS interior was available with leather bird's-eye maple or walnut trim. Major standard features ranged from a 10-way driver and front passenger power and heated seats with three-position Lexus Memory System, SmartAccess keyless system with push-button start, a driver-side hidden drop-down panel for infrequently used controls, standard 7 in (180 mm) touchscreen display, and LED lighting in the cabin. Unique to the Lexus GS series was a three-pod instrument cluster with machined aluminum facings and an electrochromic feature. Optional features ranged from a power moonroof to a discrete 5.1 surround sound 14-speaker 330-watt Mark Levinson premium sound system, XM-satellite radio and DVD-based navigation with backup camera and Bluetooth technology. Competitors to the Lexus GS included the BMW 5-Series, Mercedes-Benz E-Class, Volvo S80, Audi A6, Jaguar XF, Infiniti M, and Acura RL.
2007–2011
The GS 460 (URS191) replaced the GS 430 in 2007 for the 2008 model year, featuring a new 4.6-liter 1UR-FSE V8 engine with eight-speed automatic transmission generating 255 kW (342 hp) and 460 N·m (339 ft·lb) of torque. Lexus reported a 0–60 mph (0–97 km/h) time of 5.4 seconds. Along with the hybrid GS 450h and previous GS 430 models, the V8-powered GS 460 offered the Active Stabilizer Suspension System for improved handling. The GS 450h retains its position as the most expensive in the GS lineup, and has faster acceleration than the GS 460, though the GS 460 is lighter and has a higher top speed. In 2010, the GS was outsold nearly two to one by the flagship LS.
Along with the introduction of the GS 460, the GS lineup received a mid-cycle styling refresh, including a revised front bumper, headlights and grille, turn signals added to the side mirrors, and new wheel options and exterior colors. The interior received a redesigned steering wheel, revised instrument cluster gauges, and different trim pieces.
Motorsport
In 2006, Sigma Advanced Racing Development and Lexus entered a GS 450h performance hybrid sedan in the 24 Hours of Tokachi race in Hokkaido, Japan, the first time that a hybrid vehicle was introduced. In 2007, Lexus Canada also entered the GS 450h in the Targa Newfoundland event. In 2009, the GS 450h was used as a safety car at the Muscle Car Masters event held at Eastern Creek Raceway, Eastern Creek, New South Wales, Australia.
In 2008, Manabu "Max" Orido used a second generation JZS161 Aristo in Formula D competition. Orido has several second generation models with different equipment used for drifting events, some with prototype suspension, and fitted with parts from the export Lexus GS 300.
Technical specifications
Drivetrain specifications by generation
Model year(s)
Model no(s).
Chassis code(s)
Engine type
Engine code
Transmission(s)
Power
Torque
1993–1996
GS 300
JZS147
3.0 L inline-6
2JZ-GE
4-speed AT
168 kW (225 hp)
280 N·m (210 ft·lbf) @4800 rpm
1998–2004
GS 300
JZS161
3.0 L inline-6
2JZ-GE
4-speed AT
168 kW (225 hp)
300 N·m (220 ft·lbf) @4000 rpm
1998–2000
GS 400
UZS160
4.0 L V8
1UZ-FE
5-speed AT
224 kW (300 hp)
420 N·m (310 ft·lbf) @4000 rpm
2001–2005
GS 430
UZS161
4.3 L V8
3UZ-FE
5-speed AT
224 kW (300 hp)
441 N·m (325 ft·lbf) @4000 rpm
2006–2007
GS 300
GRS190
3.0 L V6
3GR-FSE
6-speed AT
188 kW (252 hp)
310 N·m (230 ft·lbf) @3600 rpm
2006–2007
GS 300 AWD
GRS195
3.0 L V6
3GR-FSE
6-speed AT
188 kW (252 hp)
310 N·m (230 ft·lbf) @3600 rpm
2006–2007
GS 430
UZS190
4.3 L V8
3UZ-FE
6-speed AT
224 kW (300 hp)
441 N·m (325 ft·lbf) @4000 rpm
2007–2012
GS 450h
GWS191
3.5 L V6 hybrid
2GR-FSE
CVT
253 kW (339 hp)
n/a
2008–2012
GS 350
GRS191
3.5 L V6
2GR-FSE
6-speed AT
226 kW (303 hp)
371 N·m (274 ft·lbf) @3600 rpm
2008–2012
GS 350 AWD
GRS196
3.5 L V6
2GR-FSE
6-speed AT
226 kW (303 hp)
371 N·m (274 ft·lbf) @3600 rpm
2008–2012
GS 460
URS190
4.6 L V8
1UR-FE
8-speed AT
255 kW (342 hp)
460 N·m (340 ft·lbf) @3900 rpm
 
Technical
Lexus GS (2005 - 2011) Specs & Dimensions

 
Engine
Power
(bhp)
0-60 mph
(secs)
Fuel Economy
(mpg)
Insurance
Group
Road Tax
(per annum)
Length
(mm)
 
3.0 Petrol
245
7.0
28 - 29
35
£500
4,825 - 4,850
 
3.5 Hybrid
341
5.7
35
41
£220 - £260
4,825 - 4,850
 
4.3 Petrol
279
5.9
24
40
£515
4,825
 
4.6 Petrol
342
5.6
25
42
£515
4,850

 
Engine
Power
(bhp)
0-60 mph
(secs)
Fuel Economy
(mpg)
Insurance
Group
Road Tax
(per annum)
Length
(mm)
 
3.0 Petrol
245
7.0
28 - 29
37
£500
4,825 - 4,850
 
3.5 Hybrid
341
5.7
35 - 36
41
£220 - £260
4,825 - 4,850

 
Engine
Power
(bhp)
0-60 mph
(secs)
Fuel Economy
(mpg)
Insurance
Group
Road Tax
(per annum)
Length
(mm)
 
3.0 Petrol
245
7.0
28
37
£500
4,825

 
Engine
Power
(bhp)
0-60 mph
(secs)
Fuel Economy
(mpg)
Insurance
Group
Road Tax
(per annum)
Length
(mm)
 
3.5 Hybrid
341
5.7
35
42
£220
4,850

 
Engine
Power
(bhp)
0-60 mph
(secs)
Fuel Economy
(mpg)
Insurance
Group
Road Tax
(per annum)
Length
(mm)
 
3.0 Petrol
245
7.0
28 - 29
37
£500
4,825 - 4,850
 
3.5 Hybrid
341
5.7
35 - 36
41
£220 - £260
4,825 - 4,850