Land Rover Freelander
F
irst generation
 1997 to 2006
Production
1997–2006
Assembly
Solihull, United Kingdom Rayong, Thailand
Body style
5-door SUV 3-door convertible
Engine
1.8 L K-Series I4 2.5 L Rover KV6 V6 2.0 L BMW M47 TD I4 2.0 L L-Series TD I4
Transmission
5-speed automatic 5-speed manual
Wheelbase
101.0 in (2,565 mm)
Length
2001–2003 5-door: 175.0 in (4,445 mm) 2004–2006 5-door: 174.1 in (4,422 mm) 3-door: 175.1 in (4,448 mm)
Width
2001–2003: 71.1 in (1,806 mm) 2004–2006: 71.2 in (1,808 mm)
Height
2001–2003 5-door: 68.9 in (1,750 mm) 2004–2006 5-door: 69.0 in (1,753 mm) 3-door: 67.2 in (1,707 mm)
Market research by the Rover Group in the late 1980s suggested that Land Rover could enter the compact SUV market segment. In the early 1990s, the Rover Group had a restricted product development budget and looked for a partner to develop the project, which was codenamed CB40 (after Canley Building 40, where the concept was initially developed). Rover's then-partner Honda declined and chose to develop its own CR-V model that was launched in 1997.
Rover decided to go it alone with the CB40, using existing parts and components, as it had done with the MGF roadster. When BMW took over Rover Group in 1994, the CB40 project received the capital it needed to proceed.
The Freelander was launched in late 1997. It became Europe's best-selling four-wheel drive model until 2002.The last Freelanders in North America were sold as 2005 models.
Model variations
There were a variety of models, based around five-door estate and three-door softback (semi-convertible),
hardback, and commercial (van-like) versions. In 2004, Land Rover introduced an improved and upgraded version of the Mark I; changes included a new interior and major external revisions, including a new face and rear.
Land Rover Freelander First generation 2004 Facelift
The three-door model was available in E, S, SE, Sport and Sport Premium trim and the five-door model in available in E, S, SE, HSE, Sport and Sport Premium trim.
Basic equipment standard across all version
3x3 point rear seat belts
Alarm
Driver`s airbag
Electric mirrors
Folding rear seats
Front electric windows
Heated mirrors
Lumbar support
PAS
Remote locking
Steering wheel rake adjustment
Engines
Engine choices include:
1.8 litre I4 Rover K-Series petrol (1997–2006), badged as '1.8i' (Not sold in North America)
2.0 litre I4 Rover L-series diesel (1997–2000), badged as 'Di' or 'XDi'
2.0 litre I4 BMW M47 diesel (2001–2006), badged as 'TD4'
2.5 litre V6 Rover KV6 Engine petrol (2001–2006), badged as 'V6'
1.8 petrol Engine
Manual gearboxes dominated the early models, but automatic Tiptronic-style gearboxes became increasingly popular and were standard on the V6.
The first generation Freelander was used in the 1998 Camel Trophy and participated in Land Rover's G4 Challenge. The vehicle represented a compromise because it did not have a low-range gear selection, nor a locking differential, as found on larger Land Rover models. This meant that in comparison to other Land Rovers, off-road performance was not as good.
The first generation was the first Land Rover to feature Hill Descent Control system. It used the Traction Control system and ABS to assist driving in off-road situations.
Lack of the MG Rover K18 and KV6 engines after the end of the MG Rover production led Land Rover to discontinue the model after 2006 in the U.S. and Canada.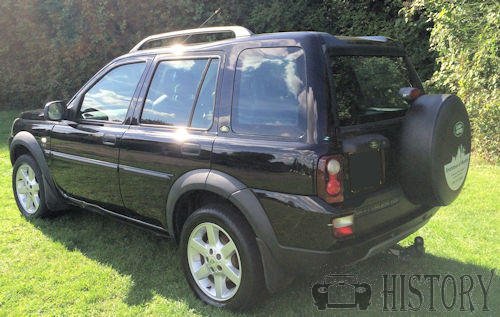 Technical
Options: Equipment included on some trim levels

ABS
Air conditioning
Alloy wheels
Audio remote
CD
CD Multichanger
Cloth seat trim
Electric sunroof
Front fog lights
Full size spare wheel
Heated seats
Leather seat trim
Metallic Paint
Partial leather seat trim
Passenger`s airbag
Rear electric windows
Roof rails
Sat Nav
Steel wheels
Traction control

Land Rover Freelander Softback Specs 2.5 V6i  specs (1997 to 2003)

Performance

| | |
| --- | --- |
| Power | 174 bhp |
| Top Speed | 113 mph |
| 0-60 mph | 9.8 secs |
| Torque | 240 Nm |
| CO2 Emissions | 298 g/km |
| Euro Emissions Standard | 3 |
| Miles Per Tank | 309 miles |

Engine

| | |
| --- | --- |
| Engine Size | 2497cc |
| Cylinders | 6 |
| Valves | 24 |
| Fuel Type | Petrol |
| Transmission | Automatic |
| Gearbox | 5 Speed Auto |
| Drivetrain | 4 wheel drive |

Dimensions

| | |
| --- | --- |
| Fuel Capacity | 64 litres |
| Weight | 1562kg |
| Length | 4447mm |
| Width | 2071mm |
| Height | 1808mm |
| Wheelbase | 2557mm |
| Turning Circle | 11m |