Heinkel-I
Automotive manufacturer Ireland From 1958 to 1960.
Heinkel-I was an Irish car brand of Heinkel in the late 1950s
History
The Dundalk Engineering Company from Dundalk already manufactured vehicles from Austin . In 1958, the license rights and the production facilities of the Heinkel cabin were taken over by Ernst Heinkel Flugzeugwerke and production commenced. 
The brand name was Heinkel-I .  In addition, the company was responsible for the supply of spare parts of all Heinkel cabins. Production continued until the end of 1960.  In August 1961, took Trojan Limited production.
The only model was the Heinkel cabin. This was a scooter mobile in coupe form with a front door. A 1959 presented Cabriolet remained a unique piece. The vehicles from Irish production were qualitatively worse than the earlier and later models from German or English production.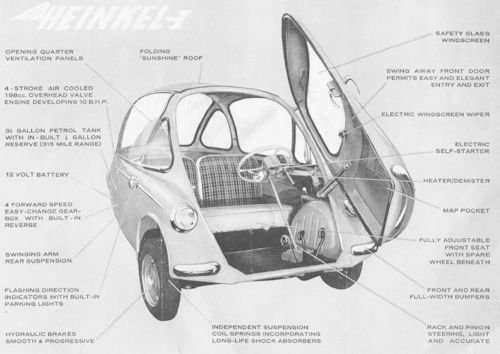 About
Heinkel-I
Automotive manufacturer Ireland From 1958 to 1960.
Updated
Wednesday, 06 June 2018