Hillman Husky

Original 

Mark 1
(1954-1957)
Overview
Manufacturer
Rootes Group
Production
1954-1957
Related
Hillman Minx Commer Cob
Body and chassis
Body style
three-door estate
Powertrain
Engine
1265 cc straight-4
Transmission
4-speed manual
Dimensions
Wheelbase
84 in (2,134 mm)
Length
148 in (3,759 mm)
Width
63.25 in (1,607 mm)
Height
61 in (1,549 mm)
Curb weight
1,904 lb (864 kg)
Chronology
Successor
Hillman Husky (Audax based)
The first (or "Mark 1") Hillman Husky, introduced in 1954, was a small estate based on the contemporary "Mark VIII" Hillman Minx. The two-door Husky entered the range alongside an existing Minx estate car, which had a 9-inch (230 mm) longer wheelbase. The Husky was not a hatchback, having instead a single side-hinged rear door. While the new Mark VIII Minx DeLuxe saloon, convertible and "Californian" hardtop used a new OHV 1390 cc engine, the Husky continued to use the older 1265 cc 35 bhp (26 kW) sidevalve engine with single Zenith carburettor which it shared with the Minx "Special" saloon and estate. Unlike the Minx with its column change, the gear lever for the Husky was floor mounted.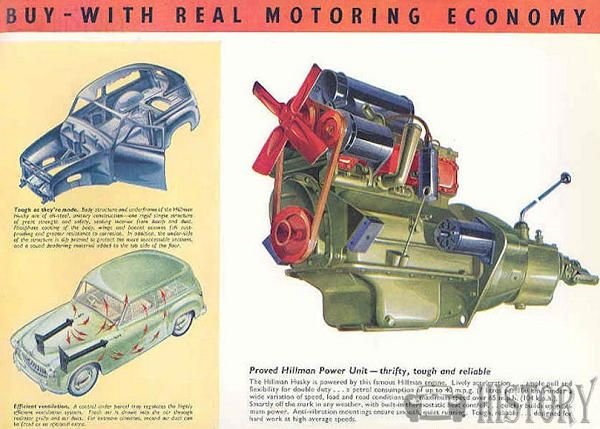 There were individual seats in front and a bench seat in the rear which would fold flat to increase load area. The trim material was leathercloth. Both the heater and radio were optional extras. The car was available in blue, grey, green or sand paint (1954 colours).
The Husky was badge engineered and slightly modified to form the Commer Cob – basically the same vehicle but with the rear side windows removed to create a panel van.
42,000 of this Husky were sold until the model was replaced in 1958 (a year after the "parent" Minx was itself replaced).
The Motor magazine tested a Husky in 1954 and found it to have a top speed of 65 mph (105 km/h) and acceleration from 0-50 mph (80 km/h) in 24.3 seconds. A fuel consumption of 33.4 miles per imperial gallon (8.46 L/100 km; 27.8 mpg-US) was recorded. The test car cost £564 including taxes.