Ginetta G15 
Manufacturer:

Ginetta 

Production period:

1968 to 1974

Type:

Sports car

Body

Coupe

Engines:

875cc to 998cc

wheel base:
82 in, 2,083 mm 
overall length:
144.50 in, 3,670 mm
overall width:
57 in, 1,448 mm
ground clearance:
6 in, 152 mm
dry weight:
1,120 1b, 508 kg
The Ginetta G15 was a British sports car built from 1968 to 1964.
History
The Ginetta G15 was the most successful model of the brand was the 1968 presented G15, a small two-seat rear-engined coupe, which was equipped with the 875 cc engine of the Hillman Imp with a body in plastic glass fibre material with 2 doors. Built with three small updates over the years.
With an tubular chassis, the independent suspension came from the Triumph Herald with independent front suspension that has wishbones, coil springs, telescopic dampers with the rear was also independent, semi-trailing arms, coil springs, telescopic dampers.The imp also included the complete drive technology used as well as the four speed transmission,the distribution of weight was 45% to the front axle,and 55% at the rear axle.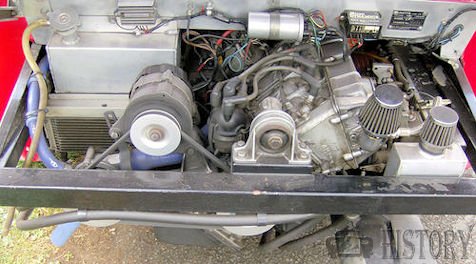 By 1974, just over 800 copies were sold as kitcar and finished vehicles. A special feature of the G15 is a fully fold-up tail, which completely exposes the subframe together with the engine-transmission rear axle unit and allows a removal with minimal effort carburation was 2 Stromberg 125 CDS horizontal carburettors.  Of the production sold a "S" version was avaliable with the IMP 998cc engine . Optional Accessories included light alloy wheels. 
PERFORMANCE 875cc
max power (DIN): 55 hp at 6,100 rpm
max torque (DIN): 52 1b ft, 7.2 kg m at 4,300 rpm
max engine rpm: 7,000
specific power: 62.9 hp/l
power-weight ratio: 20.4 lb/hp, 9.3 kg/hp
acceleration: standing 1/4 mile 18.4 sec, 0-50 mph (0-80 km/h) 8.5 sec
speed in top at 1,000 rpm: 14.9 mph, 23.9 km/h
fuel consumption: 40 m/ imp gal, 33.1 m/US gal, 7.1 1 x 100 km.
max speeds: 21 mph, 33 km/h in 1st gear: 56 mph, 90 km/h in 2nd gear; 88 mph, 141 km/h in 3rd gear; 101 mph, 162 km/h in 4th gear
 Similar in design was the 1973 presented Ginetta G21, which looked like a hatchback version of the G15, but had a front engine. It was produced until 1978 in about 180 copies.
Technical
Ginetta G15 Technical details and specifications (1968-1974)

ENGINE

rear, 4 stroke cylinders: 4, in line
bore and stroke: 2.68 x 2.37 in, 68 x 60.3 mm
engine capacity: 53.4 cu in, 875 cu cm
compression ratio: 10
cylinder block: light alloy
cylinder head: light alloy
crank- shaft bearings: 3
valves: 2 per cylinder, overhead, in line, thimble tappets
camshafts: 1, overhead
lubrication: eccentric pump, full flow filter
lubricating system capacity: 6.5 imp pt, 7.8 US pt, 3.7 1
carburation: 2 Stromberg 125 CDS horizontal carburettors
fuel feed: mechanical pump
cooling system: water

TRANSMISSION
driving wheels: rear
clutch: single dry plate (diaphragm), hydraulically controlled
gearbox: mechanical; gears: 4 + reverse
synchromesh gears: 1st, 2nd, 3rd,4th
gearbox ratios: I 4.317, II 1.833, III 1.174, IV 0.852, rev 2.846
final drive: hypoid bevel
axle ratio: 4.875

CHASSIS
type tubular
front suspension: independent, wishbones, coil springs, telescopic dampers
rear suspension: independent, semi-trailing arms, coil springs, telescopic dampers.

STEERING
rack-and-pinion
turns of steering wheel lock to lock: 2.75.
turning circle (between walls): 33 ft, 10.1 m

BRAKES
front disc (diameter 9 in, 229 mm), rear drum.

ELECTRICAL EQUIPMENT
voltage: 12 V
battery: 32 Ah
generator type: dynamo, 264 W
ignition distributor: Lucas;

DIMENSIONS AND WEIGHT
wheel base: 82 in, 2,083 mm
front track: 49 in, 1,245 mm
rear track: 48.75 in, 1,238 mm
overall length 144.50 in, 3,670 mm
overall width: 57 in, 1,448 mm
overall height: 44.50 in, 1,130 mm
ground clearance: 6 in, 152 mm
dry weight: 1,120 1b, 508 kg

© Motor car History

 
Service
Ginetta G15 Practical Instructions and Service Guide (1968-1974)


fuel: 97 oct petrol
engine oil: 6.5 imp pt, 7.8 US pt, 3.7 1, SAE 20W-50, change every 5,000 miles, 8,000 km gearbox and final drive oil: 3 imp pt,
gearbox oil: 3.6 US pt, 1.7 1, SAE 90 EP, change every 105000 miles, 16,100 km
greasing: every 5,000 miles, 8,000 km, 2 points
cooling system capacity: 12 imp pt, 14.4 US pt, 6.8 1.
tappet clearances: inlet 0.008 in, 0.20 mm, exhaust 0.008 in, 0.20 mm
normal tyre pressure: front 16 psi, 26 psi, 1.8 atm. 1.1 atm, rear
fuel tank capacity: 5.9 imp gal, 7.1 US gal, 27 1.
width of rims: 4"; tyres: 5.20 x 13.
carrying capacity: 380 1b, 172 kg

© Motor car History