Ginetta G15 
Manufacturer:

Ginetta 

Production period:

1968 to 1974

Type:

Sports car

Body

Coupe

Engines:

875cc to 998cc
The Ginetta G15 was the most successful model of the brand was the 1968 presented G15, a small two-seat rear-engined coupe, which was equipped with the 875 cc engine of the Hillman Imp . The imp also included the complete drive technology.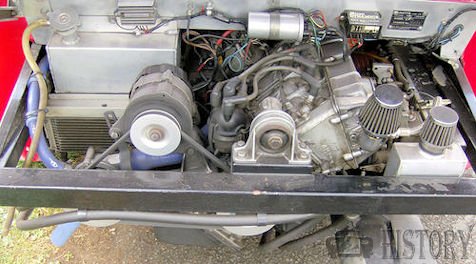 By 1974, just over 800 copies were sold as kitcar and finished vehicles. A special feature of the G15 is a fully fold-up tail, which completely exposes the subframe together with the engine-transmission rear axle unit and allows a removal with minimal effort.  Of the production sold a "S" version was avaliable with the IMP 998cc engine.
 Similar in design was the 1973 presented Ginetta G21, which looked like a hatchback version of the G15, but had a front engine. It was produced until 1978 in about 180 copies.
About
Updated
Saturday, 25 January 2020