Trippel (Trippelwerke GmbH  )
 Vehicle manufacturer Homburg History Germany from 1934 to 1952
German Schwimmwagen Vehicle manufacturer war time Germany, and cars from 1949 to 1952.
History
Hans Trippel experimented since 1932 with Schwimmwagen . In 1934 he founded the Trippelwerk in Homburg and began with the production of automobiles. The brand name was Trippel . Between 1940 and 1944 he also operated the Trippelwerke GmbH in the Bugatti -Werken in Molsheim in Alsace . 1944 ended the production.
The company produced Schwimmwagen. The first model was the Trippel SG 6 . For driving the provided six-cylinder engine from the Opel Captain with 2,473 cc engine capacity . This resulted in about 1000 vehicles.  There was also SG 7 . A V8 engine from Tatra powered the vehicles. There were only a few copies.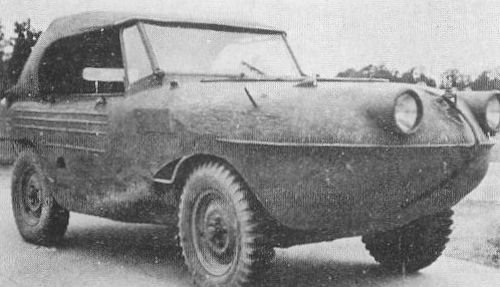 The body is arranged with a front engine compartment, a center crew compartment, and a rear stowage compartment. Water sealing is accomplished by means of rubber seals throughout. The only openings in the rear of the body are for the wheel and propeller drive and for the shafts of the shock absorbers. In the front of the body there are three openings on each side as follows: one for the shock absorber rod, the radius rod, and for the wheel drive.
Four-wheel drive with independent double coil spring suspension contributes to the cross-country mobility which is said to be remarkable. The shock absorbers are mounted inside the hull and connect with the suspension through an auxiliary shaft that is stuffing box sealed.
A special transmission provided with three speeds forward and one reverse for highways plus three speeds forward and one reverse for cross-country and a forward and reverse gear for operation in the water. The three-bladed propeller is lowered to position when in the water and is protected inside the body work when on land. Steering is accomplished by front wheels. A one-shot lubrication system is operated from the dash.
After the war In 1949, Trippel founded the Protek Gesellschaft für Industrieentwicklungen and again produced automobiles till 1952.
About
Trippel (Trippelwerke GmbH )
Vehicle manufacturer Homburg History Germany from 1934 to 1952
Updated
Friday, 29 June 2018