Pinguin (Rotenburger Metallwerke Rudolf Stierlen KG)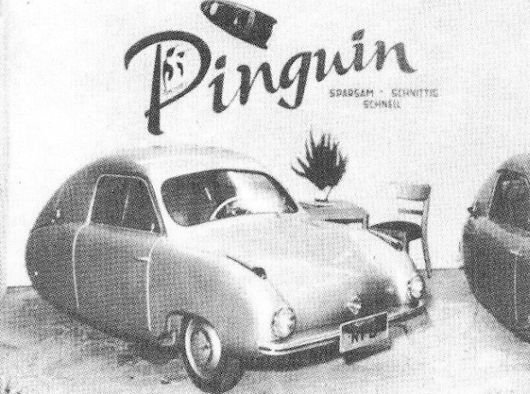 Pinguin  (Penguin) was a German automobile brand,  by Ruhrfahrzeugbau R. Müthing in Herne and 1953 to 1956 of the Rotenburger metal works Rudolf Stierlen KG in Rotenburg at the Fulda for prototypes.
Constructed the small car 1952 to 1953 the MEV Studiengemeinschaft for motor vehicle development in Herne The three-wheeled penguin had a two-door pontoon body, an air-cooled single-cylinder engine with two strokes and about 200 cc capacity and a three-speed gearbox from Hurth .
While Müthing only carried out improvements to the study the concept and built prototypes, small series production did not start until 1954 at Rotenburger Metallwerke. Overall, however, only around ten copies.
Germany

Pilot (1922-1928)
311 / 436
Planet (1907-1908)
More information on
Pinguin (Rotenburger Metallwerke Rudolf Stierlen KG)
Vehicle manufacturer Germany from 1953 to 1956