Frazer Nash Post war Six-cylinder cars
Le Mans replica-Targa Florio Turismo - Mille Miglia 
 
Overview
Manufacturer
Frazer Nash
Production
 1946 to 1956
Body and chassis
Class
 Sports
Layout
 Front engine, rear drive
Powertrain
Engine
Six-cylinders
Transmission
Four-speed manual
Frazer Nash Post war Six-cylinder cars Built: Isleworth, England, from 1946 to 1956
By the end of the 1930s, Frazer Nash, by then owned by the Aldington family, had virtually stopped building cars altogether, for their import concession of BMW sports cars was proving to be more profitable. After the end of the Second World War, however, an entirely new start was made.
The postwar Frazer Nash car evolved out of the Aldingtons' enterprise in not only luring BMW's Dr. Fiedler to come from Germany to Britain to pick up his career, but in acquiring the BMW 328 engine design as 'reparations'. One of the Aldingtons, a Director of the Bristol Aeroplane Co., persuaded them to enter the motor car manufacturing business, and initially in a complicated deal agreed to design a new sports car using Bristol (BMW 328-type) engines and transmissions while Bristol should add the Frazer Nash name to their own BMW-based model. This arrangement did not entirely succeed, and what remained was an agreement for a new Frazer Nash merely to use the new engines and transmissions.
All postwar Frazer Nash cars, therefore, dated from a 1946-1947 chassis design, based on two large-diameter tubes, and one or other engine tunes of the 1971cc cross-pushrod Bristol/ BMW six-cylinder engine. The BMW link was so strong at first that the 1947 prototype bore an astonishingly close resemblance to the full-width sports racing BMWs which appeared in the 1940 Coppa Brescia race; the reason was simple it was one of these cars.
The chassis design was to Fiedler's credit, and in 1947 he was also responsible for the true Frazer Nash chassis design which followed. Production began in 1948, with two basic models, the stark 'cigar-shape' High Speed model, which was later renamed the Competition, and even later renamed as the Le Mans Replica, and with the full-width Fast Tourer model, which was rather less powerful, and rather better equipped to withstand assault from wind and rain. The use of the cigar-shaped car, complete with its cycle-type wings, in racing, brought all sorts of success, not least at Le Mans in 1949, where one of the cars, driven by Norman Culpan and one of the Aldington family finished third overall. It was world-wide competition success which led to the naming of new derivatives of the same basic chassis as the Mille Miglia, the Targa Florio, and the Sebring models.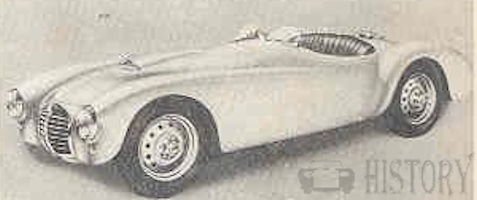 Frazer Nash Mille Miglia
Production of these fast and specialised cars was always very restricted there and identification of them all is made more were only three Sebrings, for instance difficult by the known fact that several Le Mans Replicas were rebodied in the Targa
Florio style after international racing outlawed the use of cars with separate wings (adjudged to be potentially dangerous). The most authoritative figure for total postwar production is 95 cars, though other sources have suggested that there were 105 examples. Interest in the cars by the Aldingtons waned from 1954 when they took on the British import concession for Porsche. Incidentally, this led to the showing of a single prototype 'Continental' Frazer Nash, which combined the tubular chassis with a BMW Type 501/503 vee-8 engine and a coupe bodyshell using some Porsche roof, door and glass components.
This never went into production. The Porsche concession took up more and more time (and became more and more profitable!), so when demand for the existing cars dried up, no successor was launched, and the Frazer Nash name died with
Specification
Engine and transmission: Six-cylinders, in-line, with pushrod and cross pushrod overhead valve cylinder head, built by Bristol. Bore, stroke and capacity, 66 x 96mm., 197 ICC. Maximum power depended on customer's requirements. Typically: 110bhp (net) at 5250rpm" or 120bhp (net) at 5500rpm.; maximum torque (with 120bhp engine) 1251b.ft. at 4500rpm. Four-speed manual gearbox, in unit with engine. Spiral bevel final drive.
Chassis: Front engine, rear drive. Separate steel chassis frame, ladder style, with tubular sidemembers. Independent front suspension by transverse leaf spring and wishbones. Rack and pinion steering. Suspension of rear live axle by longitudinal torsion bars, radius arms and A-bracket. Later Le Mans Replica and Sebring cars, for racing, had a De Dion rear suspension. Four-wheel drum brakes.
Bodywork: Coachbuilt, on light steel framing, with light-alloy skin panelling, in variety of traditional or full-width two-door two-seater sports styles, all by Frazer Nash. Typically: Targa Florio, length 12ft. 6in.; width 4ft. 10in.; height 4ft. 3in. Unladen weight 19401b.
Performance: (Targa Florio Turismo, 100bhp engine): Maximum speed 114mph.
0-60mph 10.4sec. Standing 1/4-mile 17.8sec. Typical fuel consumption 23mpg. (Targa Florio Fast Roadster, 105bhp engine): Maximum speed 110mph. 0-60mph 9.6sec. Standing 1/4-mile 17.4sec. Typical fuel consumption 23mpg. the Bristol engine.
Frazer Nash Le Mans replica