Ford GT90 Concept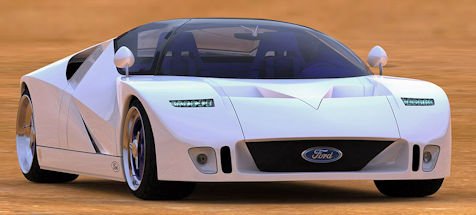 1995
NAIAS
Concept car
sports Coupe
V12 6.0 liters 
The Ford GT90 is a prototype concept of a super sports car of the car manufacturer Ford . It was unveiled on December 6, 1994, and first presented to the public at the January 1995 North American International Auto Show in Detroit .
The typical of the Ford GT90 is probably its white body, which consists of fiberglass composite material, and its structure based on reinforced aluminum . 
The rear spoiler lies like a shield over the triangle, which receives the exhaust pipes. The four Garrett - turbochargers pressurized Sechsliter- V12 - engine with 529 kW (720 hp) at 6600 min one of the strongest engines that Ford has ever produced. It accelerates the GT90 from 0 to 100 km / h in 3.1 seconds. Initially, Ford wanted to publish a small series of about 100 copies, but this never happened. 
Specification
Engine: Petrol engine 6.0 liters
cylinders: 12 (V12)
Transmission: 5-speed FFD-Ricardo manual
Induction: four Garrett T2 turbochargers.
Power: 720 hp (529 kW)
Body: fiberglass
Length: 3910 mm
Width: 1855 mm
Height: 1310 mm
Wheelbase: 2500 mm
Empty weight: 1100 kg
Ford

Ford GT70 (1970-1972)
86 / 156
Ford History
More information on