1966 to 1977

Overview
Production
1966–1977
Body and chassis
Body style
Compact SUV
Powertrain
Engine
170 cu in (2.8 L) Straight-6 200 cu in (3.3 L) Straight-6 289 cu in (4.7 L) Windsor V8 302 cu in (4.9 L) Windsor V8
Dimensions
Wheelbase
92 in (2,337 mm)
Length
151.5 in (3,848 mm)
Width
68.5 in (1,740 mm)
Height
71.6 in (1,819 mm)
The original Bronco was an ORV (Off-Road Vehicle), intended to compete primarily with Jeep CJ models and the International Harvester Scout. The Bronco's small size riding on a 92-inch (2,337 mm) wheelbase made it popular for off-roading and some other uses, but impractical for such things as towing. The Bronco was Ford's first compact SUV, and Ford's compact and midsize SUV niche would be taken by the compact pickup based Ford Bronco II (1984–1990), Ford Explorer (1991–present) and the Ford Escape (2001–present).
The idea behind the Bronco began with Ford product manager Donald N. Frey, who also conceived of the Ford Mustang; and similarly, Lee Iacocca pushed the idea through into production. In many ways, the Bronco was a more original concept than the Mustang; whereas the Mustang was based upon the Ford Falcon, the Bronco had a frame, suspension, and body that were not shared with any other vehicle.
The Bronco was designed under engineer Paul G. Axelrad. Although the axles and brakes were used from the Ford F-100 four wheel drive pickup truck, the front axle was located by radius arms (from the frame near the rear of the transmission forward to the axle) and a lateral track bar, allowing the use of coil springs that gave the Bronco a 34-foot (10.4 m) turning circle, long wheel travel, and an anti-dive geometry which was useful for snowplowing. The rear suspension was more conventional, with leaf springs in a typical Hotchkiss design. A shift-on the-fly Dana Corp. transfer case and locking hubs were standard, and heavy-duty suspension was an option.
The initial engine was the Ford 170 cu in (2.8 L) straight-6, modified with solid valve lifters, a 6-US-quart (6 l) oil pan, heavy-duty fuel pump, oil-bath air cleaner, and a carburetor with a float bowl compensated against tilting.
Styling was subordinated to simplicity and economy, so all glass was flat, bumpers were simple C-sections, the frame was a simple box-section ladder, and the basic left and right door skins were identical except for mounting holes.
1966 Ford Bronco First Generation 
The early Broncos were offered in wagon, the ever popular halfcab, and less popular roadster configurations. Roadster was dropped early and the sport package, which later became a model line, was added.
The base price was US$2,194, but the long option list included front bucket seats, a rear bench seat, a tachometer, and a CB radio, as well as functional items such as a tow bar, an auxiliary gas tank, a power take-off, a snowplow, a winch, and a posthole digger. Aftermarket accessories included campers, overdrive units, and the usual array of wheels, tires, chassis, and engine parts for increased performance.
The Bronco sold well in its first year (23,776 units produced) and then remained in second place after the CJ-5 until the advent of the full-sized Chevrolet Blazer in 1969. Lacking a dedicated small SUV platform, the Blazer was based on their existing full size pickup which was a larger and more powerful vehicle, offering greater luxury, comfort and space. The longer option list included an automatic transmission and power steering, and thus had broader appeal. Ford countered by enlarging the optional V8 engine from 289 cu in (4.7 L) and 200 hp (150 kW) to 302 cu in (4.9 L) and 205 hp (153 kW), but this still could not match the Blazer's optional 350 cu in (5.7 L) and 255 hp (190 kW) (horsepower numbers are before horsepower ratings changed in the early to mid-1970s.)
In 1973, the 170 was replaced by a 200 cu in (3.3 L) straight six, power steering and automatic transmissions were made optional, and sales spiked to 26,300. By then, however, Blazer sales were double those of the Bronco, and International Harvester had seen the light and come out with the Scout II that was more in the Blazer class. By 1974, the larger and more comfortable vehicles such as the Jeep Cherokee (SJ) made more sense for the average driver than the more rustically-oriented Bronco. The low sales of the Bronco (230,800 over twelve years) did not allow a large budget for upgrades, and it remained basically unchanged until the advent of the larger, more Blazer-like second generation Bronco in 1978. Production of the original model fell (14,546 units) in its last year, 1977.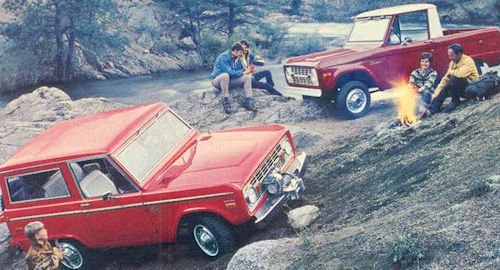 About
Ford Bronco 1st Gen (1966–1977)
Published date
Thursday, 19 December 2013
American cars of the 1960s
Updated
Friday, 15 December 2017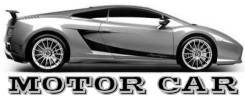 Ford Bronco First Generation history from 1966 to 1977
You are here:
Vehicles A-Z

F

Ford (US)